Queenstown The Ledge Urban Bungy Jump offers a 'runway jump' taking Bungy Jumping to a new level in height and adrenaline rush. The runway is designed so that you run out of the Bungy Jump pod 400 meters over Queenstown. Combining this with the possibility of doing it all at night creates an extreme urban adventure guaranteed to take your breath away.
What You Can Expect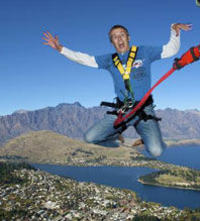 What makes this special is the Bungy harness which allows you to vary your Bungy Jump style; try a flip, twist, or numerous other options all purpose built to provide a different Bungy experience and maximum rush. Not convinced? Try doing this all at night with the lights of Queenstown far below.

Famous For:
Run and Jump Bungy style
Best views in Queenstown with access via the Gondola
Freefalling 400 meters over Queenstown
Only night Bungy in New Zealand
Comfort and your Safety: Safe? We invented safe. We've notched up over one millions jumps and our procedures conform to a rigorous code of practice. We were the world's first Bungy operators to be awarded the prestigious 'S' mark for quality and safety.
August 2014
Wow!! So awsome totally recommend this!!
July 2014
the bungy jump is pretty good. but since we need to buy the cable car ticket before we can get to the bungy jump and we didn't know it until we go to the counter in the bungy jump centre which located in the main road. i would like to say it's a hidden cost (45 min walk or couple mins cable car). it's not about the money, my groups will still go there if we know the extra cost, just feel like be cheated some how.
Advertisement
Advertisement