Special Offer
Save up to 20% when you book two of our most popular tours together in this combo package!
Be amazed by the wonders of New Zealand on this two-day Te Anau Super Saver. First, take a wilderness cruise on Doubtful Sound where the natural beauty will leave you breathless. The following day, explore the fascinating Te Anau cave system and see the twinkling lights of the glowworms in the darkness. Both tours have expert guides who will give you insight into two of New Zealand's best natural attractions.
Highlights
Enjoy two best-selling Te Anau tours at one discounted price

Be awestruck by the dramatic scenery on a Doubtful Sound wilderness cruise

Watch dolphins, seals and penguins swimming in the waters

Wander the labyrinth of limestone cave passageways

Enter the magical wonderland of the glowworm grotto

Expert guides to give you insight into this amazing region

What You Can Expect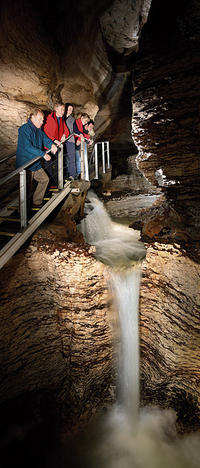 Doubtful Sound Wilderness Cruise (Day 1)
Your adventure begins with a transfer from Te Anau and a cruise along the crystal-clear waters of Lake Manapouri, followed by a drive along Wilmot Pass with stops to enjoy the stunning alpine landscapes along the way.

At Doubtful Sound you will board a spacious catamaran for a 3-hour wilderness cruise, where your captain will provide expert commentary on the region as you navigate the waterways. The dramatic views of dense rainforests, rugged peaks and cascading waterfalls will leave you awestruck.

Doubtful Sound is an unspoiled natural wonder with many seasons in one day – from clear blue skies to eerie hovering mists, and is home to an abundant range of wildlife, including bottlenose dolphins, penguins and fur seals. Your cruise ends with a transfer back to your hotel.

Te Anau Glowworm Caves Tour (Day 2)
Make your way to the Visitors Centre, and board a modern catamaran for your cruise across Lake Te Anau to Cavern House, on the western shores. An expert guide will join you at the visitor interpretation center to explain how the Te Anau cave system works and tell you about its inhabitants.

Then go underground and follow the labyrinth of twisting limestone pathways filled with whirlpools and waterfalls. Hop aboard a small boat and drift along the current, deeper into the cave system to the glowworm grotto. Here a magical wonderland comes alive as the thousands of glowworms twinkle in the darkness. After this amazing experience, you'll return to Te Anau where your tour ends.
April 2015
Had a truly wonderful day on Doubtful Sound. All guides were full of interesting, fascinating and amusing facts. Although a long day and fairly tiring it was one of the highlights of our holiday.
we also enjoyed our Glow worm trip and found it quite interesting too.
June 2015
Special Offer
$235.10 Save $37.62
Advertisement
Advertisement