Go bungy jumping in New Zealand from the Kawarau Gorge Suspension Bridge, the original site of the Queenstown bungy jump. You'll experience the ultimate Queenstown challenge, transforming from nervous to elated as you plunge 141 feet (43 meters) in five seconds. Choose from a variety of options, including a water touch or full immersion in the gorgeous Kawarau River. It may just be the best thing you've ever done!
Highlights
Bungy from Queenstown, the adventure capital of the world
Bungy from the original and best-loved Bungy site, Kawarau Bridge, home to the original 43-meter Bungy jump
Exhilarating experience
Recent Photos of This Tour
The Original Kawarau Bridge Bungy Jump in Queenstown
What You Can Expect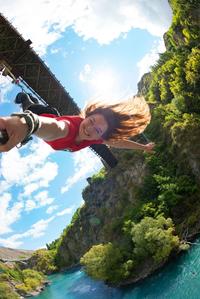 Bungy jumping Queenstown is a thrilling experience, not to be passed up in the adventure capital of the world. Adrenaline junkies meet at the bungy center for a safety briefing before their Kawarau bungy jump from the Kawarau Gorge Suspension Bridge where it all began.
Suit up in a specialized harness that is safely attached to the launch site. More than one million commercial jumps have been performed here, and expert guides conform to rigorous safety procedures while ensuring your comfort — no matter your size or ability.
When you're ready to take the plunge, jump or dive from the bridge platform overlooking the glacier-fed Kawarau River. You'll descend 141 feet in five seconds.
At the world's best-loved bungy site, you can select from a number of options: topple over backward, forward, spin, somersault or even jump with another person. You can also choose to bob above the water, touch it or be fully immersed.
Afterward, you'll receive a complimentary bungy t-shirt for bragging rights. Photos and videos of your bungy jump are available for purchase. Not feeling brave enough to take the plunge? Join the excitement as a spectator and watch your friends bungy from the Kawarau Bridge.
February 2015
Awesome experience. Well organized. The pictures and videos are excellent and ended up buying both. I would definitely recommend this tour!
November 2014
A MUST DO!!! I am a 45 year old mother with a 25 year old daughter. I previously went skydiving at the age of 30 and thought my daredevil days were over. Since this was the first ever bungy jump, it was not negotiable as far as my daughter was concerned. I regretfully agreed and am glad I did. We had the best time and would have jumped again, had time permitted. The staff was great and we have amazing photos and videos from our jumps. We had a hard time deciding whether to jump tandem or individually. We opted for individual jumps and are glad we did.

March 2014
August 2013
Highly experienced staff, took care of nervous energy. Well organised. Would definitely recommend.
September 2012
Had a great time, bungy was awesome, will take on the bigger jump next year.
October 2011
Very professional. Staff were very positive especially for my 14 year old daughter who was a little apprehensive.
Ashish B USA
June 2010
Mindblowing experience!
Valerie P Australia
February 2010
First time and the best way to do it!
Robin B USA
April 2009
Best thing to do in Queenstown!!!! You have to do it!!! It's the adventure capital of the world!!!
Randall T USA
April 2009
Scary/exhilarating. I'd do it again. 69 yrs old. Definitely worth doing if you are into that sort of thing, or want to face your fear.
Advertisement
Advertisement