Location:

Quito, Ecuador

Duration:

10 days

(approx.)
Come face to face with a dizzying array of wildlife on this nine-night tour to the Galapagos Islands, including San Cristobal, Isabela, Floreana and Santa Cruz. Start with a guided tour of Quito's Old Town, followed by a round-trip flight to Galapagos National Park, a UNESCO World Heritage Site. You'll discover pirate caves, hike the active Sierra Negra Volcano and visit the Charles Darwin Research Center on this expedition of unparalleled beauty. Spot nesting frigates, playful dolphins, ancient tortoises and Galapagos penguins as you hike, bike, kayak, snorkel and swim!
Highlights
9-night Galapagos Islands tour including guided tour of Quito
Fly round-trip from Quito to the UNESCO World Heritage-listed Galapagos National Park
Visit several islands in the Galapagos archipelago including San Cristobal, Isabela, Floreana and Santa Cruz
Ride a mountain bike to the beach and go kayaking amid sea lions and Galapagos penguins
Snorkel with sea turtles, manta rays and the harmless Galapagos shark, and search for blue-footed and red-footed boobies
Visit the Giant Tortoise Breeding Center and the Charles Darwin Research Station
Small-group tour limited to 16 ensures a more personalized experience
What You Can Expect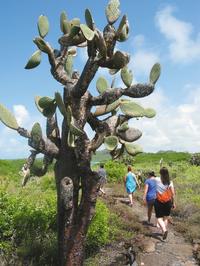 Your nine-night Quito and Galapagos Islands tour includes round-trip airfare from Quito and nine nights hotel accommodation – with two nights in Quito. Your motorized yacht includes delicious chef-prepared meals, served in the onboard dining room. Aside from each day's itinerary, enjoy optional activities such as diving, surfing and additional kayaking (at your own expense).
This small-group sailing expedition to the Galapagos Islands operates with a maximum of 16 passengers, ensuring you'll receive personal attention from your experienced shipboard staff and crew. Your trained naturalist guide, licensed by the Galapagos National Park Service, will offer expert knowledge about the abundant geology, history and wildlife of each spectacular region!
Itinerary
Day 1: Quito
Be welcomed by your tour representative at an orientation meeting at 2pm. Then, join your guide on a walking tour of Quito's historical center. Catch a local bus to Parque de la Alamada and visit sites like beautiful La Compania de Jesus, decorated with statues and sculpted busts with an interior covered in gold leaf (entry at an additional cost). You'll stop at Calle La Ronda, Quito's oldest street, for a peek into the city's colonial past. Stroll through Old Town, where cobblestone streets and picturesque alleyways showcase Ecuador's unique character and support a vibrant nightlife.
Consider arriving a few days early to discover the dynamic city of Quito on your own. Situated at an altitude of 9,350 feet (2,850 meters) along a central Andean valley beneath the gaze of Volcan Pichincha, Quito offers a multitude of cathedrals, colonial mansions and museums to explore. Talk with your tour representative about a variety of guided options, including a hike at Cotopaxi National Park, a visit to Equator Monument or a tour of Quito at night (each at your own expense).
Overnight: Hotel Sierra Madre in Quito
Days 2: Quito – Isla San Cristobal
In the morning, transfer to the Quito airport for an approximate 3.5-hr flight to San Cristobal Island – the easternmost island in the Galapagos Archipelago. En route, stop in Guayaquil before arrival around midday to meet your guide and transfer to your hotel.
In the afternoon, head to the top of San Cristobal Island and hop on a mountain bike for a scenic ride through El Progresso. Follow your guide to La Loberia beach, where you can watch sea lions bask on the rocks and play in the water before you enjoy a swim. Then, cycle back to town for a Galapagos welcome dinner of fresh fish and produce from the island.
Overnight: Hotel Casa de Nelly on San Cristobal Island
Day 3: Isla San Cristobal
Start your day on Isla San Cristobal with a 45-minute boat ride to Leon Dormido, observing a variety of seabirds for which the Galapagos Islands are renowned. En route, stop at Isla de Lobos and Cerro Brujo beach, where your guide will point out blue-footed boobies, red-footed boobies and nesting frigates.
Jump into the sea to swim or snorkel around playful young sea lions, keeping an eye out for sea turtles, manta rays and even the odd Galapagos shark (they're harmless!). You can rent a wetsuit and choose from additional options like boogie boarding, surfing or deep-sea diving for a deeper look (each at an additional cost).
In the afternoon, visit the interpretation center to learn about the history of the 'Enchanted Islands' of the Galapagos. Afterward, head to Mann Beach for another refreshing swim amid more sea lions as you watch frigates soar above.
Overnight: Hotel Casa de Nelly on San Cristobal Island
Day 4: Isla San Cristobal – Isla Isabela via Isla Floreana
Set sail to Isla Floreana Island (also known as Charles Island) early in the morning, approximately 2.5 hours from San Cristobal and abundant with wildlife, including seabirds such as pelicans and frigates. Before lunch, experience some of the best snorkeling (with optional diving) in the Galapagos, watching dolphins frolic in the waves. Then, disembark at a black sand beach, arriving at the Witmers' home – one of the first settlers on the island.
In the afternoon, head to the Floreana highlands for a visit to the mysterious pirate and whaler caves used for shelter since the 1600s. Visit the sleepy little town of Puerto Velasco Ibarra, with a population of less than 150, before continuing to Isla Isabela – the largest and arguably the most beautiful in the archipelago.
Overnight: Hotel San Vicente on Isabela Island
Day 5: Isla Isabela
Start your day with a leisurely stroll through a coastal lagoon to see flamingos on Isla Isabel, an island formed by five giant and still-active volcanic craters. Follow your guide along a mangrove-lined path leading to the Giant Tortoise Breeding Center, where you can observe nearly 1,000 giant tortoises in all stages of development.
After an informative visit, board a panga (small fishing boat) for Tintoreras or Shark Alley. Then, hop off for a short walk on this isolated islet – a popular nesting site for hundreds of marine iguanas.
Snorkel in a calm inlet, home to an assortment of tropical fish and winding underground lava tubes. Keep an eye out for green sea turtles that frequently rest on the calm, sandy bottom. In the late afternoon, return to town, where your guide will find a sandy resting spot to toast your first sunset on Isabela!
Overnight: Hotel San Vicente on Isabela Island
Day 6: Isla Isabela
During your last day on Isabela, your guide will lead you up to Sierra Negra Volcano, one of the region's most active volcanoes and the world's second largest crater, for a bird's-eye view of this majestic landscape.
Head back to town in the late afternoon to enjoy island life at your leisure; curl up with a good book or amble down to the water for a relaxing swim before dinner.
Overnight: Hotel San Vicente on Isabela Island
Day 7: Isla Isabela – Isla Santa Cruz
Begin your day kayaking in the pristine waters of a protected bay as you search for the Galapagos penguin – the only penguin found close to the equator. As you paddle, look for eagle rays, sea turtles and blue-footed boobies.
Spend a couple of hours resting at the beach before lunch, and then set sail for Isla Santa Cruz, the tourist capital of the Galapagos.
Overnight: Hotel Lobo de Mar on Santa Cruz Island
Day 8: Isla Santa Cruz
Journey into the highlands of Santa Cruz to see amazing lava tunnels and look for wildlife that use the unique geological formations as their habitat. At the interesting and informative Charles Darwin Research Station, learn about Galapagos animals brought back from the brink of extinction by the research foundation. Hear about the successful repopulation of the islands with the once-endangered land iguana and several species of giant tortoise, including possible close-up encounters of these creatures in the wild.
In the afternoon, take a short walk to the white sands of Tortuga Bay for sightings of marine iguanas that play in the breakers. Enjoy the beautiful beach, accessible only on foot, where you can enjoy swimming, sunbathing and bodysurfing. If you'd like, rent a boogie board or surf board to ride the waves before heading back to town for your farewell dinner as you prepare to say goodbye to the enchanting Galapagos Islands.
Overnight: Hotel Lobo de Mar on Santa Cruz Island
Day 9: Isla Santa Cruz – Quito
Return to the mainland on a midday flight back to the Quito airport, where a tour representative will transport you to your hotel. After you check in, the rest of your day is free for you to do as you please – shop for souvenirs at the market, sample Ecuadorian cuisine at a local eatery or street stall, and revel in Quito's nightlife if you'd like!
Overnight: Hotel Sierra Madre in Quito
Day 10: Quito
Without activities planned for your final day, you can depart from your accommodation at any time. See the tour representative about luggage storage if you plan to remain in Quito, one of the most attractive cities in South America!
Advertisement
Advertisement