See the diverse natural landscapes of Ecuador up close on this private tour of the Mindo Nambillo Cloud Forest Reserve from Quito. Check out thundering waterfalls, winding rivers and lush, tropical rainforest on this epic Ecuadorian adventure. Choose a hike to meet your level of fitness and venture into the forest with your guide, who will point out insects, birds and indigenous plant species. Gain a more complete understanding of this natural wonder, which stretches from the mossy floor to the towering canopy. Once you've worked up an appetite, tuck into a hearty lunch and recount the birds and animals you spotted on this tour.
Highlights
Private full-day eco-tour to Mindo Nambillo Cloud Forest from Quito
Take a scenic drive with gorgeous views of Ecuador's vegetation
Trek through the Mindo rainforest, passing waterfalls and rivers
Look for 400 species of birds, butterflies and orchids that inhabit the area!
Enjoy a customized private hike with your knowledgeable guide
Satisfy your appetite with a packed lunch
Pickup and drop-off from most Quito hotels
What You Can Expect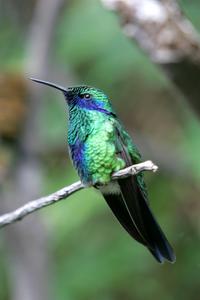 An expert guide will meet you at your Quito hotel, where you'll depart on your private tour, which starts with a 90-minute drive to Mindo. Explore the 50,000-acre Mindo-Nambillo Protected Forest, which is home to more than 350 species of birds, including the golden-headed quetzal and toucan-barbet.
Your local guide will share expert knowledge of cloud forest ecology before you embark on a memorable tour of the impressive nature reserve.
Take in the beauty that surrounds you on a coach ride t the misty valley that's home to the town of Mindo, where you'll trek through the rainforest with your guide. Hikes are selected according to fitness and level of difficulty, to insure the best, personalized experience.
Navigate the forest path while your guide points out humming birds, parrots, insects, plants and other woodland creatures. Cross a stream and wander along the riverbank, where you'll bear witness to rushing waters, like the Nambillo Waterfall, which stretches
some 50 feet high (15 meters).
Finally, take a dip in the quiet natural pools, with temperatures around 64 degrees Fahrenheit (18 degrees Celsius), before enjoying a packed lunch in the cloud forest and heading back to your Quito hotel.
June 2015
Great tour. Friendly and knowledgeable guide, flexibility on schedule and what to see etc. Recommended.

Geoff P New Zealand
June 2015
Ivan was great, new his stuff and made it interesting. Mindo was a great place to visit with lots of activities to do. I loved it.

January 2014
If you have more time to spend in Mindo, it would be nice to spend a few days to really see the birds and nature. But if you don't, this tour packed a lot of things in one day. Great guides and drivers. There are some great views on the way through the mountains. I've visited several butterfly farms before, but the butterflies at the Mindo one were the "friendliest" I've encountered, and loved to land on you. The hike through the cloud forest first required travel across a valley in a little open cable car, a bit frightening but nice views. Interesting plants and birds were pointed out along the way (although since we were there around noon, the birds were not as active). The waterfall is beautiful at the end. The stop at the orchid house lets you see some very tiny orchids. Lunch at the restaurant included amazing views of many different types of hummingbirds and tanagers. A great day!
Phylis B. C USA
July 2010
Awesome zip lining!
January 2015
Had a great time. Really enjoyed the zip-lining!
August 2015
This day trip did not deliver what we expected. We expected as it was billed bird watching in the cloud forest with visits to waterfalls. WE were picked up by both a driver and a guide in a 20 seat mini bus which was uncomfortable and for 2 people not appropriate. We needed only 1 driver/guide in a smaller SUV. When we arrived at Mindo we found out we visit only 1 water fall and that the bird watching turns out to be 2 hummingbird feeders at a butterfly farm and an orchid farm. At Mindo we picked up a local naturalist guide and another driver. The naturalist guide at least was very good. She pointed out the forest vegetation and helped look for birds as we walked to the waterfall. She identified the various hummingbirds we saw at the feeders for us whereas the guide as part of the excursion from Quito would only indicate hummingbirds! This excursion is not a bird watchers trip to the cloud forest but in reality a trip to Mindo and select a series of adventure activities and there is a strong push to select a chocolate factory which we had no interest in doing. One activity billed as a canopy experience was in reality zip lining. To us a canopy experience is a canopy walk. Overall we felt this trip was not as expected and extremely over priced for what we got. At half the price we paid we might have been satisfied.
Advertisement
Advertisement