Unlock the taste of Quito on this culinary and gourmet walking tour of the city. Sample rich tamales and freshly made pastries. Meet renowned chefs and artisan bakers who will highlight the secrets behind some of Equador's most popular dishes. Learn about the historic architecture as you wander from place to place, before taking a class from one of Quito's master chefs. This small-group experience is ideal for travelers who want to learn more about the culture, the city and the cuisine of Quito.
Highlights
Culinary tour in Quito including a Ecuadorian cooking class
Visit one of Quito's oldest bakeries and witness how they make some of Ecuador's traditional pastries

Take a cooking class with an expert chef and learn to cook some of Ecuador's traditional dishes such as tamales and empanadas
What You Can Expect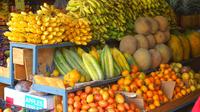 Savor the culture and the cuisine of Quito on this Quito Culinary Tour and Cooking Class. Meet your guide, who will provide an all-access culinary pass to the city and head out to a market to s
ee fresh fruits and vegetables. Then,
visit one of
the oldest
bakeries in Quito
and then learn how quesadillas are made before sampling the final product straight from the pan.
Next, navigate the back streets to southern Quito where you'll get up close with iconic architecture on your way to a local Quito home
for a chance to test your skills in the kitchen. R
oll up your sleeves and learn how to make tamales and empanadas under the direction of an expert chef. Tuck into your culinary masterpieces with fellow travelers as you recount the day's adventures and celebrate your Ecuadorian cooking victory.
April 2016
Jorge was a wonderful guide! The tour through the market was a delightful learning experience. Our host cooks were charming and made us feel very comfortable. It was memorable experience. We have already made some empanadas at home!
April 2016
I had a fantastic time with Pablo and Graciellaa. The food we made was outstanding
March 2016
Excellent guide who was able to customize our interests. WE greatly appreciated his English language ability. We enjoyed the 'home' cooking experience, the bakery and the market. It was Terrific!!
February 2016
This was a great way to start my Ecuador vacation.
January 2016
this was a great tour, our guide was fantastic,the market was very interesting, the bakery was good fun and the cooking lesson at the local ladies house was amazing, would highly recommend
June 2015
I had a great time with Pablo on this tour! It was very informative and interesting! It was very nice to see how some of the traditional food of Quito is made! Graciella was super friendly and a very good host! She and her family made me feel part of their family! It was just me on the tour and I can recommend it to anyone, whether you are in a group or by yourself! This is really a tour of the beaten track! Experience Quito from a local's perspective!
May 2015
Jorge met us at the designated meeting place on time. On the journey to the market he provided information plus answered our many questions on Quito - economy, history, political climate, etc.
The market was extremely lively and interesting.
At the bakery we assisted with making some Ecuadorian quesadillas, then got to taste many delightful products along with hot chocolate.
At Graciella's we assisted with the making of empanada's and other items - all the time having our numerous questions answered plus learning about the Ecuadorian culture. Of course, we got to eat what we helped make plus more!
This tour was at the beginning of our stay in Ecuador and provided so much insight into local customs and cuisine. Highly recommended.
March 2015
Our guide was amazing!!! We began at the Quito market and spent quite some time there exploring and understanding the products of Ecuador. We then went to a bakery where we helped make and then enjoy
the delicious products they are famous for. We then were invited to a wonderful home in Quito where we experienced the cuisine ie empanandas' of all types!! Delicious!! Would definitely recommend and do this tour again!!!!
December 2014
The tour was everything I had hoped for. I was picked up at my hotel by Byron, who was very amiable and knowledgeable. We visited a pastry shop, a meringue shop and then had a fabulous tipico ecuadorian lunch at the home of Graciella. Got to assist in some parts of the preparation and mostly see behind the scenes food preparation Ecuador. Along the way, Byron shared the history of Quito (and Ecuador), various viewpoints, the main center, churches and museums. I learned alot about the country from him, past and future and real enjoyed being immersed with the locals. I speak a little spanish, so this was also an opportunity for me to brush up. A terrific tour and highly recommend.
December 2014
The combination of knowledgeable tour guides, safe drivers, and informative chefs made this tour a success! First, we visited a traditional, family owned Ecuadorian bakery and made quesadillas. Seeing the inside of their production kitchen was fascinating. Next we stopped at a candy store to watch the third generation owner make his specialty, a unique Ecuadorian treat! Finally, we spent time in the home kitchen of an accomplished chef making empanadas de morocho and pristinos. Lunch at her home was the perfect end to this wonderful tour. The opportunity to work side by side with these wonderful chefs made sure that I got a special view of the food of the region. Thanks very much to everyone involved!
Advertisement
Advertisement