12 Reviews
Location:

Quito, Ecuador

Duration:

6 hours

(approx.)
Discover the flavors of Quito on this culinary tour packed with sweet treats, tasty tamales and mouth- watering pastries such as 'majar de leche.' Meet artisan bakers and talented cooks and learn the secrets to making popular Ecuadorian dishes. Admire the historical architecture of Quito as you walk from place to place and take a cooking class with a local master chef. This flavor-filled food tour is a perfect introduction to the Ecuadorian food scene.
Highlights
Culinary tour in Quito including a Ecuadorian cooking class
Visit one of Quito's oldest bakeries and witness how they make some of Ecuador's traditional pastries

Visit a sweets shop and taste some popular Ecuadorian foods and drinks including mistelas

Take a cooking class with an expert chef and learn to cook some of Ecuador's traditional dishes such as tamales and empanadas
What You Can Expect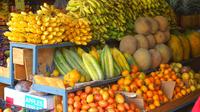 Experience the flavors and culture of Quito on this food tour! Meet your knowledgeable culinary guide and head to one of the oldest bakeries in Quito. See how traditional Ecuadorian quesadillas are made and sample the finished product while learning about Quito's food culture from your guide.

Next, travel through backstreets to the southern part of Quito and admire the city's historical architecture as you make your way to a small, family-owned sweets shop. Watch sweet delicacies being made before trying a few of the sweets, including majar de leche, a caramel delicacy. Learn about the history and production process behind mistelas, which are sweet treats made with a fragile layer of sugar and filled with whiskey or rum.

Then, test out your cooking skills at a local Quito home during an Ecuadorian cooking class! Learn how to make authentic tamales and empanadas. Your expert chef will teach you how to perfect these authentic dishes before you get to taste these popular Ecuadorian dishes.
June 2015
I had a great time with Pablo on this tour! It was very informative and interesting! It was very nice to see how some of the traditional food of Quito is made! Graciella was super friendly and a very good host! She and her family made me feel part of their family! It was just me on the tour and I can recommend it to anyone, whether you are in a group or by yourself! This is really a tour of the beaten track! Experience Quito from a local's perspective!
May 2015
Jorge met us at the designated meeting place on time. On the journey to the market he provided information plus answered our many questions on Quito - economy, history, political climate, etc.
The market was extremely lively and interesting.
At the bakery we assisted with making some Ecuadorian quesadillas, then got to taste many delightful products along with hot chocolate.
At Graciella's we assisted with the making of empanada's and other items - all the time having our numerous questions answered plus learning about the Ecuadorian culture. Of course, we got to eat what we helped make plus more!
This tour was at the beginning of our stay in Ecuador and provided so much insight into local customs and cuisine. Highly recommended.
March 2015
Our guide was amazing!!! We began at the Quito market and spent quite some time there exploring and understanding the products of Ecuador. We then went to a bakery where we helped make and then enjoy
the delicious products they are famous for. We then were invited to a wonderful home in Quito where we experienced the cuisine ie empanandas' of all types!! Delicious!! Would definitely recommend and do this tour again!!!!
December 2014
The tour was everything I had hoped for. I was picked up at my hotel by Byron, who was very amiable and knowledgeable. We visited a pastry shop, a meringue shop and then had a fabulous tipico ecuadorian lunch at the home of Graciella. Got to assist in some parts of the preparation and mostly see behind the scenes food preparation Ecuador. Along the way, Byron shared the history of Quito (and Ecuador), various viewpoints, the main center, churches and museums. I learned alot about the country from him, past and future and real enjoyed being immersed with the locals. I speak a little spanish, so this was also an opportunity for me to brush up. A terrific tour and highly recommend.
December 2014
The combination of knowledgeable tour guides, safe drivers, and informative chefs made this tour a success! First, we visited a traditional, family owned Ecuadorian bakery and made quesadillas. Seeing the inside of their production kitchen was fascinating. Next we stopped at a candy store to watch the third generation owner make his specialty, a unique Ecuadorian treat! Finally, we spent time in the home kitchen of an accomplished chef making empanadas de morocho and pristinos. Lunch at her home was the perfect end to this wonderful tour. The opportunity to work side by side with these wonderful chefs made sure that I got a special view of the food of the region. Thanks very much to everyone involved!
August 2014
Did this tour with my wonderful guide, Eddy. Accolades to the tour company - every trip that I did with Eddy had the personalised touch!! While I did pay a little extra for tours that I booked after this one, it was absolutely worth every cent!! They do not penalise you for being a solo traveller and double the price!!! Thank you so much Eddy and the travel company because the experiences you provided for me will stay in my heart forever - a truly unique, individual experience for me!! I will always remember Machachi, a little town where we had brunch on the way to Mindo Cloud Forest! How awesome is it to be the only tourist there!! Met two very special girls - great conversation with them both, Eddy as the interpreter. What a spectacular day! To arrive at Mindo early and be the only ones there - got to see toucans, hummingbirds, butterflies and actually hear the sounds of the forest! Thanks once again Eddy - Cotapaxi was also just as invigorating experience!!!! If I return someday - hopefully to visit Galápagos - definitely will be booking with the tour company!!!!!
July 2014
an amazing day of history, culture, and great food. Highly recommend this tour
January 2014
I REALLY enjoyed this tour and "class". Was lucky enough to be here both during the quieter "shoulder" season for tourists, and a few days before the Day of the Dead celebration. This meant that I was the only person on the tour and that I saw the bakers/cooks during special celebration preparations. Byron was friendly and easy to talk with and it was fun to see the "behind-the-scenes" of a very busy bakery and home catering business. What surprised me most was the amount of time we spent touring the beautiful historic district of Quito. Took a "city tour" the next day with a different tour group and it repeated quite a a number of stops. But Quito is so amazing, I was glad to have the leisure to enjoy it more completely. The third generation candy maker was maybe my favorite culinary stop. (My unplanned detour into a jewelry store was totally cool, too.) The food was fun and tasty and I think this cultural experience was well worth the time and money.
January 2015
It was a great trip. Our guide was informative and introduced us to many new foods.
August 2014
Was nice to get around Quito and see a market and a coffee shop and a sweet makers shop. We didn't really eat anything until we stopped at a Coffee shop about 1.5 hours into the trip (I'd have liked something in the market to try but the guide said it was best not to). The cookery class was great, very personal and the Doña was very gracious letting us come into our home. I'd give it 4.5 stars. It also would've been nice to have others in the tour but it was just my husband and I with the guide.
Advertisement
Advertisement