Experience the best of Iceland's natural attractions on this guided 3-day adventure from Reykjavik! Tour highlights of the Golden Circle, including Þingvellir National Park, Geysir hot springs, the lava caves of Leidarendi and the spectacular Gullfoss waterfall. Hike and ice climb on Sólheimajökull Glacier, and then soak in the restorative aqua waters of the famous Blue Lagoon. The tour includes a professional guide and all entrance fees, equipment and transport.
Highlights
3-day outdoor winter adventure tour in Iceland
Visit Sólheimjökull Glacier for a hike and try ice climbing if you dare!
Discover Iceland's two best-known waterfalls: Skógafoss and Gullfoss
Explore the best of the Golden Circle and explore the lava caves at Leidarendi
Relax at leisure in the Blue Lagoon

What You Can Expect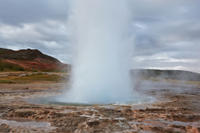 The rugged landscape surrounding Reykjavík is best explored with a local. Set off each morning of your 3-day tour with a professional guide and immerse yourself in Iceland's outdoor attractions.
On the Golden Circle tourist route, learn about the country's wild volcanic history with visits to Þingvellir National Park, the thundering Gullfoss waterfall, Leidarendi lava caves and the shootings sprays of Geysir hot springs.
Journey to Iceland's southern coast to scale Sólheimjökull glacier through a combination of hiking and climbing, and admire Skógafoss waterfall. On the final day, relax and unwind in the Blue Lagoon — Iceland's famous geothermal spa. Return to your Reykjavik hotel each night (not included).
Transport in a comfortable vehicle, expert guidance, hiking equipment and all entrance fees are included, so you can skip the stress of logistics and enjoy exploring Iceland's wintry wonders. Reykjavik accommodation and meals are at your own expense.
See Itinerary below for a more detailed description of each day's activities.
Itinerary
Day 1: Golden Circle and Leidarendi Lava Caves
Set off early for your day of exploring the Golden Circle, the popular Icelandic tour route home to three natural sights that you'll see with your guide: Þingvellir National Park, Gullfoss Waterfall and the Geysir hot springs. Enjoy a traditional Icelandic meat soup lunch at the locally loved Gulfoss Café, and then explore the lava caves at Leidarendi with their surreal heat formations and winding underground tunnel system. Relax on the ride back to Reykjavik.


Day 2: Sólheimajökull Glacier and Skógafoss Waterfall
Meet your guide at your hotel and depart by luxury coach to Iceland's south coast. Hike up Sólheimjökull, on the southwestern tip of Mýrdalsjökull Mountain, and after approximately an hour, arrive at the glacier's majestic ice walls. Under expert supervision, try your hand at ice climbing if you wish. On route back to Reykjavik, stop at the Skógafoss Waterfall to gaze in awe at the crashing cascades that allow Skógafoss to rival Gullfoss as the country's best-known waterfall. Your day ends back at your Reykjavik hotel.

Day 3: Blue Lagoon
Head to the legendary Blue Lagoon geothermal spa to relax after your adventurous weekend. The spa's warm and milky-blue waters are rich in minerals and great for your skin. Simply lay back and enjoy the hot soak or try rubbing some of the lagoon's natural silica mud to your skin as an natural exfoliant. Before leaving, check out the observation decks on the second and third floors of the main building for fantastic views of the lagoon and the surrounding Icelandic scenery.
May 2016
It was amazing.
Well organized, with very knowledgeable tour guides!
February 2013
Arctic Adventures, the tour company, was very accommodating and knowledgeable. My only suggestion is to make sure you read all the fine print with Viator.
March 2016
Very friendly and competent staff, but in my opinion in generell overpriced even for Iceland, should be at least 20 cheaper. Understanding that hotel pick-up includes some waiting and organization am also thinking that this should be improved as waiting time of nearly one hour is way too much! Attractions as Golden Circle and Blue Lagoon are tourists spots, so not expecting to really experience Iceland's great nature there I was still disappointed. Glacier hiking and ice climbing was awesome and a big recommendation, as you couldn't/ shouldn't do it on your own.
Advertisement
Advertisement