Visit Iceland's famous Blue Lagoon on this full-day trip from Reykjavik. Relax in the warm waters of this natural geothermal pool; enjoy upgrades like spa treatments, water massages and private baths (own expense). Experience one of Iceland's natural wonders, surrounded by snowy mountains and otherworldly lava fields. Round-trip transportation from Reykjavik is included.
Highlights
Transportation to and from the Blue Lagoon (entrance fee included)
Enjoy a water massage or just lie back in the warm waters of the lagoon
Relax amid stunning scenery and fresh air
Pickup and drop-off from Reykjavik area hotels and guesthouses
Recent Photos of This Tour
Blue Lagoon Spa Roundtrip Transport from Reykjavik
What You Can Expect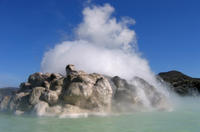 Choose a range of departure times for pickup at your Reykjavik hotel, then board a comfortable, climate-controlled coach for the ride to the Blue Lagoon. On the 29-mile (47-kilometer) drive from the city, enjoy the passing scenery and get to know your fellow travelers.
Upon arrival, choose from the menu of bathing options, from private baths to water massage. Bathing suits, bath robes and towels are all available for rent.
The stunning geothermal lagoon, glimmering among the snow and lava fields, stays at a constant toasty temperature of 96-102 degrees Fahrenheit (36 to 39 degrees Celsius), and is an otherworldly shade of blue. The water contains blue-green algae, mineral salts and silica, and has been known to work wonders on problem skin and tired muscles. The blue-green algae softens and nourishes skin, the mineral salts detoxify the body and the white silica mud exfoliates the skin.
Take as much time as your like relaxing and enjoying one of Iceland's most famous natural wonders. When you're fully relaxed, board your transportation for the ride back to Reykjavik or on to the Keflavik International Airport to catch your flight.
Please note: the Blue Lagoon will be closed from 5 January - 22 January 2016

April 2016
Great trip, travel and spa access included. Payed extra for a towel, drink etc but well worth the money.
April 2016
The Blue Lagoon is a must whilst your in Iceland. Very cool experience.
April 2016
We really enjoyed bathing in the Blue Lagoon. The geothermal power plant nearby is where the water comes from and the vents are placed in various areas of the lagoon to help keep a constant temperature.
cmscoffee United States of ...
April 2016
This was a wonderful experience for the value. My wife and I loved the kind attention provided to us by the staff. The face masks are wonderful and definitely worth the upgrade to a medium package. Get there early as the lagoon gets crowded within a couple hours of opening. When in Iceland again, we will definitely return.
April 2016
Fabulous. My friend and I chose this tour so that we could have flexibility on the times going and coming back. This was the only one that we found had time options. We stayed all day. The bus picked us up at our hotel and dropped us off in the afternoon at our hotel. It was a very relaxing day, because we did not need to rush the experience. The facility has great lockers to store your clothes, blow dryers to dry your hair, showers, and great changing areas. Because of the flexible schedule of coming back to town, we were able to eat in the beautiful restaurant on site. The food was delicious. I would pay more for the robe rental. Magical experience. I do plan to do this tour again with a group from Texas.
April 2016
Very well organized...an amazing place to visit.
April 2016
Just has to be done! Other thermal pools were fun but this is something else. It is clean, well organized and never felt crowded. Beautiful warm water, a lunar landscape, fun with the face masks and the bar and total relaxation... the time flew by. Plenty of buses back to Reykjavik too. You absolutely have to book well in advance if you want to go or you will be disappointed. We loved every minute.
April 2016
Blue Lagoon is not to be missed. While I would recommend using smaller tour companies for other tours in Iceland, this is more of a transfer service to the Blue Lagoon and a big bus is perfect for that.
April 2016
A beautiful place you must see

April 2016
I would highly recommend this tour. I had a great time and it was worth it. The only thing I didn't like was the 7pm slot that I booked because my original tour, that I booked directly with the same company, was cancelled the day before.They did more than make it up to me with a free Northern Lights tour and a refund. I ended up booking with them again but through viator. Anyhow, with this time slot, I only had about an hour because it took about 40 mins between entering the place, changing and showering. So I would definitely recommend an earlier time. Other than that, my tour driver was awesome. I left my tablet in the shuttle that picked me up from my hotel and she radioed someone and within 10 mins it was brought back to me. Overall, I was content and would definitely book with them again.
Advertisement
Advertisement