Visit Þingvellir National Park for a day of spelunking and snorkeling during this eco-adventure from Reykjavik. On this full-day tour with an expert adventure guide, visit the Silfra fissure and the Gjábakkahellir cave in this UNESCO World Heritage-listed park. Explore some of Iceland's most spectacular natural wonders by snorkeling in an underground pool and climbing into a mysterious cave. All equipment, expert guidance and round-trip transportation Reykjavik hotels are included.
Highlights
Day trip to the Gjábakkahellir cave and the Silfra fissure from Reykjavik

Visit Þingvellir National Park, a UNESCO World Heritage Site

Explore the dark, mysterious Gjábakkahellir cave with your expert guide

Snorkel in the Silfra fissure and admire the amazing, vibrant depths of underground tectonic plates

Hotel pickup and drop-off included
Recent Photos of This Tour
Day Trip from Reykjavik: Cave Exploring in Gjábakkahellir and Snorkeling in Silfra
What You Can Expect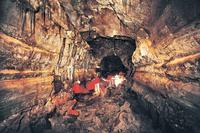 Following pickup at your Reykjavik hotel, climb aboard a comfortable, climate-controlled minbus for the 60-minute journey to the UNESCO World Heritage-listed Þingvellir National Park.
Upon arrival, listen to a short safety lecture and introduction to the area. Get fitted for spelunking and snorkel gear, then follow your expert guide to your first adventure.
Explore the lava fields under the park itself by entering
Gjábakkahellir cave. View and climb through a textbook example of a lava tube, located in one of the most active volcanic areas in the world. During the 1.5-hour tour of the cave, admire shield volcanoes, products of lava flows that left spectacular layers of rock and lava deposits over the years.
Please note:
In the winter, you will explore Leiðarendi cave.
Break for lunch (own expense) before continuing on to visit Silfra.
At the Silfra fissure, slip on your snorkeling gear and explore the otherworldly underground pool. Drift between the tectonic plates that separate North America and Eurasia, following your guide to the most scenic places in the pool.
After a day of exploring the spectacular underground wonders in
Þingvellir National Park, head back to Reykjavik for drop-off at your hotel.

May 2016
Such an awesome day out! Rich did an awesome job of guiding us throughout the day and Mike took great care of us in the water.
Snorkelling through the tectonic rift was a beautiful and surreal experience, I'm recommending it to everyone I know going to Iceland.
April 2016
THIS TRIP WAS AMAZING - from the cave to the silfra - i have never seen water so clear. And yes, it was freezing, but so worth it! Make sure to drink some of the water while snorkling, you can taste how pure it is.
March 2016
Enjoyed both the caving and Silfa, don't miss the chance to experience this once in a lifetime trip.
waalle United States of ...
March 2016
The best thing I did in Iceland. These guys were entertaining and knowledgeable. Snorkeling in Silfra was breathtaking. A must do!
February 2016
I had an amazing time on this tour and would highly recommend it! The guides were excellent -particularly Richard! The water was cold but it and #39;s such a cool experience and you and #39;re only in the water for 30-40 minutes (although it feels longer!) so make the most of it!
February 2016
We really enjoyed our day with Richard. We started the day with a trip to a cave, where they provided helmets with lights and crampons for the bottom of your shoes so you don and #39;t slip (much appreciated!). There are some tight spots in the cave (there was a small part where we had to roll and the entrance/exit were a bit tight (akin to a tube /slide into the earth), but overall doable. I would definitely recommend wearing water resistant/proof pants that can handle a few scrapes as you may end scraping against things or crawling at some point and there are some wet areas. It should also be mentioned that this is nothing like the caverns that I had previously experienced - definitely much more physically demanding and less accessible than I had initially expected, including lighting from only the headlamps of the group. There and #39;s really no room to bring things into the cave unless they fit in a coat pocket (for which zipper pockets are great), so I and #39;d recommend only bringing what you feel comfortable leaving in the van. The cave was great - interesting designs, colors, and icicles.
We then went to Silfra for snorkeling. The beauty under the water makes the cold totally worth it, but it and #39;s definitely cold. I especially recommend wearing lots of layers on your feet. My feet were the coldest, even with 3 pairs of socks and despite being in the dry suit. I also highly recommend having your seals checked on your suit to make sure there and #39;s no room for water to get in or ask for extra ties to tighten the seal. Some water got in my suit and it was freezing. You may want to bring an extra change of clothes in case that happens. It took about 45 minutes to get into all the gear and I give Richard such kudos for helping us manage it all!!! If everything goes according to plan, your body and feet should stay dry, but your hands and head will definitely get wet (they are in separate wetsuit pieces). I brought a swim cap with me and was thankful to have my hair stay dry in the cold.
I also really appreciated that Richard pointed key sights and features by the road as we drove. There were a few sights we had passed a few times and had no idea what they were prior to this tour. Overall a really unique and great trip.
February 2016
Billi was our amazing tour guide. We started at the lava caves which was incredible. They provide crampons helmets and lights but wear pants that you don't mind touching the cave floors and walls as you will crawl around a bit. The snorkeling is freezing cold but worth it! We went on a cold day and the water is warmer than the air so when you get in you don't feel the difference. Only your hands and feet get wet when wearing the dry suit. The guides make sure you are equipped with your gear and help at the end when getting the suits off. A must do in Iceland one of the main highlights of our trip!
January 2016
Unforgettable experience. Possibly one of the highlight of my trip.
January 2016
amazing experience, something to do in your visit!
January 2016
Our guide was great and very knowledgeable. The snorkeling in 30 degree water was an incredible and cold experience. I highly recommend this trip. Wear long underwear and two pairs of socks for the snorkeling.
Advertisement
Advertisement