Explore the surreal landscape of Iceland's Sólheimajökull Glacier during this day trip from Reykjavik. Join your guide for ice hiking and climbing on top of this ancient ice formation, enjoying spectacular views of its constantly changing blend of colors and shapes. Then make a stop at the thundering Skógafoss waterfall, one of the country's largest. Your glacier adventure also includes round-trip transport from your hotel and all necessary safety gear and instruction.
Highlights
Day trip to Iceland's Sólheimajökull Glacier
Enjoy an adventurous glacier hike with your expert guide
Admire the rugged, ever-changing ice formation and soak in picturesque views
Try your hand at ice climbing, with all necessary safety equipment included
Beginners are welcome as no ice-climbing experience is needed!
Visit Skógafoss, one of Iceland's largest waterfalls
Hotel pickup and drop-off included
Recent Photos of This Tour
Day Trip from Reykjavik: Glacier Hiking and Ice Climbing on Iceland's Sólheimajokull Glacier
What You Can Expect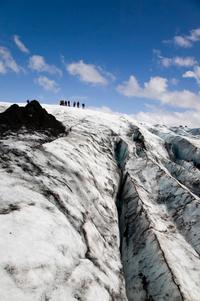 Experience the surreal natural landscapes of Iceland during this day trip to the country's Sólheimajökull Glacier, offering time for ice hiking and climbing during your visit. It's the perfect chance to immerse yourself in the rugged outdoor beauty of this incredible island nation.
Start your excursion with pickup at 8:30am from your hotel in Reykjavik, continuing on a scenic drive by coach to the glacier, which is located in the country's southwest. Upon arrival, meet with your guide, receive a short safety briefing and get your gear for the day's activities. Then head out onto the surface of this rugged ice formation.
Your journey takes you over the surface of the glacier's ice tongue, so-called because it sticks out from the glacier's main body as it crawls toward the ocean. Enjoy breathtaking views of the glacier's rugged surface and the surrounding landscape, exploring this unique ice formation's numerous crevasses, cracks, ridges and sink holes with your guide.
Soon you'll reach an ice wall, allowing you the chance to engage in some ice climbing. Using your included crampons, ice axe and safety ropes, make your way up this sheer vertical wall, taking time to soak up the surreal environment and sublime views from above.
Finish your glacier trip with a stop on the way back to see Skógafoss, one of Iceland's largest and most impressive waterfalls, as it dumps millions of gallons of glacial meltwater into a stream and the ocean beyond. Then return back to Reykjavik for a drop-off at your hotel.
June 2016
Great tour guides Jono and Adi made for a fun, incredible and memorable experience. Definitely recommend for all those looking for a memorable tour in Iceland.
June 2016
The tour is awesome! Juan and Haukurelis are experienced guide, very professional, patient and friendly. Mostly they are fun! I would highly recommend this tour to anyone who visit Iceland. An unforgettable memory for me. I am so glad I did it! =)

June 2016
This was hands down the best thing we did in Iceland. Arctic Adventures picked us up at our hotel and off we went to the south coast. The drive itself was breathtaking with waterfalls in every direction. The hikes are run in small groups of no more than 8 people which is perfect for being a social activity while still getting a personal experience. The drive to the glacier was about 3hrs, we stopped at a rest station along the way for a food and bathroom break note: this is an all-day activity and there is no meal so bring lunch with you or be prepared to eat gas-station selections. Once we reached the glacier the company got us kitted out with appropriate hiking boots, cramp ons and ice picks. Our guide, Jono, was both informative and entertaining. He made sure we got a good balance of fun and education about the area and the glacier - specifically how everything is constantly changing with climate and volcano activity. If you haven't done something like this before you need to try it, this is unlike any other experience. And it's so unique to this part of the world as the glacier sits on top of volcanic ash. You can see the flakes of fresh-looking ash frozen into the now-melting ice. That ash is thousands of years old, which is absolutely mind-blowing. The views from the glacier are out of this world. There is a lake and green cliffs in one direction, snowy mountain peaks in another direction, a waterfall coming off a cliff in another direction... seriously every way you look is overwhelmingly beautiful. The hike is just challenging enough to make it worthwhile without being out of reach and the Ice Climb itself is an experience for the bucket list. I would do this excursion again a million times over. Can't recommend this highly enough...

May 2016
Great tour!! Great guides and phenomenal experience!
April 2016
Knowledgeable and informative tour guide and driver. Great itinerary, once in a lifetime experience in glacier hiking and ice climbing. I would definitely recommend it
April 2016
Arman is an excellent host, knowledgeable and personable. We would take this excursion again. This is the third time we have used Viator to book excursions. Every one has been excellent. When traveling again, we will definitely review tours offered by Viator to enhance our experiences.
April 2016
This was not only a blast, but the clarity of the water, the colors, and nature's architecture made this experience the highlight out of many potential candidates of our time in Iceland. Don't let 38 degree fahrenheit temperatures stand between you and this excursion. The only part of our bodies that got cold our index fingers. Go figure. Although you're given a thermal onesie and a wet suit, I'd recommend wearing leggings and a warm shirt for an extra layer underneath the equipment. You and your clothes will not get wet. My daughter and I were the only ones to take the tour this day. Val, a certified diver who guides you on the snorkeling, and Sigrun, who drives you ALL OVER the Golden Circle, are wonderful. They are warm, engaging, and personable. Plus, they photograph the entire swim to prove to your family and friends you did it! I couldn't recommend this tour highly enough.
April 2016
Excellent! The guides, who are very entertaining, know the glacier inside and out -- literally -- and oh, so patient. They did their best to give us the total experience. Don't be put off by the ash covering the glaciers. There's a fascinating explanation for it.
April 2016
Tour guides were friendly and very knowledgeable of the glaciers.
March 2016
Tour was awesome. Our guides were fun, personable and full of knowledge. The Glacier is incredible and having the opportunity to hike it was cool.
Advertisement
Advertisement