155 Reviews
Location:

Reykjavik, Iceland

Duration:

14 hours

(approx.)
Head out to the magnificent glacial lagoon Jokulsarlon, and follow in the footsteps of James Bond in "Die Another Day" and Lara Croft in "Tomb Raider". This exhilarating full-day excursion from Reykjavik takes you along Iceland's southern coastline, known for its exquisite mountain scenery.
Highlights
Full-day tour from Reykjavik to Jokulsarlon glacial lagoon
Scenic drive past picturesque villages and stunning landscapes
Skogarfoss waterfall and Skaftafell National Park
Boat ride on Jokulsarlon glacial lagoon
Setting for movies including James Bond's Die Another Day and A View to a Kill, and Lara Croft: Tomb Raider
English-speaking tour guide
Pick-up and drop-off from Reykjavik area hotels and guesthouses
Recent Photos of This Tour
Iceland South Coast and Jokulsarlon Lagoon Day Trip from Reykjavik
What You Can Expect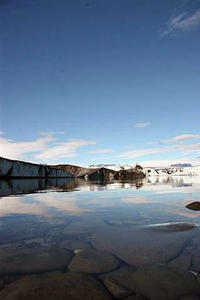 Many of Iceland's biggest glacier rivers run into the Atlantic Ocean on the country's southern shore. Along the way to this amazing coastline you'll pass charming villages such as Selfoss, Vik and Kirkjubaejarklaustur, and the Skaftafell National Park; there is also a stop to visit the Skogarfoss waterfall. You'll also drive through the vast desert of Skeidarasandur, where sand storms can be so powerful they've been known to strip the paint off a car!

Just before you reach the lagoon, you'll pass Iceland's biggest volcano, Oraefajokull glacier, which also has the highest peak of the island, Hvannadalshnjukur, at 6950 feet (2119 meters).

At the lagoon you will have time to view this stunning area before taking a boat ride. But these are no ordinary boats! They are capable of driving short distances as well as sailing on water - something quite unique!

Jokulsarlon lagoon started to form in the early 1920s, and is growing bigger every year. You will see blocks of ice that have broken off Europe's biggest glacier, Vatnajokull, and are sailing slowly towards the ocean, which is only a mile away. Some of the icebergs are partially covered with volcanic ash from ancient eruptions, and look like sculptures, made by Mother Nature herself!


October 2015
This was a really fantastic trip which we were very happy to recommend to fellow travellers. The countryside which we saw was really spectacular but again was very rushed but can understand because of the distance involved. I think some of the toilet facilities need to be upgraded to handle more tourists as its frustrating standing in line when you really want to be taking photos.
October 2015
This was a wonderful tour. So many places to visit and see. The tour is very long but it is very worth it. We stopped every hour and a half to two hours to get out of the bus and walk around or eat. It definitely made the ride more manageable. My one tip is to sit on the left side of the bus on the way as it is the more scenic side with waterfalls, volcanoes, glaciers, sheep, etc. The right side is all ocean viewing and by the time you head back to Reykjavik it will start getting dark and you'll miss everything.
September 2015
Nice tour of southern Iceland.
September 2015
August 2015
An excellent trip. The guide was really friendly and good. The whole trip had stunning views even though it was raining the whole day. I do have to mention that whatever the weather this is a must do trip. We were very satisfied with this day trip. Exhausting but very rewarding!
August 2015
Beautiful drive. Worth every penny. The guide was very nice and very good at his job.
August 2015
The guide spoke both German and English, and gave us plenty of time to enjoy the trip in addition to providing us with an overview of Icelandic history.
August 2015
You must get a seat on the left hand side of this bus so you can take pictures on the way out, as all the best photo ops are on this side and by the time you head back from this 16 hour trip, it's dark and the weather has deteriorated. Loved the iceberg lagoon! Don't miss that!!!
August 2015
Fabulous. It is a long journey but well worth it. The tour guide explained all the logistics well to ensure everybody was on time. Would have loved to have spent more time there.
July 2015
We were hesitant to take on a 14-15 hour coach tour, but this proved our best option, rather than staying somewhere on the south coast. The tour gave great insight into the attractions of the Jokulsarlon glacial lagoon, the waterfalls at Selgafoss and Selgalandsfoss, Vik and the black beach.
It seemed odd, at first, that we drove past Selgalandsfoss in late morning, but it was a real highlight to see the vertical rainbows there with the sun on our backs in the evening. Our on water lagoon experience was memorable.
Our guide Christina was very informative and did a good job keeping the mood cheerful as the day got longer. Her advice re available food at meal stops was valuable.
Advertisement
Advertisement