Discover the lava 'tube' tunnels and caves below Iceland's volcanic plateaus on this 3-hour caving trip from Reykjavik. Hop inside an air-conditioned coach and travel into Iceland's stark countryside to a lava field. Don specialist caving clothing, including a helmet with headlight, and follow an expert guide into a lava cave. Walk and crawl past multicolored lava rocks, flakes and formations; see stalactites and stalagmites; and hear how and when they were formed. Ideal for adventure-lovers, caving beginners and anyone keen to experience Iceland's secret underground.
Highlights
Day trip from Reykjavik to Iceland's underground caves and craters

See the lava formations and amazing colors as you enter the caves
Marvel at the stalactites and rock formations
Caving gear (helmet, headlight, coveralls and gloves) included
Hotel pickup included
Recent Photos of This Tour
What You Can Expect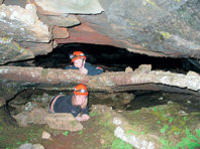 After pickup from your central Reykjavik hotel, travel by air-conditioned coach into Iceland's countryside.
Admire the craggy mountains and volcanic plains, and listen as your guide explains how Iceland's landscapes hide a subterranean network of caves and craters. These were formed when the surface lava hardened and the hot, fluid magma underneath continued to flow, eventually forming tubes and caves.
After roughly an hour on the road, arrive at a lava system of tubes and chambers. Don your coveralls, gloves and helmet with a flashlight, and after a safety briefing, follow your experienced guide into a narrow cave entrance.
Make your way into the cave and be struck by the extraordinary variety of colors and formations of lava around you. Hear how the different lava streams are the result of different eruptions through the centuries.
Be ready to scramble over uneven terrain and crawl along some stretches, and stop to admire incredible rock formations, and stalactites and stalagmites.
There are no handrails or cave lights — just your helmet beams and your guide to lead the way — so the tour is only suitable for those who are confident walking on rough ground.
After exploring underground, return to the surface and end your tour back in Reykjavik.
June 2015
A bit physically demanding but worth it! If u like geography stuff and u r adventurous , this is a must go tour for u.
July 2014
This hike was a fun challenge. Fabulous wonder of the world exploring caves created from lava. We enjoyed a few bruises and getting dirty! The equipment was nice but I recommend adding knee pads to the jump suits, especially for the people above 2 meters tall.
March 2014
Excellent....it was exciting to go under the ground and explore; the tour guide was excellent (explain the nature in depths) and we did really enjoy the trip.
March 2014
This was a really cool tour. The lava tubes were very fun to explore an the staff was wonderful!!
April 2013
I really loved this tour the guide was amazing letting you know all about the surrounding area and the cave itself. This was not the most stunning cave I have ever seen but it did not distract from the fun of getting dressed up in bright orange jumpsuits and hard hats and climbing through very small places. This tour would only have been better if they also supplied knee pad as I came out covered in bruises (being tall didnt help).

September 2012
This turned out to be one of our favorite tours during our recent stay! However, everyone should be fully aware of what this entails. We read other reviews and thought there would be a LITTLE crawling on all fours........but there was A LOT! In fact bring knee pads if you have them. It was very dark and wet and part of what we liked is that we were scared we wouldn't make it through the small crawl spaces. But our tour guide was great and always encouraged us. This was definitely a "once in a lifetime" adventure.
March 2012
Awesome adventure! The guide was fantastic. Be aware that this tour requires some crawling and bending over.
July 2011
fun! Not hard but had to crawl on hands and knees for 2-3 meters a few times.
Georgeanne W USA
June 2010
It was strenous crawling in the cave but it was awesome. Our guide was fantastic and he gave us coveralls, gloves and hard hats to wear to protect us from the elements. Once in a lifetime experience.
Lisa Z United Kingdom
February 2010
Wonderful experience and tour guide was amazing!!
Advertisement
Advertisement