14 Reviews
Location:

Reykjavik, Iceland

Duration:

7 hours

(approx.)
For a unique afternoon of Icelandic activities take the combined Iceland from Below and Blue Lagoon tours, and make the most of your time in Iceland.
Highlights
Combined Iceland from Below tour and transportation to Blue Lagoon
Amazing lava formations, stalactites and colors
Explore the spectacular lava caves and craters
Caving gear provided (helmet, headlight, overall and gloves)
Transportation to and from the Blue Lagoon (entrance fee not included)
Enjoy a massage or just lie back and relax
Pick-up and drop-off from Reykjavik area hotels and guesthouses
What You Can Expect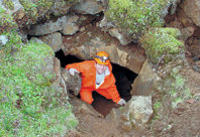 The Iceland from Below tour is an underground adventure like no other, exploring Iceland's spectacular lava tube caves and craters. These beautiful, natural caves reveal an extraordinary scenery of lava formations, stalactites and colors. There are NO handrails, lights or any pre-installed tools in or around the caves, and you'll rely entirely on the equipment provided.
After your underground adventure, you'll be transported to the famous Blue Lagoon for some well-earned relaxation. Once there you have many recreational options to choose from, such as walking in the Blue Lagoon's spectacular surroundings, bathing in the milky blue-green water, relaxing in a geothermal steam bath or releasing the stress from your shoulders under a Blue Lagoon waterfall.
Choose from a regular bathing experience (Visitor pass and entrance tickets included) or indulge in one of the many spa treatments available. You are guaranteed to end your day feeling relaxed and refreshed!

You can return to Reykjavik with our bus at 19:00 or 21:00. Please tell the driver on the way to the Blue Lagoon which departure you would like to take back to Reykjavik.
Please note the Blue Lagoon will be closed from 5 Jan - 21 Jan, 2016

March 2015
Great in every aspect. The guide was reqlly funny too!
June 2014
It was a super tour to have experienced the caves of Iceland. Very knowledgeable tour guide. The stay at Blue Lagoon was the highlight of the day! We are most likely to come and visit Iceland again.
April 2014
The tour was fantastic. Nice and friendly tour guide explaning everything in details. The company had provided us sufficient equipments (helmed, torch and florescent uniform) for the the cave adventure. Convenient inter- transfer point to the Blue Lagoon. Overall, everything is brilliant!
March 2014
The lava caves are a sight to be seen. The formation of caves and tubes during an eruption is such a neat phenomenon. You will have to crawl and roll a few times during this tour, so be prepared to possibly get a few bumps and bruises. Safety gear is supplied so you are protected.
The Blue Lagoon is a wonderful experience. Going on a chilly day makes it an even more relaxing experience.
Well worth it!
January 2014
Everyone knows the Blue Lagoon is amazing, but the Iceland from Below part of this excursion was AMAZING. The lava tubes are things of wonder and beauty and our guide was very fun/knowledgeable. I would highly recommend these combo.
December 2012
Blue lagoon is amazing! Make sure u go on this tour. This door doesn't cover entrance few which was 30 dollars per person
September 2012
Iceland from Below was scary but super exciting! you need to be in great physical shape for this tour. not for claustrophobics! Blue Lagoon was really a separate tour but oh how amazing!
July 2011
Tour guide was excellent, made the lava tube trip fun and exciting. Blue lagoon may be a bit pricy (for what it is) but i still enjoyed the experience.
April 2010
Iceland from Below was fun and informative, adding the Blue Lagoon was a perfect way to end the day!
April 2010
Both parts of trip were brilliant, only frustration was having to return to Reykjavik and drop off the clients not going on to the Blue Lagoon at their individual hotels before retracing steps out to the lagoon. We would certainly do both attractions, but not as the combined trip.
Advertisement
Advertisement