Explore Iceland's volcanic history while getting a dose of adventure and relaxation on this combo tour from Reykjavik. On the Iceland from Below tour, journey beneath the earth's surface with a headlamp to explore ancient lava tube caves filled with rock formations. Next, journey to the Blue Lagoon, Iceland's famous geothermal spa. Bathe in the mineral-rich turquoise waters, relax under steaming waterfalls and purchase a spa treatment if you wish. Round-trip transport from Reykjavik is included.
Highlights
Combined Iceland from Below tour and transportation to Blue Lagoon
Amazing lava formations, stalactites and colors
Explore the spectacular lava caves and craters
Caving gear provided (helmet, headlight, overall and gloves)
Transportation to and from the Blue Lagoon
Enjoy a massage or just lie back and relax
Pick-up and drop-off from Reykjavik area hotels and guesthouses
Recent Photos of This Tour
Iceland from Below and Blue Lagoon
What You Can Expect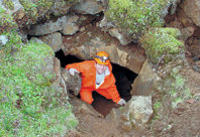 Experience two natural Iceland adventures with this combo tour from Reykjavik. After pickup from your hotel or the cruise port in the early afternoon, travel by coach to rugged and remote lava fields. Get a safety briefing from your guide and gear up with protective suit, gloves, helmet and headlamp.
When you're ready, climb through openings in the rocky ground and descend into expansive lava cave tubes. Crawl and climb through these caverns, created by flowing liquid magma, and admire spectacular stalactites and other rock formations. Caves have been left in left in their natural state with no handrails, platforms or lights, so you'll feel like a true spelunking explorer!
After emerging back to the earth's surface, climb back in the coach and travel to the beautiful Blue Lagoon to unwind like an Icelander. This natural geothermal spa offers many ways to relax, from soaking in the steamy, milky-blue waters to sweating it out in sauna and steam rooms. Slather your face and body with volcanic silica mud, or massage sore muscles under a waterfall.
If you want more, treat yourself to a relaxing in-water massage or sea salt rub (own expense). Cocktails, snacks and gourmet meals are available to purchase from several on-site bars and cafés.
Once you're feeling completely relaxed, ride back to your Reykjavík hotel on a 7 pm or 9 pm departure (please tell the driver which time you prefer ahead of time).
Please note: The Blue Lagoon will be closed for renovations January 5 to 21, 2016.

May 2016
This Tour was Great the cave you go into is very Cool. But maybe this might not be a good idea for someone who is claustrophobic it can get pretty crapped and you do have to crawl some areas but it was fun. The Blue Lagoon was Nice and Cool as well a great place too relax in the white water hot springs and put on a white mask if you like.
April 2016
April 2016
This was awesome. Our guide was super fun and knew her stuff and she made the tour extra fun. As for the cave experience, I could not have asked for anything more it is certainly adventurous and interesting to go thru the cave on foot. Awesome must see
February 2016
The lava caving is such an amazing experience. It was challenging and a bit physically demanding as there is lots of crawling and scrambling over icy stones, but worth it. The blue lagoon was also brilliant, we didn and #39;t have a huge amount of time there but it was enough time to take it in and relax.
December 2015
Excellent trip. Make sure to wear warm clothes if you are going on this trip in Winter
August 2015
You don't have to be an olympian, but you do have to be in pretty good physical shape to do this tour. On my tour we did have a couple of people who found the efforts to be very strenuous and near the end of the cave I was genuinely getting a bit worried about one person. On a scale of 1-5 in terms of exertion, I would say this tour is about a 3/4. You have to crawl, roll, and squeeze in and out of tight places. I exercise 5-7 times a week and even I was sore after this! That said I absolutely LOVED it. The formations created by nature almost looked man-made, they were that beautiful. I also loved the moment when our hilarious guide asked us to turn off all our helmet lights to experience the complete darkness. It was truly a unique and fascinating experience.
Afterwards, the trip to the Blue Lagoon was also fantastic. It is a pretty popular destination so I am not sure there is much for me to say about it that hasn't been said. Relaxing, fun, etc. I thought it was helpful that the guides gave you two departure times, you could leave at 7pm or 9pm to return to Reykjavik.
March 2015
Great in every aspect. The guide was reqlly funny too!
June 2014
It was a super tour to have experienced the caves of Iceland. Very knowledgeable tour guide. The stay at Blue Lagoon was the highlight of the day! We are most likely to come and visit Iceland again.
April 2014
The tour was fantastic. Nice and friendly tour guide explaning everything in details. The company had provided us sufficient equipments (helmed, torch and florescent uniform) for the the cave adventure. Convenient inter- transfer point to the Blue Lagoon. Overall, everything is brilliant!
March 2014
The lava caves are a sight to be seen. The formation of caves and tubes during an eruption is such a neat phenomenon. You will have to crawl and roll a few times during this tour, so be prepared to possibly get a few bumps and bruises. Safety gear is supplied so you are protected.
The Blue Lagoon is a wonderful experience. Going on a chilly day makes it an even more relaxing experience.
Well worth it!
Advertisement
Advertisement