Discover the waterfalls, volcanoes and hot pools of south Iceland's Landmannalauger region on this day trip from Reykjavik. Traveling by air-conditioned coach, behold the barren beauty of Landmannalauger, located in the spectacular Highlands of Iceland, an area of rocky deserts, multicolored mountains and geothermal springs. Learn how volcanic eruptions and lava streams have shaped the landscapes through the ages; visit the magnificent Hjalparfoss waterfall; stop to bathe in a natural warm-water pool; and gaze up at mighty Hekla, Iceland's best-known and most active volcano.
Highlights
Reykjavik day trip to Landmannalauger

See southern Iceland's natural beauty
Visit Hjalparfoss waterfall and admire Landmannalauger's colorful mountains
Relax in a natural pool
See the Hekla volcano
Recent Photos of This Tour
Landmannalauger Day Trip from Reykjavik
What You Can Expect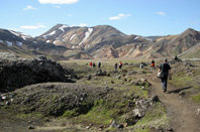 After pickup from your Reykjavik hotel, relax into your air-conditioned coach and journey into south Iceland.
As you travel, take in the stark landscapes and hear about the country's volcanic history from your informative guide.
Venture into the region known as the Highlands of Iceland — an area of blackened rocky deserts, volcanoes, ice caps, hot springs and weather-beaten mountain peaks. Then, a
dmire the scenery as you head into the Landmannalauger area: a geothermal region in the Fjallabak Nature Reserve sometimes known as the 'The Pearl of the Central Highlands.'
Ogle the multicolored rocky mountains as you venture through the Pjorsardalur Valley, and learn how the different colors have been formed by centuries of volcanic eruptions.
Stop to view the double cascades of the Hjalparfoss waterfall, and hear how the vegetation around the fall made it a vital watering stop for early Icelandic travelers and their horses.
Then, take a break at one of Landmannalauger's natural geothermal pools. If you wish, take a dip in the soothing, hot waters and lie back to absorb the idyllic backdrop of jagged mountains and dark lava fields.
Back aboard your coach, drive west to see Iceland's most active and famous volcano, Hekla. Hear how it was once believed to be an entrance to hell, and how its eruptions through the centuries have coated the landscapes in thick layers of pumice and ash.
Later, cross the scenic Hellisheidi plateau, passing through wild, open heathlands on your drive back to Reykjavik, where your tour ends with a hotel drop-off.
Please note: this tour operates from June to September only
June 2016
Just a full day is spectacular scenery.
A great funny guide.
The hike was solid but good fun.
The colors of the mountains have to be seen to be believed
November 2015
Very beautiful, when it rains it rains sideways wear waterproof and warm clothes. If you have a bad back the bus ride will be painful
September 2015
We had a great tour guide and loved learning about and seeing all the amazing sites!

September 2015
Fantastic Tour! We had 5 day trips during our stay in Iceland and this one was the best! Landmannalaugar is definitely the most amazing a MUST-SEE! place in Iceland and we enjoyed the 4 hours we had there so much! Even the long road to Landmannalaugar was enjoyable, wonderful landscapes and in some places the surface was just like on the moon! You have to see this!

August 2015
Landmannalauger is just beautiful with the rhyolite mountains and several hiking trails. One can also take a dip in the hot water, though we preferred to hike around. It would have been nice if the guide could have organized the hike in a better manner. She took off without any announcement and we couldn't follow the group. But that was probably a good thing because we set off on our own and explored this region. I had been wanting to visit this place since a couple of years now and it did not disappoint in any way!
August 2015
A very long day but well worth it, as most day trips are. You travel east to the highlands of Iceland for the main part of the tour, a nice hike that takes you through varying scenery. It's not a complicated hike but can be strenuous at times, however you can go at your own pace. You'll pass colorful hills, moss covered lava mounds, mountains in the distance and geothermal active areas with shades of red and orange in the hot ground. Other stops on the tour include waterfalls and a lake for photos. All in all a great day.
July 2015
Very interesting! The huge monster wheel truck drove us there as its a very bumpy n rocky road through the central highlands... It's miles of lava land n looks like u r at Mars! Landmannalauger is heaven when u get there n u hike up to a little glacier but the view is spectacular! amazing waterfall
August 2013
Our island tour would not have been complete without this excursion
phillip lock Australia
July 2013
4 seasons in a day but the right season for the right time (sunny when one needed to walk). Great commentary by the guide - sorry I cannot repeat his Icelandic name but similar to breitel.
September 2012
We loved this tour. The landscape and scenery were outstanding. It is well worth the long day. Go well prepared with clothing for all weather and pack a lunch as well as snacks. Great tour !
Advertisement
Advertisement