Celebrate New Year's Eve, Icelandic style, during this nighttime outing with a local guide. On this 5-hour excursion, explore the New Year's Eve traditions in Reykjavik, which include fireworks displays, street parties and bonfires. Visit some of the most popular celebrations and toast the New Year with a glass of champagne along with the locals. Round-trip transportation from Reykjavik hotels is included.
Highlights
New Year's Eve bonfire and firework tour in Reykjavik
Travel around central Reykjavik on New Year's Eve with a local guide
Stay warm in front of impressive bonfires

Soak up the party atmosphere, seeing Reykjavik revelers celebrating the New Year

Enjoy a coffee halfway through the tour and a glass of sparkling wine at midnight
Watch the sky lit up with an extravagant fireworks bonanza at midnight
Recent Photos of This Tour
What You Can Expect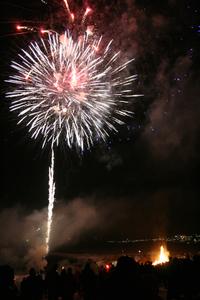 Meet your guide downtown or enjoy pickup from your local Reykjavik hotel to start off your New Year's celebration. Board a minibus to head off into the city for an exploration of the traditional New Year's celebrations, which include lots of fireworks and bonfires.
Drive through the city and see that almost every street hosts a bonfire and a neighborhood celebration. Disembark your vehicle to attend some of the most famous ones with your guide, chatting it up with the locals and enjoying the atmosphere. Stop by a local hotel for a drink to warm your frosty extremities.
Then head for the biggest fireworks display of the evening, the city's official blast off that begins around 11:30 pm. Your minibus will ferry you to one of the best vantage points to see the full display. Count down to the New Year with friends new and old, then clink glasses of complimentary champagne to start the year off right.
Stay at the party until about 1am, then board your bus to head back to your drop-off point downtown or at your hotel.
Annette S Australia
January 2016
Great tour. Such a different experience to anything I have done on New Year's Eve anywhere in the world. In particular, the polar opposite to NYE in Australia.
Marilyn USA
January 2016
We especially enjoyed this tour. The fireworks were seen from a church on a hill in the middle of Reykjavik. We could see the fireworks a full 360 degrees!! It surrounded us. The bonfire was interesting. Waiting for one of the travelers who got lost in finding the bus for 30 minutes was a little annoying. But I would have wanted them to wait for and find me if it was me. The hotel stop was then delayed and snacks were mostly gone.
January 2016
We arrived in Reykjavik on December 31st, booked the tour as not sure what went on.
The tour guide and driver were fantastic, taking us to the bonfire and fireworks early so we got the best views and best parking. The stay for coffee in the middle was a bit long but the guide took us away early and gace us a guided tour of the city
FANTASTIC ,,,,,
January 2016
January 2016
It was an awesome trip. The staff was really nice and did their best to show us the best places to see the fireworks. The bonfire was also really great.
I would definitely recommend this trip.

January 2016
George C United Kingdom
January 2016
Absolutely mental, my highlight of the trip. If you love Health and safety rules don't go! You have to do this trip to understand why its mental
March 2015
February 2015
Must do!!! Fireworks are super. Tour takes you around at the right times so you can enjoy bonfire, have a lil relaxation and then off to see the midnight fireworks in a great location.
February 2015
I have to admit. When we first started this trip we was a little persuaded to leave, the first bonfire with the live band playing was so nice. It was nice to see the traditional side to Icelandic people. But what let it down was the long wait in the hotel grand for everyone to finish watching their traditional comedy show, which felt like forever. But we waited to see what happened. The guide took us to a high piece of land to view the fireworks. IT WAS AMAZING. I have never seen anything like it, here in England we have fireworks for around 5 mins and you have had enough but thats all we get. In Iceland I witnessed around 200 fireworks at the sometime for about an hour..I was in awe. I had never seen anything like it and I dont think I will again, not like that. It was incredible. If you are doing this trip and you find it a little boring at first I do advise to just hold on and wait.. its worth the wait, I still havent got over the images in my head due to the fact my camera couldnt take a photo due to it being that bright :
Advertisement
Advertisement