Join in with Reykjavik's extravagant New Year's Eve celebrations on a nighttime bonfire tour and fireworks display. The event is a big deal in the Icelandic capital, with countless bonfires, street parties and revelry taking place. With a guide, discover the most impressive bonfires and then see Reykjavik erupt with a midnight firework bonanza. Ring in new year with a glass of sparkling wine and celebrate alongside the locals!
Highlights
New Year's Eve bonfire and firework tour in Reykjavik
Travel around central Reykjavik on New Year's Eve with a local guide
Stay warm in front of impressive bonfires

Soak up the party atmosphere, seeing Reykjavik revelers celebrating the New Year

Enjoy a coffee halfway through the tour and a glass of sparkling wine at midnight
Watch the sky lit up with an extravagant fireworks bonanza at midnight
What You Can Expect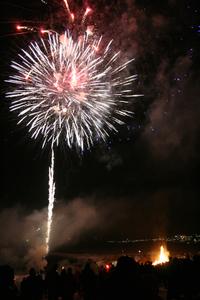 Meet your guide in the center of town or alternatively, start your evening with a pickup from your Reykjavik hotel. Then, head off by minibus to discover the city's legendary New Year's Eve celebrations. Few places in the world rival the atmosphere of New Year's Eve in Reykjavik, when the city pulls out all the stops for its single biggest night of the year. Almost every street has a bonfire on New Year's Eve, and your guide will show off the best ones.

After seeing the city's roaring bonfires crackle and spit against the frosty buildings and dark night sky, visit one of the major bonfires with your guide. Having enjoyed the party atmosphere around the bonfire, visit a nearby hotel for a hot drink and warm your hands from the Icelandic cold.

While there are lots of small fireworks displays throughout the evening, Reykjavik's New Year's Eve crowd-puller is the fireworks extravaganza that starts around 11:30pm and lasts until well after midnight. Travel by minibus to one of the city's finest viewpoints, and then countdown to midnight alongside the locals to see the city erupt in a dazzling fireworks display set against the backdrop of Reykjavik's wintery streets.

Ring in the New Year in Iceland's capital with a glass of sparkling wine. After enjoying the party for roughly an hour after midnight, your tour finishes. If your hotel is included in the drop-off service, head back to your minivan and finish your night with a drop off at your hotel.
March 2015
February 2015
Must do!!! Fireworks are super. Tour takes you around at the right times so you can enjoy bonfire, have a lil relaxation and then off to see the midnight fireworks in a great location.
February 2015
I have to admit. When we first started this trip we was a little persuaded to leave, the first bonfire with the live band playing was so nice. It was nice to see the traditional side to Icelandic people. But what let it down was the long wait in the hotel grand for everyone to finish watching their traditional comedy show, which felt like forever. But we waited to see what happened. The guide took us to a high piece of land to view the fireworks. IT WAS AMAZING. I have never seen anything like it, here in England we have fireworks for around 5 mins and you have had enough but thats all we get. In Iceland I witnessed around 200 fireworks at the sometime for about an hour..I was in awe. I had never seen anything like it and I dont think I will again, not like that. It was incredible. If you are doing this trip and you find it a little boring at first I do advise to just hold on and wait.. its worth the wait, I still havent got over the images in my head due to the fact my camera couldnt take a photo due to it being that bright :
January 2014
What a great night we would never have seen what we saw if hadn't been on the trip - totally recommend it to anyone in Iceland on New Year's Eve
March 2015
This was a good tour, although there was a great deal of ice on the ground. New Year's Eve is a spectacular time in Reykjavik.
March 2015
Fun evening. Going to the hotel for coffee was okay - but very crowded, not prepared adequately for the number of people, and too long.
March 2015
This was a very interesting tour and we enjoyed. However, it was a very confusing pick-up, as there was nothing saying "Viator" and there were tons of buses. I think this is a MUST for tourists in Reykjavik on New Year's Eve.
January 2014
Mostly excellent except the coffee break at the Grand Hotel. There were too many people there, not enough seats, the coffee was cold and there were no cakes or nibbles as we were told there should be. The coach driver and tour guide were superb as were the fireworks.
Advertisement
Advertisement