366 Reviews
Location:

Reykjavik, Iceland

Duration:

3 - 5 hours
Seize the opportunity to see one of the world's greatest natural spectacles on this evening Reykjavik Northern Lights tour. Hop into an air-conditioned coach with an expert guide, and venture deep into Iceland's darkness-cloaked countryside, far from the electric glow of any towns. Stop at different locations to scan the ink-black skies for the legendary lights, and with luck, catch a dazzling display that you'll remember forever. Taking a Northern Lights Iceland tour is a must for anyone visiting Reykjavik in winter, so don't miss out!
Highlights
Evening tour to see the amazing Northern Lights
One of the world's most amazing natural phenomena, also known as the Aurora Borealis
English-speaking tour guide
Pick-up and drop-off from Reykjavik area hotels and guesthouses
Recent Photos of This Tour
Northern Lights Night Tour from Reykjavik
What You Can Expect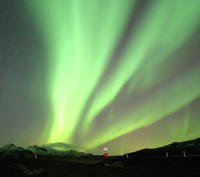 Leave your Reykjavik hotel by air-conditioned coach, and journey into Iceland's countryside to search for the Northern Lights.
On route, listen as your guide explains the science behind the extraordinary natural phenomenon, also known as the Aurora Borealis. Learn about the Icelandic myths that have grown up around the spectacle, and how the fluorescent lights are formed by electrically charged particles in the Earth's atmosphere.
Leave Reykjavik far behind, and head into an area free from any urban light pollution — the darker the skies, the better the chances of getting a good view of the lights.
Hop out of the coach at select locations with your camera in hand and scan the skies, with pointers from your guide. If you're lucky, be treated to a display and gaze at the shimmering veils of fluorescent lights as they dance and move across the sky.
If you're keen to get shots, get tips from your guide on how to set up your camera and take good quality photos. Sightings can't be guaranteed, but if you don't observe the lights, you will receive a complimentary ticket to take the evening tour on another day.
After between three and five hours of looking for the lights, return to Reykjavik where your tour finishes with a hotel drop-off.
February 2016
Very good tour, punctual pick up, unfortunately only smidging of the lights, but were told we could go another night instead. Really pleased and enjoyable trip though.guide very informative.
February 2016
This was amazing! This is what we came to Iceland for mainly, and it did not disappoint!! Our guide was great, really friendly and happy to answer any questions. They even help you get your camera on the correct settings to capture the lights. Amazing, can't recommend enough!

February 2016
I have wanted to see the Northern Lights for such a long time and we finally got to see them on this trip. I have no idea where we went but it was freezing cold. Luckily the coach was available for us to get back on if we wanted to
February 2016
We were lucky enough to see the northern lights! Such a surreal experience and unfortunately our iPhone could not pick up the lights for a photo. I am hoping that someone that went on the same night as we did... uploads a photo.
Nevertheless, it was an amazing experience and is a memory I will keep forever. Something I can tick off the bucket list. The tour was great our driver and guide were both so friendly and fed lots of information whilst on the bus.
Be sure to rug up.... because it can take a while for the lights to show and it was FREEZING! So worth doing though. I would highly recommend. The driver and guide will go out of their way to make sure you see them if the possibility is there.
January 2016
A must to see the northern nights.
We were lucky to see the lights on our first trip at a farm which provided hot chocolate, and toilet facilities which were much appreciated on a cold winters night.
January 2016
January 2016
Great tour as you can keep going back until you can see it. We didn't see legal northern lights so we can go back anytime in the next two years. I would recommend taking a proper camera as we got some amazing photos even though we could only barely just see the lights. Highly recommended and need to plan another trip to Iceland to try again!
December 2015
Awesome, watching the northern lights is a once-in-a-lifetime experience. We were able to watch them on our second night. Out tour guy was very nice and he let us stayed in the bus and just call them when the lights showed up. I would recommend you hunting for the lights on your own if you have a car, but without one this tour is highly recommended.
December 2015
Amazing trip from bus driver to tour guide and off course the lights made a great show for us! Would really recommend that you take a great camera for the pictures.
Definitely a trip to do.
Thanks again bus 18 x
December 2015
WOW WOW WOW is all I can say, that is a thing wiped off my bucket list. We went out on the First night of our trip but didnt see the lights which we were gutted about. Our trip was organised by a fantastic company and because we didnt see the lights on the first nite you can exchange your tickets everyday for up to 2 yeat until you see them which was top class as we got to see them on the second night of our trip
Advertisement
Advertisement