325 Reviews
Location:

Reykjavik, Iceland

Duration:

3 - 5 hours
Don't miss the opportunity to take a mysterious night trip to witness the famous Northern Lights, one of nature's most spectacular displays. Far from the glow of the city, you'll go on a hunt for the elusive Northern Lights, also known as the Aurora Borealis. The famous Northern Lights are visible from the onset of autumn to the light nights of spring.
Highlights
Evening tour to see the amazing Northern Lights
One of the world's most amazing natural phenomena, also known as the Aurora Borealis
English-speaking tour guide
Pick-up and drop-off from Reykjavik area hotels and guesthouses
Recent Photos of This Tour
Northern Lights Night Tour from Reykjavik
What You Can Expect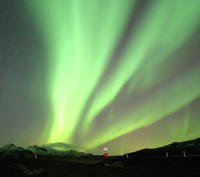 On a clear night, you may be lucky enough to see the Northern Lights swirling in a wild and carefree dance across the heavens, painting dramatic shapes, colors and patterns on the night sky.

This tour is seasonal, operating only from September to April.
July 2015
Spectacular! The best lights of the season. The tour guides knew to wait it out, even though some in our group were getting restless.
May 2015
The tour war excellent and we were very fortunate to see a marvellous display.
May 2015
We were so fortunate to catch a glimpse of the Northern Lights against the Milky Way in mid April. Awesome!
May 2015
April 2015
Unfortunately, due to inclement weather, this tour was cancelled. The tour company was wonderful in providing a full refund and suggesting other tours we could sign up for. Providing five stars due to the wonderful customer service...can't be mad at Mother Nature!
April 2015
The bus ride to the site was about 45 minutes and when we arrived we were treated with the northern lights just starting to dance around the sky. It's hard to describe the beauty. We stayed maybe 2 hours and were not disappointed as they continued to entertain us the whole time. Our tour had a photographer, he took many great shots and his prices are reasonable, 25.00 US. There is a small museum that had a bar open for drinks.
April 2015
Excellent and we were very fortunate to see the Northern Lights on one of the best nights of the year
April 2015
It was so much fun! The Northern Lights weren't very bright this night but our tour guide waited for as long as possible at the venue to give us the best experience and hopefully see them dancing. Unfortunately, they didn't end up coming out later in the night but she gave us so much great information and tips!
Dress warmly--it gets super cold and it's a late night. There's a little convenience store where you can buy coffee/hot chocolate but it gets packed once the rest of the buses show up.
April 2015
Northern Light is a natural phenomenon, hence the visible is not always guaranteed. But we were lucky to witness this. It was visible to naked eyes very lightly. For better view one needs to look thorough camera lens. Tripod is must if you wish to take pictures with your DSLR camera. It is impossible to shoot a northern light picture with smart phone or DSLR without Tripod.
Tips : For those who dont have tripod, try to base your camera in a still base car top, dustbin, handrail etc
April 2015
It was a long cold night and it seemed we were on the bus forever, but it was all worth it. The Northern Lights are magnificent! The driver and the guide were very nice and made the trip as enjoyable as they could possibly could have.
Advertisement
Advertisement