Enjoy unforgettable adventure in the Land of Ice and Fire on this 6-hour Northern Lights tour from Reykjavik. Explore lava caves deep in the Blue Mountains with your guide. Visit a seafood restaurant in the coastal village of Eyrarbakki, where your two-course Icelandic lobster dinner awaits. Afterward, head out into the open wilderness, and keep your eyes on the skies for the telltale blue and green hues of the Northern Lights. Visit popular viewing sites where the Lights are most often seen and capture their beauty on camera.
Highlights
6-hour evening Northern Lights trip by jeep
Go underground in the fascinating lava caves beneath the Blue Mountains
Dine on fresh Icelandic lobster at the prestigious Rauda Husid restaurant in Eyrarbakki
See the elusive yet spectacular Northern Lights
Learn about the Northern Lights in Iceland from your friendly guide
Recent Photos of This Tour
Northern Lights Tour from Reykjavik: Lobster Dinner, Lava Caves and Eyrarbakki
What You Can Expect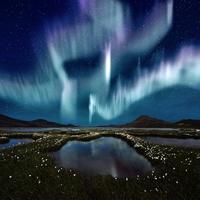 The Northern Lights, or 'Aurora Borealis' to give it its formal title, is the captivating natural light display that can only be seen in high latitude locations. This unique phenomenon appears when solar wind particles collide with atoms, transmitting the energy created into an auroral glow. Usually a fluorescent green color, the glow can change within split seconds or stay as a mesmerizing haze for hours.

In your quest to see the mystical Northern Lights for yourself, your expert guide will collect you by jeep from your Reykjavik hotel, and whisk you away to find the best aurora sightseeing spots that only the locals know.

As the Icelandic skies need to reach an optimum level of darkness before the lights appear, head off first to explore the lava caves under the Blue Mountains, about 25 minutes from the center of Reykjavik. As you walk down into the caves with your guide, learn about volcanic activity that produced this magical subterranean wonder world. See fascinating rock formations and glistening icicles – a sight to remember!

After you've worked up an appetite, dinner is the next item on your evening agenda. At the acclaimed seafood restaurant Rauda Husid, in the quaint coastal village of Eyrarbakki, a two-course feast awaits. With your guide, dine on the restaurant's renowned Icelandic lobster, plus a dessert of your choice. Drinks are available at your own expense.

The Northern Lights can only be seen far away from city lights, so the countryside around tiny Eyrarbakki is the ideal spot for catching the show. With cloudless weather (and a little bit of luck!) you should be able to witness the stunning, elusive Northern Lights before returning to your Reykjavik hotel.
December 2015
Excellent tour, a million times better than going on the cheap coach northern lights tours. Definitely worth the extra money. We we're picked up in a four by four and had the most amazing evening, the off roading was very fun and dinner was delicious! It was cloudy so unfortunately we didn't get to see much of the northern lights but that's out of the tour operators control. Our tour guide was AMAZING. If I we're to return to Iceland I would definitely want to do more tours with him-we took his business card for this reason.
December 2015
Wow! Gilli is Awesome. Went above and beyond his duties as a tour guide tend times over. The Lobster dinner was great, very tender lobster, great selection of local craft beers.
September 2015
Excellent tour! We were picked up in a super jeep which holds a max of 12 people. Gilli was our guide for the evening. First, we hiked approximately 300 meters into a lava tube, where Gilli was very informative about how they were formed. I would recommend good hiking boots or supportive shoes. Then, we had a fabulous lobster dinner with the most decadent waffle dessert I've ever had. to top off the evening we hunted for approximately an hour and were able to see the northern lights. What an awesome performance they had for us. This was a tour of a lifetime. Thank you Gilli for a fabulous evening!
April 2015
Excellent, excellent! Our guide, Christian, was knowledgable, kind and fun! The cave experience was outstanding. The dinner was absolutely wonderful and lovely and the lobster was very tasty! Finally, Christian knew exactly where to look for the Northern Lights. His local knowledge paid off for us as, from talking to other tourists, I was the only one with success at seeing and photographing the northern lights during the week I was in Iceland. Finally, Christian helped with photography. I have limited experience with photographing at night and he had lots of tricks up his sleeve to help me get some fun photos! This was a great tour!
Travel Queen USA
April 2014
We had a great time!! First stop - explore a lava cave. I wasn't expecting to climb into the lava cave (don't ask me what I was expecting, because I don't know). Our guide was informative and extremely friendly. From there we went to a restaurant in Eyrarbakki for the lobster dinner. We received 5 small lobster tails each that were the sweetest best tasting lobsters EVER!! I am gluten/dairy free and had mine plain and they were fantastic. Unfortunately, the weather was not cooperating and we were unable to see the lights. However, it was definitely worth the trip.
April 2014
Our guide/driver 'Thor' was personable and informative. Caving was not too difficult but there is a little bit of 'scrambling' and you needed to be mindful of your footing. Nice traveling with a smaller group. Dinner was delicious. Northern Lights were not very active-went looking next nite free.
April 2014
Excellent Lobster Dinner and a wonderful guide that scout for locations to see the Northern Lights
March 2014
Climbing up into the super jeep so large I needed a boost up, I knew this wasn't going to be a sit-back tour. After braving the icy roads out of Reykjavik, we ended up completely in the middle of nowhere at Leiðarendi cave (http://cave.is/caves-in-iceland/leidarendi-cave/). The wind was so strong it was hard to stand up at times, and after donning hard hats and lamps, our guide promptly slid on his back down an almost invisible hole into the dark below. After wiggling, climbing, bending and bumping our way through, we discovered an enchanting lava tube of hobbit-like proportions, along with its hidden secrets of previous occupants - both animal and mineral!
We then headed to Eyrarbakki, a small village in South West Iceland, and enjoyed a delicious lobster meal in Rauða Húsið (The Red House), with some excellent beers.
We then had the tricky task of spotting northern lights in a cloudy, full-moon sky. Our guide tried three of the 'regular' spots he knew, but nothing was to be seen. Rather than give up, he drove another 30-45 mins on up a mountain in a BLIZZARD to try and get us a view, but nothing could be done. Such is the chance you take with Northern Lights tours.
While we didn't see the lights this time, this was a brilliant package tour with a guide who definitely knew his stuff.
November 2013
Great evening out! Provided by Arctic Adventures our Super Jeep transported 10 of us (including our guide). Our guide was good fun and gave lots of ancedotes. Dinner was lovely - Icelandic lobster is quite different from lobster I've had previously. Lots of food, cooked to a good standard. There was also a vegetarian in our group and they were also able to cater for this person (i.e. they don't serve lobster and nothing else). Northern lights - we were lucky to see some great lights and our guide had also brought his tripod and let those of us who were unprepared (i.e. me) borrow it to take photos. He also has seen so many cameras he was able to provide help to those wanting to take pictures but not understanding their cameras. We choose this trip on the basis that if we didn't manage to see the lights then we would have an enjoyable evening out - we were definately right and on top of that we were lucky enough to see the lights. Top tip: wrap up warm - northern lights viewing is very cool so take extra layers, you can always leave in the car!
March 2015
Advertisement
Advertisement