Seek out the Northern Lights on a guided boat cruise from Reykjavik. The tranquil waters of Faxaflói Bay, far away from the city lights, make an ideal spot for stargazing and seeing the sometimes elusive Northern Lights. Learn all about Mother Nature's fireworks display from an onboard guide, and enjoy a hassle-free hotel pickup and drop-off, too.
Highlights
2.5-hour cruise from Reykjavik to see the northern lights

Hear myths and scientific explanations about aurora borealis from your expert guide
See the breathtaking natural phenomenon from the water, away from the city lights

Savor hot drinks (own expense) and enjoy complimentary warm coveralls
Recent Photos of This Tour
Northern Lights Viewing Cruise from Reykjavik
What You Can Expect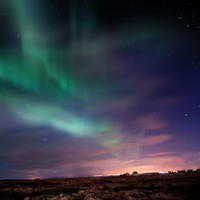 Choose from one of two evening start times when you book. After a hotel pickup from Reykjavik, step aboard a sightseeing boat and cruise out into the waters of Faxaflói Bay to search for the Northern Lights.
The natural phenomenon occurs when particles in the Earth's atmosphere collide, producing vivid colors in the sky. The best place to place to see the display is as far away from worldly light as possible, making a cruise — such as this one — a great way to see them.
Learn all about the Northern Lights from your guide, and separate scientific facts from fictional myth. Where you sit is up to you. Get out on deck to stargaze outdoors, or hunker down in the viewing area with a warming hot drink. Refreshments are available to purchase, if you wish.
After 2.5 hours on the water, return to the start point and finish with a hotel drop-off.
June 2016
My tour was nothing short of spectacular! We went very late in the season and were not expecting to see any lights. Turns out we saw lights from the beginning to the end of our tour. The stories, poems, and songs were an additional bonus. I highly recommend this your to anyone who goes to Iceland!
April 2016
You're at the mercy of Mother Nature on this one...but we lucked out and saw a great show! The tour operators were great - just be sure to get there early to get a good seat on the top deck! It gets crowded.
April 2016
Our Cruise was cancelled the first night but there was no problem to move it for other day or get the money back, so we moved for the next night, we had a fantastic time. It's worth going at this Cruise. It's something you have to see for yourself :
April 2016
We were very luck to see the Northern Light display as soon as the boat left the harbor far enough.
April 2016
These tours, like everything we did in Reykjavik, were really well organized and friendly. The boats provide coveralls to keep you warm - these are 1 very needed and 2 in good condition - make sure you wear plenty of layers as well though.
The trip only runs if there's at least some chance you'll see lights. We got super lucky and went out on a night when there was a truly awesome northern lights show. Obviously, there's nothing anyone can do to guarantee you get to see them, but I really got the impression that effort was being made to ensure we got the best possible experience.
March 2016
Fantastic trip. Very cold but definitely worth it as saw a wonderful display of the aurora borealis. You have an option of a larger boat which is a bit slower but more comfortable or a smaller boat which is faster. Warm coveralls to help with the cold and a snack bar on both means you can keep warm with a hot cup of something wet. We selected the smaller boat which was faster and fun when they sped up on the way back. Definitely a must when in Iceland.
Julia Deutschland
March 2016
We saw the Northern Lights!!!! So amazing. We really enjoyed the cruise. Totally worth the wait and the cold. However, it may be a bit difficult to take nice pictures with a standard camera as the boat moves a lot with the waves. So, if you are there for the pictures, maybe the bus tour is more recommendable.
March 2016
Even though it was spitting with rain, and incredibly cloudy, we managed to see the lights! The boat trip itself was fun being able to speed away from the distance of Reykjavik's lights and over into darkness. The lady operating the tour was lots of fun! She kept us entertained whilst waiting for any sign of the lights.
March 2016
We couldn't be happier with this tour. After a few nights of cancellation due to cloudy weather, we finally had a 'go' for the trip. We saw amazing colors with moving lights. It was a sight we won't forget.
March 2016
The tour was amazing. We saw an absolutely spectacular show even the guide was genuinely amazed by it.
Advertisement
Advertisement