Sample Iceland's resurgent beer-brewing culturing during this 2-hour excursion to Reykjavik's Olgerdin Brewery. Step inside this distinctive Icelandic brewery, learning about the history of alcohol in the country as well as its unique drinking culture. Best of all, you get to down a few frosty mugs of the brewery's own creations, plus a shot of Brennivín. Your Iceland brewery tour also includes a guide and round-trip transport from select hotels.
Highlights
1-hour guided tour around the Olgerdin Brewery in Reykjavik

Learn about Iceland's prohibition years, and history of alcohol

Sample famous Icelandic beers including Gull and Malt & Appelsin

Enjoy a shot of Brennivin schnapps

Try the beer subsitiute that was produced during prohibition
Hotel pickup and drop-off from selected Reykjavik hotels

Recent Photos of This Tour
What You Can Expect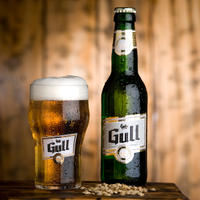 Discover the beer renaissance that's brewing in Iceland during this nighttime brewery visit to Olgerdin Egill Skallagrimsson. During the course of your visit you'll have a chance to get a sense for Iceland's unique drinking culture and its long history of brewing, a culture that thrives once more despite
significant legal restrictions that were in place for most of the 20th century.
Start your brewery experience at around 5pm with a pickup at your hotel in central Reykjavik, continuing to the brewery, which is
situated on the eastern edge of Reykjavik. Olgerdin Brewery, which is celebrated as the country's oldest, is at once historic yet appointed with stylish modern details.
Get situated at the brewery and start tasting some classic Icelandic brews, including Gull and Malt & Appelsin, listening as your guide shares stories from Icelandic drinking lore that have been passed down through the ages. Discover the history of mead, a wine fermented with honey that dates back to the Vikings, and sample a shot of Brennivín, the country's iconic liquor produced with potato mash and caraway seeds.
During your time at the brewery you'll also hear about Iceland's history of prohibition, which started in the early 1900s. Up until 1989 beer was banned in the country, resulting in some creative concoctions produced by Iceland's residents to help make it up for its absence. Sample this interesting beer replacement before finishing your excursion with drop-off back at your hotel.
May 2016
I was hesitant on booking this tour, and let me tell you I am SO glad we did it!! This tour was unlike any other brewery tour, our guide was absolutely hilarious and interacted with everyone. She made learning history while tasting beer so much fun. It was our first day in Iceland, it was a great way to spend our first night and start our trip. When the tour was over we all ended up being dropped off in downtown to continue the drinking with our new friends. Very fun, very worth it - I highly recommend.
May 2016
Amazing tour! So much beer and many laughs. Fantastic time!
April 2016
It was absolutely superb. Completely different to any other brewery tour I have ever been on. The organisation and transportation was fabulous. The tour itself was made to be as good as it was due to one main element and that was our guide/host Sylvia. That woman was absolutely amazing and an incredible asset to the brewery. She was informative, hilarious, her English was better than a lot of ours. she was completely out there in her delivery style and kept us entertained and riveted to our seats for over an hour. She knew her stuff and how to perform. The amount of confidence she exuded was something I have never experienced before, anywhere. if there is any way of passing this feedback on to her as well, I would greatly appreciate it.
April 2016
Brilliant!!! We always try to squeeze in a Brewery Tour when we're in another country. For beer lovers they're fun and informative. However this was hands down the best brewery tour we've been on. Our tour guide was so much fun and interacted with everyone. She told us lot's of fun stories about Iceland's history with alcohol and she was quite comfortable with our increasing level of drunkenness. And you do get a bit drunk as they certainly don't hold back with the booze!! The tour provides a pick up and drop off service. As we had made some new friends/fellow beer lovers on the tour we all asked to be dropped of in down town Reykjavik to continue the party. Just one tip - don't make our mistake and book it the night before an early flight. You will have some regrets!!
April 2016
This was the best brewery tour we have ever taken. Their unique perspective and approach was outstanding! We would definitely recommend this tour!

April 2016
A fun evening with the most entertaining host! Made some good friends and enjoyed fab beers!
April 2016
Amazingly hilarious. Learned tons about history and beer while tasting it all. Honestly, it's like showing up at your best friend's bar, laughing a lot and getting constant free refills. Best experience of trip so far. Can't recommend it enough. The beer was insanely tasty.

Guy W United States of ...
April 2016
Best beer tour... ever!!!
March 2016
This tour was a blast, and well worth the money! We are used to American microbrewery tours, which are often a stroll around the facilities while they talk science at you and then they give you a flight of tiny pours. If you want to talk brewery science, malt, or hops, this is not the tour for that. They started us off with a full beer, and dove into the historical relationship of Icelanders with alcohol. Our guide Sophia was a hoot! There was no shortage of beer:We probably tried about 5-6 different beers, and each can/bottle of beer after the first was split between 1-3 people. They did take you around the facility at the end, but I think the total was about 15 minutes on the tour and our guide pretty much summed up beer-making in two sentences. Highly recommend if you're looking for a semi-structured beer-filled night!
March 2016
Fun, Interesting and informative. Sylvia, our guide at the brewery, was hilarious! Also, plenty of free beer tasting.
Advertisement
Advertisement