Enjoy an unforgettable angling trip on Iceland's icy waters on this 2.5-hour sea fishing trip from Reykjavik. Whether you're an aspiring or experienced sea angler, pull on some warm coveralls, and sail into Faxaflói Bay on a comfortable fishing boat. Then, with instructions from the crew, set up the supplied fishing rods and bait, and wait for a bite. If you're lucky, catch species such as cod, halibut and haddock, and choose to either barbecue them on board or have them packed in a crate to take with you!
Highlights
2.5-hour sea-fishing tour from Reykjavik
Enjoy the picturesque scenery of Faxaflói, a bay teeming with fish
Good chance of catching cod, halibut, haddock, rockfish and pollock
Professional equipment provided
Barbeque your catch on board or take it with you
Warm coveralls are available on the boat
Recent Photos of This Tour
What You Can Expect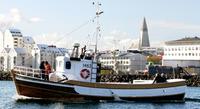 Begin your experience with a pickup from your central Reykjavik hotel, and travel to the Old Harbour.
Meet the friendly captain and crew on your fishing boat, and don some warm coveralls to keep you cozy. Then, enjoy the views as your boat heads out into the icy waters of Reykjavik's Faxaflói Bay.
Feel the thrill as you cut through the waves, and set about using the supplied angling equipment. As well as experienced anglers, this trip is ideal for first-timers, so if you've never been sea fishing, don't worry — the crew will guide you through the essentials. All the necessary items, including fishing rods and bait, are provided on board.
Once you're ready, drop your line and enjoy an exciting angling session. Species you may catch include cod, haddock, pollock, halibut and rockfish.
If you're fishing in summer (May to August), your boat will pass the islands of Akurey and Lundey during your trip. Both islands are famous for their seabirds and summertime puffin colonies, so keep your eyes peeled for these colorful birds nesting on the shores.
After your fishing session, you're free to either barbecue your catch on the boat or to ask to have your fish packed in special crates, available on request.

Your 2.5-hour fishing adventure then ends with a drop-off at your Reykjavik hotel.
June 2016
A must-try activity especially for first-time fishing. We caught so many fishes within a short time with the help of the capable crew and thereafter, they cooked the delicious fishes for us. Thoroughly enjoyed the trip.
June 2016
Excellent experience! We caught several cod. So delicious. Crew was accommodating and helpful. Highly recommended.
June 2016
Nice crew and a lot of fish activity towards the evening!
June 2016
Great Fishing Tour!!! Nice, helpful, all you need is yourself and a desire to fish! Captain took us out to about 100' to start with and pulled in some pretty good sized fish....
Then he took us to about 200' and I caught a 24lb COD.... Biggest they had had for a while!!
Even the Captain and the Crew were excited about it! It was as long as my 7 year old son... WOW!!
Had a fabulous time!! Thanks to the Crew and the great eats after the trip!!! Oh yea, feeding the Seagulls was fun for my 7 year old!!! Would do it again and again!
May 2016
Trip was superb! Fishing was so fun and then the very gracious hosts cooked the fish and we had the most delicious supper! Could not have been better!!!!
November 2015
The crew were friendly and we caught plenty of cod, albeit quite small ones. However, when they were BBQ'd on the boat by the crew they were out of this world! I highly recommend this tour.
September 2015
This was a wonderful trip and a great introduction to the generosity of Icelanders. Besides catching and eating oodles of cod while freezing and getting soaked to the skin, we met two remarkable men: the captain, who gives any surplus filets to a shelter, and likes to engage the passengers in discussions about social justice and taking care of one's fellow men and the mate, a business consultant by day who crews every evening for the joy of it. He may be the happiest man I've ever met.
August 2015
Great boat. Great crew. Wrestled a good many cod to the boat I lost count, if you can believe! A fine half day of fishing, and just minutes away from the Reykjavik shore. Save a couple of fish for the delicious fish meal aboard the boat but please release the rest!
August 2015
We caught lots of fish. I caught 12. Cooked them up on the way back. Tasted great. Captain and his mate were very nice, helpful and did a great job.
July 2015
The fishing was really good, the crew fun and helpful, and cooking and eating the fish right on board was awesome!
Advertisement
Advertisement