36 Reviews
Location:

Reykjavik, Iceland

Duration:

11 hours

(approx.)
For those who want adventure - this is the tour for you! Tour over the plateau Hellisheioi and on to visit the beautiful waterfall Seljalandsfoss where you can walk behind the falls. The highlight of the tour is a visit to Thorsmork, or 'Thor's Woods', a beauty spot surrounded by glaciers, mountains and glacial rivers - an unforgettable experience for nature lovers.
Highlights
Reykjavik day trip to Thorsmork and the South Coast

Drive over the Hellisheioi plateau and through Selfoss, Hella and Hvollsvollur
See the Seljalandsfoss waterfall
Explore Thorsmork, a natural reserve shielded by glaciers, mountains and rivers
Hotel pickup included
Recent Photos of This Tour
Thorsmork and South Coast Day Trip from Reykjavik
What You Can Expect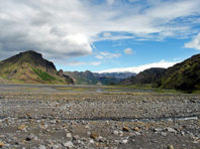 Begin this extraordinary tour by driving over the plateau Hellisheioi, through Selfoss, Hella and Hvollsvollur where you will make a short stop to purchase food and provisions for lunch. Visit the beautiful waterfall Seljalandsfoss, and find you are able to walk behind the falls! Continue over the Steinholtsa River and walk into the narrow gorge of Stakkholtsgja, an unusual and breathtaking canyon.
The main attraction is Thorsmork, also known as 'Thor's Woods', a natural reserve shielded on three sides by glaciers, mountains and glacial rivers. For these reasons, Thor's Woods has often been difficult to reach, limiting access to heavy-duty mountain vehicles. There are a multitude of small gullies and valleys, clad with low birch-trees that create seemingly endless possibilities for the nature lover.
Thorsmork is a narrow valley situated between three glaciers named Myrdals, Eyjafjalla and Tindafjallajokull. Porsmork was a fjord some 12,000 years ago (as your guide will explain) and the outlet glaciers tumble and crawl down into the gullies, some of them ending in spectacular glacial lagoons. The glacial melt-off forms rivers, all have to be crossed on the way into Thorsmork. Some days the crossing is challenging - an innocent stream can change in a matter of hours to a thunderous torrent. Skilled drivers are very experienced in these driving conditions. This trip is truly unforgettable for the nature lover at the heart and ideal as an hiking trip.
September 2015
WOW! Such stunning views, and a great day of hiking. This is a long day, but you will not be disappointed with the activities and the absolutely majestic landscapes and hidden waterfalls.
August 2015
This was one of my favorite memories of my week in Iceland. My tour was pretty unique. My fantastic guide was named Jon Spencer, and on the tour was his daughter and her family visiting from the states as well as an Icelandic resident who were all equally amazing. The tour itself takes you off the beaten tourist's track except for Seljalandsfoss, but heavy crowds there are to be expected. The multiple walks and hikes through the tour really made it for me, even though my foot slipped trying to cross a stream to get towards the glacier and I completed soaked my shoes. Thorsmork was truly an adventure, the beauty was overwhelming. Jon gave us lots of wonderful information on Iceland and took us to many scenic stops along the way to take photos. The sheer diversity of all the things you are able to see during this one day is unbeatable.
Warning: You WILL get wet. Between the waterfall and all the beautiful streams, creeks, and canyons you will very likely get your shoes wet. Bring extra socks our amazing guide had some for us, but that may have been a forethought since he knew his family would be there?, bring a raincoat, and consider wearing something warm but water resistant on your legs. My tour was in July and the sun was out for most of it, but I imagine this advice is even more important for those doing this tour in the fall/winter. The advice is Iceland is always to pack layers and that could not be more true for this tour. There were points where I was down to a t-shirt and maybe an hour later I was back up to a fleece, a rain coat, and a wool hat.
Overall, I could not have been happier with this day. I recommend this tour to everyone since you see so much and a lot of it isn't packed with tourists. Truly a wonderful experience.
August 2015
One of the best day trips I took part of while in Iceland, the Thorsmork area has some great scenery. While there aren't many trees in Iceland, and they aren't big, this area has a decent concentration of them. We went on a nice hike with views of the surrounding area, saw a glacier, stopped at a row of waterfall after waterfall, and ventured into a canyon. I suggest waterproof hiking boots if you have them for the parts where you have to cross running water on stepping stones. The guide was great and there was plenty packed into the day without being rushed.
July 2015
July 2015
June 2015
The tour was super fun! The guide was very knowledgable and showed us all the great spots. Highly recommend!
October 2014
Excellent great guide who knows his stuff.
July 2014
We loved this tour! Our guide was wonderful. We had to do quite a bit of hiking through rivers and climbing rocks. It was quite a beautiful day.
August 2013
This tour is a great experience. Our guide Anna was very knowledgeable, and made it a great day.
August 2013
This trip is outstanding. Our guide was extremely well-informed and helpful and spoke perfect English. The scenery is well "off the beaten track" and exceptionally pretty. The hike in Thorsmork was adventurous and exciting, gave us a real buzz, and was not overrun with lots and lots of tourists which certain other excursions were, so we were a small select group, making it a very personal and friendly experience. This was truly the pinnacle of our week in Iceland!
Advertisement
Advertisement