Experience southern Iceland's incredible scenery, including Thorsmork National Park, on this day trip from Reykjavik. With an expert guide, drive across the heath-covered Hellisheioi plateau, and visit the picture-postcard waterfall of Seljalandsfoss. Walk behind the cascade and then continue to the Stakkholtsgja canyon, a fairy tale-like gorge with a high waterfall. Lastly, explore Thorsmork National Park, a craggy valley of vast glaciers, mountains and gullies. Drive across gushing rivers, follow the trails and absorb this untouched wilderness as your guide explains its formation and constant evolution.
Highlights
Reykjavik day trip to Thorsmork and the South Coast

Drive over the Hellisheioi plateau and through Selfoss, Hella and Hvollsvollur
See the Seljalandsfoss waterfall
Explore Thorsmork, a natural reserve shielded by glaciers, mountains and rivers
Hotel pickup included
Recent Photos of This Tour
Thorsmork and South Coast Day Trip from Reykjavik
What You Can Expect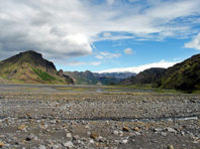 Depart your Reykjavik hotel by air-conditioned coach in the morning and venture south through barren countryside to the Hellisheioi plateau in southwest Iceland.
Take in the views over the wide-open heathlands of the plateau and drive through the small towns of Selfoss, Hella and Hvollsvollur. Mak a stop in one of the towns to buy a snack lunch (own expense), and then continue to the picturesque waterfall of Seljalandsfoss.
Hop out of your coach here and drink in the views over this beautiful waterfall, where the waters gush over an ancient sea cliff, leaving space to walk behind the cascade. If you wish, follow the path behind the fall for stupendous views and take snaps of the tumbling waters.
After crossing the Steinholts River, leave the coach and take a walk in the stunning Stakkholtsgja, a rocky canyon of otherworldy cliffs and streams crowned by a fairy tale-like waterfall.
From here, head into Thorsmork National Park, whose name translates as 'Thor's Woods' – an untouched volcanic valley framed by mountains, rivers and the three glaciers of Myrdalsjökull, Eyjafjallajökull and Tindafjallajökull.
Learn how the area was a fjord some 12,000 years ago, and marvel at the remarkable scenery: a canvas of gullies, birch forests and icy rivers enclosed by steep mountains that can only usually be reached by heavy-duty vehicles.
As you enter, drive across rivers formed by the glacial melt-offs — on some days the waters are little more than streams, while on others, they form rushing torrents.
Then, take time to explore this strange and beautiful wilderness. Behold the remote jagged mountain ridges, glaciers and winding gullies, and make your way to vantage points to take in sweeping panoramas of the valley.
After exploring Thorsmork, drive back to Reykjavik where your trip finishes with a hotel drop-off.
September 2015
WOW! Such stunning views, and a great day of hiking. This is a long day, but you will not be disappointed with the activities and the absolutely majestic landscapes and hidden waterfalls.
August 2015
This was one of my favorite memories of my week in Iceland. My tour was pretty unique. My fantastic guide was named Jon Spencer, and on the tour was his daughter and her family visiting from the states as well as an Icelandic resident who were all equally amazing. The tour itself takes you off the beaten tourist's track except for Seljalandsfoss, but heavy crowds there are to be expected. The multiple walks and hikes through the tour really made it for me, even though my foot slipped trying to cross a stream to get towards the glacier and I completed soaked my shoes. Thorsmork was truly an adventure, the beauty was overwhelming. Jon gave us lots of wonderful information on Iceland and took us to many scenic stops along the way to take photos. The sheer diversity of all the things you are able to see during this one day is unbeatable.
Warning: You WILL get wet. Between the waterfall and all the beautiful streams, creeks, and canyons you will very likely get your shoes wet. Bring extra socks our amazing guide had some for us, but that may have been a forethought since he knew his family would be there?, bring a raincoat, and consider wearing something warm but water resistant on your legs. My tour was in July and the sun was out for most of it, but I imagine this advice is even more important for those doing this tour in the fall/winter. The advice is Iceland is always to pack layers and that could not be more true for this tour. There were points where I was down to a t-shirt and maybe an hour later I was back up to a fleece, a rain coat, and a wool hat.
Overall, I could not have been happier with this day. I recommend this tour to everyone since you see so much and a lot of it isn't packed with tourists. Truly a wonderful experience.
August 2015
One of the best day trips I took part of while in Iceland, the Thorsmork area has some great scenery. While there aren't many trees in Iceland, and they aren't big, this area has a decent concentration of them. We went on a nice hike with views of the surrounding area, saw a glacier, stopped at a row of waterfall after waterfall, and ventured into a canyon. I suggest waterproof hiking boots if you have them for the parts where you have to cross running water on stepping stones. The guide was great and there was plenty packed into the day without being rushed.
July 2015
July 2015
June 2015
The tour was super fun! The guide was very knowledgable and showed us all the great spots. Highly recommend!
October 2014
Excellent great guide who knows his stuff.
July 2014
We loved this tour! Our guide was wonderful. We had to do quite a bit of hiking through rivers and climbing rocks. It was quite a beautiful day.
August 2013
This tour is a great experience. Our guide Anna was very knowledgeable, and made it a great day.
August 2013
This trip is outstanding. Our guide was extremely well-informed and helpful and spoke perfect English. The scenery is well "off the beaten track" and exceptionally pretty. The hike in Thorsmork was adventurous and exciting, gave us a real buzz, and was not overrun with lots and lots of tourists which certain other excursions were, so we were a small select group, making it a very personal and friendly experience. This was truly the pinnacle of our week in Iceland!
Advertisement
Advertisement