Embark on a great northern adventure with a ride on an Icelandic horse, the same breed imported by Vikings in the 9th century. Channel your inner Norse explorer as you cross the beautiful plains outside Reykjavik on your sturdy steed, and then travel to the Blue Lagoon for an Iceland-style spa experience. Soak in the mineral-rich geothermal waters, treat your skin to a natural silica mud mask and soothe your riding muscles with a waterfall massage.
Highlights
Reykjavik day trip to Blue Lagoon, plus horseback riding

Get an authentic Iceland Viking experience
One-hour horseback riding tour on a Viking horse
Head to Blue Lagoon to relax in the waters or have a geothermal steam bath
Hotel pickup; return to Reykjavik hotels
Recent Photos of This Tour
Viking Horse-Riding Tour and Blue Lagoon from Reykjavik
What You Can Expect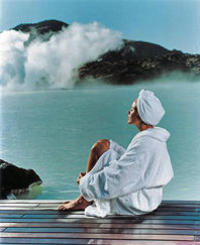 Introduced by Vikings in the 9th century, the Icelandic horse is the only breed in the country and is still closely related to those used by the Norse warriors, thanks to Iceland's strict equine import laws.
Your Viking adventure begins with your choice of morning or afternoon pickup at your Reykjavik hotel and a short drive to the stables near the city outskirts. Mount one of the stable, good-tempered horses and set off through the rugged countryside. Feel like a true explorer as you cross the remote landscape, taking in views of icy peaks in the distance.
After a 1-hour ride, return to the stables and board your coach for the drive to the Blue Lagoon — Iceland's famous geothermal spa. Spend several hours of leisure time here, soaking in the steamy, baby-blue water surrounded by volcanic rock formations. Treat your skin to a natural mask of silica mud, let waterfalls work out any muscle tension and clear out pores in the steam room or sauna.
Upgrade to include a spa comfort pack featuring a towel, skin care samples, algae mask and a beverage. Visit several on-site cafés for more refreshments (own expense), and purchase an in-water massage or body scrub for a truly rejuvenating experience. Once you're completely relaxed, travel by coach back to your Reykjavik hotel or guest house at one of three different departure times.
Please note: The Blue Lagoon will be closed for renovations January 5 to 21, 2016.

May 2016
Excellent trip and a must do when in Reykjavik.

April 2016
I loved this trip. Got to see some lovely views and the horses are beautiful. Unlike any other horse. They are quite spirited and the trot is very bouncy due to shorter legs. The people were great too. Very friendly and match your horse with your experience.
April 2016
Fun and different kind of day - nice people and guides, great horses, wonderful scenery, even cross through some creeks. After 30 minutes, horses get to graze a little, then it's back in the saddle to return to the farm. If you're going to blue lagoon next - no worries, they get you to tour bus facility for 1 pm departure. You'll have several departure times to select from at the end of the day. We ate a late lunch in their classy restaurant. It was superb. Hot springs perfect ending to a great day. The trip went exactly as it was described - and it was great. If you've never been on a horse, you'll still enjoy it.
March 2016
Great day out and the stable staff are fantastic
March 2016
The Viking Horse ride was marvelous, a highlight of our trip! The horses are all well behaved and gentle with the novice rider and the scenery is amazing! We forded three streams, one rather deep, which added zest to the adventure. The Blue Lagoon is not to be missed. Scheduling that after the horse ride made for a perfect day.
March 2016
Horse-riding was great fun! The sights were beautiful and the Blue Lagoon can't be missed! Very recommended
March 2016
Absolutely loved if from start to finish. Pick up from hotel was a bit confusing as we were taken to a central point to wait and then taken back to our hotel to pick up other guests, but apart from that the whole day was wonderful. The horse riding was fantastic even if you were not a rider and the Blue Lagoon is a great way to relax afterwards. Thoroughly recommend this trip.
November 2015
Can't recommend this trip highly enough
October 2015
My best friend of 50 years and I had a wonderful time on the Viking Horse Riding Tour in the morning followed by a relaxing time at the Blue Lagoon. Would recommend it to anyone. The guides were great and we met so many lovely people. Would love to do it again sometime.
October 2015
Excellent time with horse-back riding, even if it was raining. The horses didn't seem to mind at all. The hot springs may be considered 'touristy', but it was defiant a must-see if in Iceland. Would definitely stop by again even for a day next time heading to Europe.
Advertisement
Advertisement