Cruise Faxaflói Bay in search of humpback and minke whales during this whale-watching tour from Reykjavik. A naturalist guide talks about the biology and behavior of these magnificent marine mammals while you look for signs of their presence. Stay warm and dry in provided thermal coveralls as you keep your eye out for whales, white-beaked dolphins and harbor porpoises. Choose from a 2.5-hour, high-speed express boat option or a full, 3.5-hour tour, both of which include round-trip transportation from Reykjavik hotels.
Highlights
Faxaflói Bay whale-watching cruise from Reykjavik
Watch out for harbor porpoises, white-beaked dolphins, minke whales and humpbacks
Learn about some of Iceland's most majestic native wildlife from an onboard guide

Choose between a 3.5-hour whale-watching cruise, or a 2.5-hour high-speed boat version



Recent Photos of This Tour
Whale-Watching Tour from Reykjavik
What You Can Expect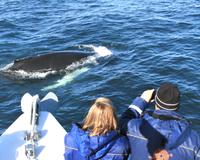 Following pickup at your Reykjavik hotel, you'll be transferred to the city's Old Harbor. Choose between an express 2.5-hour, high-speed tour or a 3.5-hour cruise at time of booking.
Step aboard your comfortable boat and pull on a pair of thermal coveralls to protect you from the Icelandic elements. Find a comfortable spot on the deck and settle in for the scenic ride out into Faxaflói Bay. If at any point you get chilly, make your way into the warm indoor viewing area, where hot chocolate, tea, coffee and snacks are available for purchase.
As the boat cruises through the surf, keep your eyes open for white-beaked dolphins, minke whales, humpback whales and harbor porpoises. This company has a 90 percent whale-spotting success rate, so have your camera at the ready. In the unlikely event that you don't see any wildlife, you'll receive a complimentary ticket for a second whale-watching excursion.
At the conclusion of your eco-adventure, return to shore and board your land vehicle for drop-off back at your hotel.
May 2016
May 2016
Seating was acceptably comfortable. Staff were friendly, pleasant, knowledgeable, helpful, etc. Boat is clean, toilets clean and plentiful. We viewed minke whales, various species of dolphin, puffins,and got up close and personal with a humpback! Pilot handled boat expertly, so as not to startle the animals, as well as ensuring that the ride was as calm as possible. Snacks were a little pricey, but included sandwiches and real food, not just chips and candy.
May 2016
What a magical way to spend the afternoon! We experienced multiple sightings of hump-backed whales with expert guidance from the crew. A truly memorable tour.
May 2016
I would fully recommend this tour. We had such an amazing time the highlight of my trip and were lucky to see many different species of wildlife. We saw: porpoises, puffins, white-beaked dolphins, minke whales and an orca killer whale! We were so so lucky to be able to see a killer whale in the wild, such a beautiful animal it made me cry! The guides were very informative, friendly and funny. When an animal was spotted they always made sure everybody could see and we all had great views from the front of the boat. Overall, I would fully recommend this trip. Thank you for making our trip to Iceland wonderful!
May 2016
We managed to see many whales! it was an amazing experience
April 2016
We saw Minke whales, Humpbacks, black Dolphins, blue dolphins and baby Dolphins. The staff on the boat were qualified in marine biology and very knowledgeable they were able to recognise species from a distance and give us a lot of background information on them.
April 2016
The guide was really great, easy to understand and pointed out a lot of stuff. They kept us on the boat until we saw the humpback!
April 2016
Strongly recommend booking through Viator for your special tours whale watching tour. The morning trip was cancelled due to weather so we'd been booked straight on to the afternoon tour which took place. We went out on a yacht so I am not sure we had drinks etc facilities or overalls but we stayed on the top deck throughout which was the best place to be. Even though it was cold we got a little wet with some big waves but we had a great show and it really was amazing seeing the whales. Departed promptly and back within the 3 hours as we'd had that great a show. Crew were great, told stories and gave info. Great tour, cannot fault.
April 2016
The tour guide was humorous and informative and whenever wildlife was in the water he could clearly point out for everyone on board where to look. We had a very successful trip following a group of porpoises into a bay where then we saw three humpback whales. We were able to get very close to some of the most majestic creatures I have ever seen. I understand others who have done the tour did not have as much luck but I had an excellent experience. There was an option for thermal suits for those who were a bit colder but one the day I went, I didn't find the weather too bad at all.
Definitely worth a look if you're in Reykjavík!
April 2016
Great trip, we managed to see about 5 humpback whales really close to the boat giving us a little show. There was lots of tail lifting, rolling under water and even a jump. During the tour the crew also provided lots of information regarding whales. I would be happy to go again and highly recommend.
Advertisement
Advertisement