End your Icelandic experience in style by taking the combined Whale Watching and Blue Lagoon tour from Reykjavik before taking a transfer back to Keflavik Airport for your flight home. Observe the whales in their natural habitat and enjoy the refreshing waters of the Blue Lagoon on a day that will live long in the memory!
Highlights
Before going to the Reykjavik airport, go whale-watching and visit Blue Lagoon

On Faxafloi Bay, spot whales, porpoises and dolphins
You'll also see local birds like Gannet and Arctic terns
Then visit Blue Lagoon, where you can bathe and relax in the geothermal waters
Hotel pickup included; depart for Keflavik Airport at 2pm or 3pm
Visitor pass and entrance fees to the Blue Lagoon included
What You Can Expect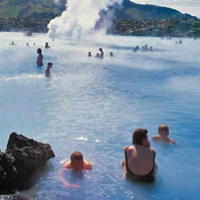 You will sail on Faxafloi bay, home of a unique variety of the Minke whales, Humpbacks, Harbour Porpoises and White-beaked Dolphins, which are all common sights in this tour. The Local bird life is also diverse; including birds such as the Arctic tern, Gannet and many varieties of Gull.
Your tour will then head for the Blue Lagoon, a unique geothermal spa situated in the youngest lava field in west Iceland. Once there you have many recreational options such as bathing in the milky blue water, massage and spa treatments or walking in the Blue Lagoon's spectacular surroundings. Enjoy the qualities the Blue Lagoon has to offer before heading to Keflavik International Airport for your departure.
Please note the Blue Lagoon will be closed from 5 Jan - 21 Jan, 2016

July 2013
The whale watching was incredible. Being out on the bay and seeing a humpback whale do a full breach is something I will always remember. Unfortunately, what they do not tell you is that you will have next to no time at the Blue Lagoon if you have a late afternoon flight.
August 2011
I had to be ready half hour before pickup time but they were 15 minutes late.
Disorganized tour with them not telling me where or when to go.
Whale watching on boat was excellent.
Blue Lagoon and trip to airport went very well.
Advertisement
Advertisement