19 Reviews
Location:

Reykjavik, Iceland

Duration:

Varies
For a unique day of Icelandic activities take the combined Whale Watching and Blue Lagoon tours, and make the most of your time in Iceland. Observe the whales in their natural habitat and enjoy the refreshing waters of the Blue Lagoon on a day that will live long in the memory!
Highlights
Whale-watching and Blue Lagoon tour from Reykjavik

Entrance to Blue Lagoon included
See incredible marine life of Iceland on Faxafloi Bay

Look for minke whales, humpback whales and dolphins
Head to the Blue Lagoon to relax in the water or have a geothermal steam bath
Hotel pickup; drop-off at your hotel or the Keflavík Airport
Recent Photos of This Tour
What You Can Expect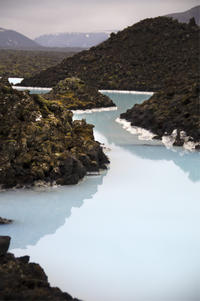 Sail on Faxafloi bay and keep your eye out for one of this area's giant locals. The bay is home to a unique variety of the Minke whale as well as the Humpback, Harbor Porpoise and the White-beaked Dolphins - all common sights on this tour. The Local bird life is also diverse, including such birds as the Puffin, Arctic tern, Gannet and many varieties of Gull.

After your Whale Watching adventure, you'll be transported to the famous Blue Lagoon for some well-earned relaxation. Once there you have many recreational options to choose from, such as walking in the Blue Lagoon's spectacular surroundings, bathing in the milky blue-green water, relaxing in a geothermal steam bath or releasing the stress from your shoulders under a Blue Lagoon waterfall. For a truly unique experience, indulge in an outdoor massage or one of the spa treatments available. Return to your Reykjavik hotel or Keflavik Airport.
Please note the Blue Lagoon will be closed from 5 Jan - 21 Jan, 2016

August 2015
Since these are wild animals, it's hard to predict if one will see them. We were treated to a great view of the bay area and an intro to Icelandic marine life, however.
The Blue Lagoon is well-worth the trip.
June 2015
March 2015
April 2014
Amazing, great experience . Fantastic service. All on time. Instruction very clear. The whale watch was an incredible trip. Thank you to Megan and the whole crew for given us an amazing life experience .
April 2014
Watching 6 Minke whales in the Atlantic......so exhilarating......just fabulous!!
May 2010
Rough seas in mid-May, but we saw a number of whales and porpoises. Very convenient locations and easy travel between destinations.
May 2009
Whale watching was a bit disappointing as we never actually saw any whales and it was not the time of the year for puffins. We did see some dolphins, but it was difficult to take photos. Thoroughly enjoyed Blue Lagoon. Such a stark contrast in temperature, being in your bikini walking to lagoon when it was 2 degrees outside and the lagoon was so warm and relaxing.
September 2015
Excellent day tour of whale watching and blue lagoon but some chaos that was not explained in advance. The trip requires you to get in the bus that collects you, takes oyu to a bus depot for another comp,any where you exchange your voucher for a ticket, get on another bus to whale watching where you exchange your ticket for one of their tickets. Great whale watching trip and saw minke and humpback as well as dolphins as summer a good time. Back onto another bus to bus depot, to another bus to blue lagoon which you have to pay for separately and I advise you to do this ahead to time to save queues. Blue lagoon amazing. Back in another bus into town and then onto last bus of day to hotel. Other advice-take some lunch with you or buy at expensive Blue lagoon cafe as not enough time inbetween to stop anywhere else. Overall a great day out but coordination could be improved which is why it lost 1 star.
September 2015
Did not really see any whales on boat trip, but obviously these are wild animals, and so this could never be guaranteed. The trip was generally well organised, but they ran out of the warm suits in all sizes except extra large which left my wife without one as she is only small. We had dressed expecting to be provided with a suit as it was listed as one of the items included in the price, and so it meant that we were not able to stay out on the top desk with the best views as she got too cold.
The Blue Lagoon was very enjoyable. Even though there were a lot of people there it was actually quite romantic for the two of us, and lovely and warm!
April 2015
We were unlucky with the weather - but incredibly lucky to have seen a whale, surface and dive several times. Well organised, and a fab dual experience
Advertisement
Advertisement