44 Reviews
Location:

Koblenz, Germany

Duration:

1 day

(approx.)
Koblenz is the gateway to the Middle Rhine UNESCO World Heritage site and is happily situated on not one but two world-famous rivers - the Rhine and the Moselle. What better way to experience this stunning area than on a paddle steamer from the good old days! Travel along the Middle Rhine and dream of castles and fairy tales while enjoying the breathtaking scenery all around you.
Highlights
1-day Rhine River pass for the Nostalgic Route from Koblenz to Rudesheim

See the beauty of the Rhine Valley while cruising at a leisurely pace
Travel along the Middle Rhine, admiring the castles and the Loreley rock
Flexibility to choose your own itinerary on your day of Rhine River sightseeing


Recent Photos of This Tour
KD Rhine Pass - Nostalgic Route - Rhine Cruise from Koblenz to Rudesheim
What You Can Expect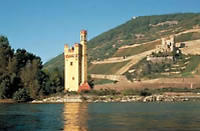 Use the pass as a one way ticket to get from one city to another, or maybe you prefer to use it as a return trip to spend a day elsewhere along the river, the choice is yours!
The paddle steamer cruise on the Nostalgic Route allows you to enjoy the Rhine Valley with its numerous beautiful castles, endless vineyards, the Loreley and much, much more. This is a fantastic alternative to rail travel, while viewing the Rhine Valley from it's best vantage point - the Rhine itself!
Itinerary
9:00am - Depart - Koblenz
9:40am - Oberlahnstein
9:50am - Rhens
10:05am - Braubach
11:00am - Boppard
11:10am - Kamp-Bornhofen
11.25am - Bad Salzig
12:10pm - St. Goarshausen
12:20pm - St. Goar
12:50pm - Oberwesel
1:05pm - Kaub
1:30pm - Bacharach
2:30pm - Assmannshausen
3:00pm - Bingen
3:15pm - Arrive - Rudesheim
4:15pm - Depart - Rudesheim
4:30pm - Bingen
4:45pm - Assmannshausen
5:15pm - Bacharach
5:25pm - Kaub
5:35pm - Oberwesel
5:55pm - St. Goar
6:05pm - St. Goarshausen
6:30pm - Bad Salzig
6:40pm - Kamp-Bornhofen
6:50pm - Boppard
7:20pm - Braubach
7:30pm - Rhens
7:40pm - Oberlahnstein
8:10pm - Arrive - Koblenz
December 2015
Very relaxing. Beautiful cruise. All went well before and during the cruise. Price was definitely right. The views were amazing. We will definitely recommend this cruise o friends, and probably take it again.
November 2015
Booking made easy. Trip excellent and staff very helpful and polite.
August 2015
Had an absolutely fabulous day. The boat, staff, food etc was wonderful. The scenery floating along the Rhine was awesome. Can not recommend this trip highly enough. Everyone should plan to do this trip if they can
June 2015
The cruise was all they promised. It was not clear that breakfast was available on the boat which would have avoided rushing thru breakfast in town.
May 2015
April 2015
Good trip with comfortable cruise ship.
I had a amazing time enjoying the scenery and all the castles along the river.
A must for those visiting Germany.
December 2014
We cruised from Koblenz down to Cochem (the Moselle River) using the one day KD Rhine Pass. It was an excellent way to simply sit back and enjoy the river and views as towns, locks and great countryside all drifted by. We stayed overnight in Cochem, which is delightful, and then caught the train back to Koblenz to continue with our touring. It was very easy and convenient, the KD pass is not expensive, although I would recommend booking ahead, esp in busy times, and the Moselle is as interesting, if not even lovelier than the more famous Rhine
August 2014
It was the breathtaking day! The Nostalgic Route with romantic paddle steamer GOETHE was the best choise to celebrate our 46- years long marriage.Helpfull staff, good lunch, halb troken Riesling - we liked everything.Fabulous! Would be nice to come again! Andris@Anita from Latvia
July 2014
The trip we did was extremely good. We went as far as Bacharach. Left the paddle steamer for lunch. Pretty village, then returned on another boat. We did get a cup of tea in the bar but there were no other refreshments. Which was an opportunity missed with a captive audience Very good value.
Barbara C Canada
July 2014
This was fabulous. Saw so many beautiful castles on the route. very pleasant day on the Rhine. We sat at the bow of the boat. and it was the best pace to sit. Parking is expensive at the dock cost us 16 Euro in the meter and we have to have the correct coin change for the meter .
We left form Koblenz and was 5 hours to Rudeshiem and got off for an hour in Rudeshiem very pretty little town. and then 3 hours back. We would have liked a few more stops and a little more time at the stops. Would recommend it highly
Advertisement
Advertisement