11 Reviews
Location:

Koblenz, Germany

Duration:

Varies
Ride in the Koblenz cable car, visit Ehrenbreitstein Fortress and enjoy a River Rhine cruise – all in one day! Take a cable car ride to the fortress either before or after your cruise, and then see the sights of the UNESCO-listed Rhine Gorge as you cruise from Koblenz to Boppard. Spend time at leisure in the pretty Rhine Valley town, and return to Koblenz at a time that suits you.
Highlights
Rhine River cruise from Koblenz to Boppard with entrance to Ehrenbreitstein Fortress
Enjoy a round-trip cable car ride to Ehrenbreitstein, enjoying views of the UNESCO-listed Rhine Gorge
Cruise along the Rhine Valley from Koblenz to Boppard and spend time at leisure in the town
See sights like Karmeliterkirche or Bodobrica independently, if you wish
Listen to commentary about the Rhine River valley while cruising

Why Our Insiders Chose This Tour
This is the perfect way to experience the Rhine valley! See the sights from on board a boat, and then from high above in a cable car. Have your camera ready, as there are lots of photo opportunities.
What You Can Expect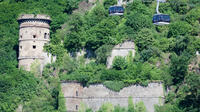 Your River Rhine cruise includes a round-trip Koblenz cable car ticket with entrance fee to Ehrenbreitstein Fortress. When you use your ticket is up to you; ride in the cable car and visit the attraction either before or after your cruise.

Simply step inside the cable car -- the longest in Europe outside of the Alps -- and ascend to a height of 2,789 feet (850 meters), admiring views over the UNESCO-listed Rhine Gorge below. Head inside the magnificent fortress to explore at leisure, learning about its past as a strategic defense building during the Napoleonic wars and World War I.

At a time that suits your schedule, hop aboard your sightseeing boat at Koblenz riverside, and then take a seat outside on deck or indoors in the spacious saloon. Then, cruise south along the Rhine River toward the town of Boppard, along a stretch of the water known as the Rhine Valley or Middle Rhine. Listen to audio commentary about the UNESCO-listed area, hearing fun facts about the famous river's geology, history and sights. Your journey takes roughly two hours, and the route passes nearly 30 castles, fortresses and ruins as well as vineyards and pretty half-timbered villages.

Pass Kurtrierische Burg, one of the region's more imposing castles, and then dock at Boppard's main pier. Perhaps visit Karmeliterkirche, a Gothic church on the riverside, or explore Bodobrica – an old Roman garrison with more than 20 defensive towers. The town lies in the heart of the Rhine Valley wine region, so the nearby wineries are well worth a visit, too. All entrance fees, activities and meals in town are at your own expense. Boats returning to Koblenz leave at different times throughout the day, so you can spend as long as you like in Boppard. The cruise back lasts roughly 1.5 hours.
September 2014
Visiting from CA with my sister and husband from Holland we totally enjoyed the trip on the Rhine River as well as visiting the Ehrenbreitstein Fortress by The Koblenz Cable Car.
The combi tickets were bought in advance and the KD office booth was easy to find in order to change the
Vouchers.
We highly recommend these combi tickets.
K and T from Ojai,CA.
June 2014
It was super easy to find, and extremely enjoyable. Would recommend it to anyone looking for a day trip on the Rhine!
June 2014
It was amazing! Everything all connected and the ticket booth lady was AWESOME! She recommended a timeline and a great breakfast place that all worked out great! The trip was so relaxing and the staff on the boat very attentive. Cleanliness and promptness all made the trip so enjoyable! We hope to do this again!
December 2013
We didn't have perfect weather on our trip, however, it was still well worth taking. Beautiful and relaxing. Germany is a beautiful country.
August 2014
May 2014
Although it was a cloudy day, we still had a terrific time. The ship was much nicer than we expected!! Unfortunately all the beverages are now computerized, so you can't even get water for free. We thought our excursion was going to pass 30 Castles, but it only passed about 5. I now presume you would need to travel much further down the Rhine to see all thirty as advertised. Boppard is a charming town, but again, if you want to get back in time to use the cable car and see the fortress, you must start out on the 9am cruise, and return immediately (55 minutes later) on the next return trip. During the summer there is a return trip that would give you another 2 hours in Boppard. In May it is not offered.
August 2015
We thought the trip was good value, but we're a little disappointed with the commentary on the boat trip. Very little detail was given about the castles we passed and no information at all about other interesting looking buildings or about the history of the Rhine and local communities. Also there was very little service on board. We had to hunt down a bar man for a drink.
August 2013
Rained, interesting, had biked the Mosel for a week so Rhine was somewhat similiar.
July 2015
The ride on the boat to Boppard was great, a bit chilly - bring a jacket! The time was incorrect as to our return trip for a cable ride to the Fortress. We were told by the rep to return to Koblenz by 1pm. We arrived Boppard, docked and exit the boat about 11:30am. We didn't realized that we had less than 45 min to shop and get on another boat to return to Koblenz. As we were sitting at a restaurant watching the return boat pulled away at 12 noon, we didn't think much of it. It is about a 2 hours ride to return to Koblenz. Had we were on that boat that departs at 12 noon, we would not have been able to return to Koblenz by 1pm any way. Then, another boat came shortly after, we went to board and were told that it's not the right boat - it is not returning to Koblenz. The next one would be at 4pm. If we waited, then we would not have a chance to visit the Fortress, since they close at 6pm. So, we had to take a taxi 40 Euros to return to Koblenz in time to visit the Fortress. Boat company needs to correct the schedules and inform customers the correct time of arrival, departure and how much time we have to ourselves.
September 2014
This cruise doesn't have a lot of starting times. It has two; one in the morning and one in the afternoon. It's better to buy a ticket for an all day cruise and do the cable car yourself.
Advertisement
Advertisement