37 Reviews
Location:

Rio de Janeiro, Brazil

Duration:

10 hours

(approx.)
Spend a day at Petrópolis, a mountainside retreat that once served as a summer getaway for Brazil's royalty. On this guided tour, wander through the treasures of the Imperial Museum and then visit the burial place of Dom Pedro II and his family. Marvel at the Crystal Palace, built as an extravagant gift to Princess Isabel. Upgrade with a stop at Cervejaria Bohemia, where you'll be wowed by the factory's high-tech and interactive exhibits. Learn all about the history and science behind beer and taste Bohemia's end result — a cold, rich lager.
Highlights
Full-day guided tour from Rio de Janeiro to Petrópolis, also known as the Imperial City
Discover royal memorabilia, jewels and historical artifacts at the Imperial Museum
Visit St Peter of Alcantara Cathedral and observe royal burial sites
Stand amazed inside the glass-and-steel solarium of the Crystal Palace
Upgrade and take a tour of Cervejaria Bohemia (entrance fee and beer tasting included)
Museum entrance fee and round-trip transport from most Rio de Janeiro hotels included
Recent Photos of This Tour
What You Can Expect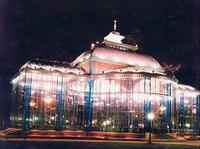 After morning hotel pickup in Rio de Janeiro, take a 90-minute drive north past forests and waterfalls to Petrópolis, a favorite mountain resort known as Brazil's Imperial City, nestled in the wooded hills of the Serra dos Órgãos.

Upon arrival at Petrópolis, start off at the Imperial Museum, housed in the former summer palace of Pedro II, Brazil's second emperor. Follow your guide into this restored Austrian-style palace built in 1845, and get a good look at how Brazil's royalty once lived.

Walk by tapestries, antique furniture and jewels, and gawk at the imperial crown studded with over 600 diamonds and 77 pearls, weighing nearly four pounds (1.7 kg). See the golden quill used by Princess Isabel to sign a law that liberated Brazil's slaves in 1888.

Next, admire the Gothic architecture of St Peter of Alcantara Cathedral and visit the tombstones of Brazil's last emperor, Pedro II and his family.

Walk over to a quiet park and feast your eyes on the Crystal Palace, a ballroom of glass and steel with chandeliers, all built and imported from France, as a gift to Princess Isabel from her husband. Hear about the expositions and royal parties once held here.

Purchase lunch at a restaurant of your choice in town, and feel free to ask your guide for recommendations. Your tour ends with transport back to Rio. If you've opted for the upgrade, continue on to Cervejaria Bohemia, or Bohemia Beer Factory.

Optional Visit to Cervejaria Bohemia (Bohemia Beer Factory)
Top off your visit to Petrópolis with a stop at Cervejaria Bohemia, and take a high-tech, interactive tour to learn about Brazil's popular lager first produced in 1853. You're given a coded wristband which you can use to login at the factory and link to your social media account. Learn fun facts from touch-screen games and score points, and swipe your wristband to send information to your account, allowing you to share your experiences online in real time.

Your guide takes you through the factory's exhibits. Find out all about beer from the Mesopotamian era to present day, and understand the science and art behind Bohemia's brewing process. You'll get to create your own beer brand, and then drink up a glass of recently brewed, refreshing Bohemia beer.

Spend your remaining time playing interactive games or picking up souvenirs at the emporium. Or, head over to the bar and restaurant to try Bohemia's specialty beers along with tasty snacks (own expense), before returning to your hotel in Rio.
September 2015
Quite a surprise to find a town of over 350,000 people on top of this mountain. Beautiful, although long, trip up the mountain, but our guide, Leo, was excellent. He knew his history and was enthusiastic to share his country's past. He was very attentive to his tourists and made sure they were well cared for. He explained all the different aspects of the museum we visited which made the experience interesting. Well worth the price!!
July 2015
Loved the tour to Petropolis. TT was the best tour guide ever! she entertained us and gave us a fun history lesson during the tour and made sure we had time to explore on foot while there. We never felt rushed. I would recommend this tour with TT as the tour guide.
December 2014
The tour guide was amazing, he had a very hard job as I was the only English speaking person there , it was done in error but luckily he spoke many languages. He was very attentive, and made sure he translated everything so I was still in the loop. He was very passionate about the history of Brasil.
July 2014
Great tour really informative
Guide was worth the price of the tour
All four tours were excellent however
Transport arrangements we're chaotic
At each hotel there were always heaps of people waiting on transport and the drivers/guides who had the names did not have signs with passengers names
Toni
January 2014
The tour was excellent. First, the pickup service made things a lot easier. Second, Carla, the tour guide, was fully prepared to give all necessary background and to explain the whereabouts of places we visit. Lastly, the schedule they provide was very accurate, regardless the heavy traffic in Rio.
December 2013
Worth the trip out; an hour and a half bus ride from Copacabana. The palace shows all the rooms as they once were when the queen and her son and grandson lived in Petropolis and the stories are pretty interesting. The lunch was not good (buffet which is about $15USD).
August 2013
Unbelievable city! Very good guide, savvy on the place. A must-do I would say. Beware the road to get there is across the mountains so lots of turns to be expected. Sit in the front of the bus (very comfortable) if you are "fragile" while traveling.
January 2013
Very good tour! Right amount of time in each attraction, free time to visit Santos Dumont house right after lunch; really nice!
A little confusing in the hotel pickup: we stayed 45 minutes in the bus going to other hotels and then we were about three blocks from our hotel again. But no big deal!
February 2010
Guide very knowledgeable. Most enjoyable trip.
December 2008
Beautiful and informing.
Advertisement
Advertisement