Explore the mountain retreat of Petrópolis on this full-day guided tour. Once a summer holiday destination for the royalty of Brazil, Petrópolis features landmarks like the Crystal Palace, the Imperial Museum and the burial place of Dom Pedro II. Purchase a tour upgrade for a stop at Cervejaria Bohemia, where you'll taste one of Brazil's favorite lagers and learn about the history and science behind this brewery through a tour and interactive exhibits. Round-trip transportation from most Rio hotels is included.
Highlights
Full-day guided tour from Rio de Janeiro to Petrópolis, also known as the Imperial City
Discover royal memorabilia, jewels and historical artifacts at the Imperial Museum
Visit St Peter of Alcantara Cathedral and observe royal burial sites
Stand amazed inside the glass-and-steel solarium of the Crystal Palace
Upgrade and take a tour of Cervejaria Bohemia (entrance fee and beer tasting included)
Museum entrance fee and round-trip transport from most Rio de Janeiro hotels included
Recent Photos of This Tour
What You Can Expect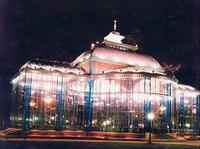 Following morning pickup from your hotel in Rio de Janeiro, board your vehicle for the 1.5-hour ride to Petrópolis. Pass by waterfalls and through scenic forests on the way, learning about the history of the 'Imperial City' from your guide as you drive.
When you arrive in
Petrópolis, tucked in the forested hills of the
Serra dos Órgãos, start your tour at the Imperial Museum. Located in the former palace of Pedro II, the Austrian-style palace from 1845 gives a glimpse into how Brazil's royalty once lived. See the ostentatious imperial crown, decorated with over 600 diamonds as well as luxurious tapestries and antique furniture.
Visit St Peter of Alcantara Cathedral to admire its Gothic-style architecture and pay respects to the burial place of Brazil's last emperor. Then, take a walk through a tranquil park to the Crystal Palace, a glass and steel ballroom imported from France as a gift for Princess Isabel. Listen as your guide describes the lavish parties and royal exhibitions once held there.
Head back to the center of town to purchase lunch (own expense.) After lunch and some free time to explore on your own, your vehicle will head back to Rio for drop-off at your hotel.
Tour Upgrade: Visit to Cervejaria Bohemia
Take a tour of the factory to learn about Brazil's popular lager, which was first produced in 1853. Use your coded wristband to take advantage of the brewery's interactive exhibits and learn about the history of beer. End the tour with a taste of some freshly-brewed Bohemia, then spend some time trying other beers (own expense) or snacks in the brewery's bar and restaurant.
At the conclusion of your day exploring Petrópolis, enjoy drop-off at your Rio hotel.
June 2016
The guide we had was truly a delight and well versed in the history of Rio de Janeiro. It was though she made the vacation....Rio at its best!
April 2016
excellent knowledgeable guide speak many language,keeps everyone entertained.
March 2016
Great trip. Tété was our guide and she was fabulous. Effortless transition from Portuguese, to Spanish to English. This is exhausting work, but Tété brought humour with her knowledge and everything went extremely well.

December 2015
Athens Hootie United States of ...
September 2015
Quite a surprise to find a town of over 350,000 people on top of this mountain. Beautiful, although long, trip up the mountain, but our guide, Leo, was excellent. He knew his history and was enthusiastic to share his country's past. He was very attentive to his tourists and made sure they were well cared for. He explained all the different aspects of the museum we visited which made the experience interesting. Well worth the price!!

July 2015
Loved the tour to Petropolis. TT was the best tour guide ever! she entertained us and gave us a fun history lesson during the tour and made sure we had time to explore on foot while there. We never felt rushed. I would recommend this tour with TT as the tour guide.
December 2014
The tour guide was amazing, he had a very hard job as I was the only English speaking person there , it was done in error but luckily he spoke many languages. He was very attentive, and made sure he translated everything so I was still in the loop. He was very passionate about the history of Brasil.
July 2014
Great tour really informative
Guide was worth the price of the tour
All four tours were excellent however
Transport arrangements we're chaotic
At each hotel there were always heaps of people waiting on transport and the drivers/guides who had the names did not have signs with passengers names
Toni
January 2014
The tour was excellent. First, the pickup service made things a lot easier. Second, Carla, the tour guide, was fully prepared to give all necessary background and to explain the whereabouts of places we visit. Lastly, the schedule they provide was very accurate, regardless the heavy traffic in Rio.
December 2013
Worth the trip out; an hour and a half bus ride from Copacabana. The palace shows all the rooms as they once were when the queen and her son and grandson lived in Petropolis and the stories are pretty interesting. The lunch was not good (buffet which is about $15USD).
Advertisement
Advertisement