13 Reviews
Location:

Rio de Janeiro, Brazil

Duration:

Varies
See the best of Rio de Janeiro with a knowledgeable local guide on a private, customizable city tour! You'll be chauffeured around Rio in a comfortable private vehicle and have the unique opportunity to fully customize your own itinerary. Head to whichever neighborhoods, beaches or city landmarks you'd like to see, from the shores of Guanabara Bay to the hilltop enclave of Santa Teresa – your choice. If you opt to upgrade your tour, travel through the Tijuca Forest by cog train to Corcovado and/or by cable car to Sugar Loaf Mountain.
Highlights
4- or 6-hour private tour of Rio de Janeiro with optional upgrades
Customize your private tour and create your own itinerary
Visit Rio de Janeiro's top landmarks and interesting neighborhoods such as Leblon and Lagoa
Ride the cog train through the lush Tijuca Forest to the Christ Redeemer statue atop Corcovado Mountain (if option selected)
Take a cable car to Sugar Loaf Mountain and admire sprawling views of Guanabara Bay (if option selected)
Round-trip transport by private vehicle included
What You Can Expect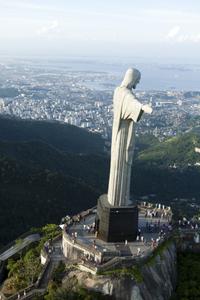 Framed by the granite peaks of Urca and Sugar Loaf Mountain, and embraced by Christ the Redeemer atop Corcovado, Rio de Janeiro is a beautiful city to behold. The 'marvelous city' offers a multitude of fascinating beachfront and hillside neighborhoods to explore, from the bohemian Santa Teresa – with its pastel mansions along cobblestone streets – to the upscale Jardim Botânico, which houses Rio's historical botanical gardens.
This create-your-own-itinerary option allows you to design your own private tour with maximum flexibility. See the world-famous beaches of Ipanema and Copacabana or venture to Flamengo Park, Rio's largest leisure complex. Stop by Rodrigo de Freitas Lagoon, bordered by Rio's most fashionable neighborhoods – including Lagoa, Leblon and Gávea – and take in the views overlooking Guanabara Bay. View the Sambadrome, where samba schools compete during Carnaval, or admire historical buildings in Cinelandia Square.
Upon confirmation, you will receive contact details to work directly with your guide to build your custom 4- or 6-hour tour, depending on your choice. Your private guide can offer suggestions of things to do and see, or you can simply design your itinerary as you see fit. Please list any special interests you have (art, architecture, history, culture) at time of booking to alert your guide, so that he or she can better prepare for your private tour. If you'd like to stop for lunch, your guide can offer recommendations.
Upgrade your tour to include Sugar Loaf or Corcovado – or a combination of both – including entrance fees and guided transport to each fantastic site (see descriptions below).
Sugar Loaf Mountain:
Your private guide will take you to the Urca neighborhood, where one of Rio's most iconic symbols is located – the monolith of Sugar Loaf Mountain (Pao de Acucar). Board the glass-walled cable car, making a brief stop at a vista point approximately 700 feet (215 meters) above sea level. Capture unrivaled panoramic views of Rio, including the Rio-Niteroi Bridge and Corcovado Mountain across Guanabara Bay. Finally, ascend to the summit of Sugarloaf for breathtaking vistas of Copacabana Beach and beyond (visibility dependent on weather conditions)!
Corcovado:
Your private guide will accompany you on a cog train ride through the scenic Tijuca Forest, a national park. When you reach the 2,329-foot (710-meter) granite peak of Corcovado, climb the steps (or ride the escalator) to the foot of the iconic Christ Redeemer statue, which stands 125 feet (38 meters) tall with outstretched arms over Rio. Enjoy magnificent photo opportunities of the panoramic vista (visibility dependent on clear weather), which includes downtown Rio, Sugar Loaf Mountain, Lagoa Rodrigo de Freitas, Copacabana and Ipanema beaches, and several hillside favelas.
September 2015
A lovely, carefully planned tour by a bright and interesting guide!
June 2015
Super experience and our guide was perfectly suited for a custom tour. We were able to eat an authentically local breakfast before arriving at Corcovado and were dropped off for a delicious chiurasco lunch when the tour ended. The four hours was adequate for all of our purposes. We were 9 people total and had a full-sized, comfortable coach that added a lot of extra comfort.
March 2015
My husband and I were only in Rio for one day and wanted to make the best of it so we decided to do a Half-day Private Tour. We were picked up at our hotel at 8am sharp and off we went. It was a beautiful day so we went to see Christ the Redeemer first. Our guide, Fatima, was awesome! She was knowledgeable, interesting and spoke very good English. She knew the ins and outs of getting around Rio. We also visited Santa Teresa (Unfortunately it was Monday and many things were closed). She then took us places we did not know anything about! We loved our time with Fatima! We would definitely booked this tour again when in Rio!
March 2015
We booked a private 6-hour tour of Rio. We had an amazing experience. Our guide Igor was great - he told us about the history of Brazil and Rio. He took us to all the sights we requested to see trying to find the best times for visiting these sites. We also spent some time going throught the Tajuca forest and his knowledge of the local fauna really amazed us.
Thank you, Igor for the tour of Rio on Jan 4, 2015
April 2014
Nice tour,, we had a great time . Great way to see Rio
April 2014
Excellent trip, tour was as described, guide was excellent and very informative about the places visited. Although the Private Tour is obviously more expensive would recommend it (over a larger group tour) as we were able to move around at our pace. Given the amount of queuing involved for train (to ascend Corcovado) and the cable car (at Sugar Loaf) I could imagine a lot of time being wasted waiting for a large group to organise itself at the various locations.
January 2014
Our customized Rio de Janeiro sightseeing tour was excellent!! Our driver and tour guide, Carla de Silva, arrived at our hotel promptly and took us up to the top of Sugar Loaf Mountain, narrating along the way. We then toured the city, stopping at the Sambodromo stadium, visiting the cathedral, stopping by the Maracana soccer stadium, and visiting the Monestary Sao Bento, where we listened to the chanting by the monks. They then dropped us off right at our ship, making sure we were settled in line. Carla did an outstanding job of taking care of us and showing us the beautiful sights of Rio. We would certainly recommend Carla and Viator to friends and clients.
January 2014
Our tour guide Lewis was the best!! Truely made our trip worth it!!!
January 2014
It was a very comfortable and well organized private tour with tourist guide (Sheila) who had the willingness to share with us her knowledge very kindly and to show us as many as possible places according to our interest. We will definitely travel again with you ! until next time
March 2015
Solid tour. Very well done and at a reasonable price too
Advertisement
Advertisement