Visit Corcovado Mountain, the bohemian enclave of Santa Teresa and the Santa Marta favela on this full-day guided sightseeing tour of Rio de Janeiro. Get to see some of the many faces of Rio and learn what life is like for some of the city's residents. Walk through Santa Teresa, one of Rio's oldest neighborhoods, enjoy sprawling views of Rio and the Christ the Redeemer statue from the top of Corcovado and see life in an urban favela in Santa Marta. This small-group tour, led by a knowledgeable local guide, is limited to twelve participants.
Highlights
Full-day Rio de Janeiro sightseeing and cultural tour
Walk around the cobblestone streets of Santa Teresa
Visit the top of Corcovado to see the Christ the Redeemer statue
Enjoy stunning views of Rio's naturally blessed landscape
Tour the Santa Marta favela with your guide, and meet some local residents
Ride the city subway and the historic Santa Teresa tram
Small-group tour limited to 12 people provides a more personalized experience
Recent Photos of This Tour
What You Can Expect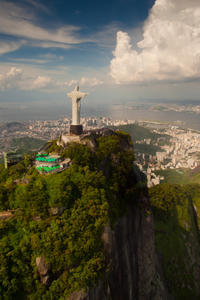 Meet your guide at the Copacabana Palace Hotel, then hop on the subway with your guide to travel to Santa Teresa the way the locals do. Stroll through Carioca Square, one of Rio's main sources of drinking water, then explore the financial district on foot with engaging commentary from your guide. Hop on a tram (the only remaining one in Rio) or bus for the ride to the top of the hill where Santa Teresa sits.
This neighborhood is one of Rio's oldest, lined with cobblestone streets and interesting buildings. Check out the views of the sprawling city of Rio from this vantage point, once home to the city's elite and now a haven for artists. Learn about the history and culture of the area from your guide as you wind through the narrow lanes and alleyways.
Walk down the hill, stopping at the Selarón Staircase, the Chácara do Céu Museum and Ruins Park and the Carmelitas' Convent. Jump on the subway and ride back towards Copacabana for lunch (own expense).
After lunch, take Tijuca National Park transport from Copacabana, Paineiras or Largo do Machado Station to the top of Corcovado Mountain. Stand at the base of the 98-foot (28-meter) Christ the Redeemer Statue and enjoy sweeping views out over the city of Rio. Built in the 1930s, this statue is considered one of the New Seven Wonders of the World.
Board a bus destined for Santa Marta favela, a very different face of Rio that tourists don't frequently experience. Meet local inhabitants of this poverty-stricken area and learn about what daily life is like for them.
Return by bus to the Copacabana Palace Hotel, where your tour ends.
Itinerary
Please note: We are sensitive to the issues and concerns surrounding favelas, and we understand that this tour may not be suitable for everyone. We strongly believe that the purpose of this tour is for educational reasons alone and allows for a better understanding of Brazilian life inside a favela. Furthermore, the tour operator has an agreement with the local tourism committee of the Santa Marta favela, and proceeds from your tour help support the local community day care called Creche Comunitária Mundo Infantil.
June 2016
This was an excellent tour, nice and small with only 5 of us. I really enjoyed walking for some much of it as it meant we got to see so much more, rather than just driving in and driving out of the various stops. Anderson our guide was fantastic, recommending other things to do during our stay in Rio.
April 2016
Daniel ! highly recommend him, we had a blast walking around and listening to a very knowledgable young man. very energetic, easy to talk to and caring for all of us in the walking tour. We met awesome people :
April 2016
Daniel is one of the best tour guides I have ever had. Super funny, knowledgable, and popular amongst everyone. Gee we had fun this trip! Such a great vibe, and because there were so many different elements to it - by the end you are completely satisfied. A truly magical day and a massive highlight of our time in Rio. Thank you Daniel for such a great experience!!
March 2016
This tour was everything I was hoping it would be. The visit to Santa Teresa was very informative and the tram ride a great experience, The steps' were awesome although would have liked more time on them to enjoy the ambiance. The Favela was a very eye opening experience and one I am very glad I did not miss! People living there were very open and friendly. They have the best views of Rio of anyone living in Rio!!!!! Corcovado - what can one say - a truly inspirational experience. Guides were great and very informative and each place visited had ample time except the steps to really enjoy.
Would definitely 10 this tour as one to take when in Rio !!!
Its a walking tour but its broken up enough that you don't really experience any stress or strain as far as too much walking at any one time
February 2016
This excursion is not for those who have mobility issues. We wanted a walking tour and that is exactly what we got. Daniel was a fabulous guide, very easy going and very knowledgeable of his city. We experienced the metro, buses and the trolley....all in a matter of a few hours. We walked with the locals.....exactly what we wanted to do.

February 2016
Amazing tour that covered a lot in a day. Great for someone who has ADD like me and wants to make the most out of a full day tour. Literally, every aspect of the tour was amazing and it was a great way to see the city with limited time. Highly recommend this tour to anyone going to Rio for the first time.
February 2016
Anderson was a great guide! The tour was also great. It started on time. You get to see the side of Brazil you probably wouldn't see otherwise. Highly recommended
February 2016
The tour guide Daniel was fluent in english and very knowledgeable. It was a great way to see Rio travelling on local transport and walking through the city. You get to see so much of the Santa Teresa neighbourhood and we were fortunate that the tram was operating so we got to go on that. The favela tour was a unique and eye opening experience with plenty of info and opportunities for photos. Would highly recommend this tour to other people. Such a jam packed day and well worth it.

February 2016
Had an amazing experience learning about the Rio culture. Daniel was a great guide!
February 2016
Great guide, made sure that the tour suited us. Thank you
Advertisement
Advertisement