25 Reviews
Location:

Rio de Janeiro, Brazil

Duration:

13 to 15 hours
Special Offer
Save up to 10% when you book these popular tours together!
Combine a full-day tour of Rio de Janeiro's top attractions with an evening of samba at the Plataforma Show! This is the ultimate day out in Rio — enjoy a city tour of downtown attractions like the Metropolitan Cathedral and Cinelandia Square; ride the cable car to the top of Sugar Loaf Mountain and the cog train to the top of Corcovado Mountain; see the statue of Christ the Redeemer; marvel at amazing views of the city; and end your day with a colorful dance performance that celebrates Brazil's cultural roots. Hotel or port transport, lunch and dinner are included.
Highlights
Rio de Janeiro full-day Super Saver combo tour
Get an overall look at the vibrant city of Rio, from mountains to historic buildings to dance
See city attractions like the Metropolitan Cathedral, Cinelandia Square and the Sambadrome
Visit the summits of the city's two famous mountains — Sugar Loaf and Corcovado
Enjoy an up-close look at the statue of Christ the Redeemer
Watch a 2-hour performance of samba and other Brazilian cultural dance and music styles at the Plataforma Show
Lunch, dinner, cable car ride and cog wheel train ride are all included
Recent Photos of This Tour
What You Can Expect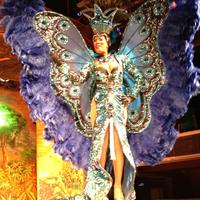 Corcovado Mountain, Christ Redeemer and Sugar Loaf Mountain Day Tour (10 hours)
Your Rio Super Saver begins with morning pickup at your hotel or the cruise port, followed by a tour of downtown. Pass attractions like the Sambadrome, and stop briefly at the Metropolitan Cathedral (Catedral Metropolitana), known for its pyramid shape.

Visit Cinelandia Square to see its historic buildings, including the National Library and National Museum of Fine Arts, and then make your way to the Urca neighborhood, where you'll board the cable car for the ride up Sugar Loaf Mountain (Pão de Açúcar).

During the ride, make a quick stop at a 700-foot (215-meter) vantage point where you can admire stunning views of the city, from Guanabara Bay to Rio's other famous mountain, Corcovado. Snap a few photos before getting back in the cable car for the rest of the ride up to Sugar Loaf's summit. From here, gaze in awe at the expansive view of the city, including sights like Copacabana Beach and Santa Cruz Fortress.

Next, enjoy lunch at a local seafood restaurant before starting the afternoon portion of your tour, which begins with a drive through Rio's Lagoa Rodrigo de Freitas district on your way to the Cosme Velho train station. Here, board the cog train for a scenic ride through the Tijuca Rainforest and up to the city's most iconic landmark — the statue of Christ the Redeemer (Cristo Redentor). Standing at an elevation of 2,300 feet (700 meters), the 1930s statue boasts a height of 98 feet (30 meters) and a wingspan of 92 feet (28 meters) and is one of the New Seven Wonders of the World. Spend 45 minutes here, enjoying the sweeping views of Rio's beaches, mountains and waterways.

After taking the train back down, you'll be dropped off at your hotel, where you can freshen up for about an hour before the evening portion of your Super Saver begins.

Plataforma Samba Show in Rio de Janeiro (5 hours)
You'll be picked up again for the ride to Leblon, one of Rio's most affluent neighborhoods, where the Plataforma Show takes place. You'll have plenty of time for your buffet dinner at the Plataforma Restaurant before the show begins. Your meal includes barbecued meat and seafood, salads and sushi; drinks and dessert are available for purchase at your own expense.

After dinner, head into the theater for the Plataforma Show, a colorful spectacle of lively music, outrageous costumes and, of course, samba — Brazil's famous style of dance that takes its influences from Portuguese, African and indigenous cultures. During the two-hour show, watch the dancers give it all they've got alongside drummers and performers demonstrating capoeira, a Brazilian movement that combines martial art with dance.

The show finishes at midnight with a Carnival parade, after which you'll be returned to your hotel or cruise port (or you can stay out on your own to continue your night, making your own way back when you wish).
August 2015
We loved seeing Rio from both Sugar Loaf and Corcovdo and the fun ride on the cog railway. The rhythms of the samba show were really great, along with the costumes.
July 2015
The tour was outstanding, Sugar Loaf Mountain had a view that was unbelievable, Corcovado was amazing, and the Samba Show was fantastic. Note the all you could eat lunch and dinner was excellent, I ate until I could not eat another thing. I am already making plans to return to Rio and I will use your agency to book my tours.
April 2015
Everthing went like clockwork. Small delay in picking up other tourists from hotels but nothing to complain about. Views were amazing and we went straight to head of queues every time. guides spoke alllanguages and things were at an easy pace. Highly recommended.
January 2015
This full day is a great way to see the main highlights of Rio all together, particularly if you are short on time to spend in this wonderful city
December 2014
I enjoyed this tour even though its a bit too much activity for one day (3 tours crammed into one day), plus the 90+ degrees weather doesn't make it any easier. From Top of Sugarloaf Mountain you get a panoramic 360 degree view of the city below. The Christ the Redeemer Statue is a sight to behold, and as for the Samba show, the dancers (especially the girls) were gorgeous. The barbecue dinner before the show can easily take care of your hunger for the next 3 days!!!
November 2014
Good value for money - you saw all the main highlights of Rio all in the same day with rewards of some of the most fantastic views in the world. The samba show in the evening was excellent - good hearty meal before the show at a lovely restaurant with some fantastic dancing and costumes afterwards at the theatre. The male gymnasts were awesome.
September 2014
May 2014
Incredible!!!! Our guide was very nice and our tour was very very exciting!!! Love it!!!
September 2015
This was an excellent tour and worth the price for the beautiful panoramic views as the vistas were simply amazing. However, the tour was poorly executed. There was confusion as to WHERE we were to be picked up even though we had confirmed both through Viator and through the local tour company TWICE! Therefore, we were picked up late almost 30 minutes. Secondly, each segment of the tour had different tour guides which was frustrating. Also, this was booked as a full day tour, but we got combined with others who were only on one or two sections of the tour and time was wasted picking up and dropping off tourists. To top it off, we had both LUNCH and DINNER at the SAME RESTAURANT. The guide for the restaurant made us wait over an hour after lunch was finished before the bus came to pick us back up. This should never have happened on a very expensive full day tour. A lot of time is wasted by having to travel around the city to pick up the tourists which took about an hour at pick up and an hour at drop off. It's a waste of time. The Plataforma Samba Show was interesting but it was a bit tatty. The costumes were pretty but needed mending, some of the show girls had tears in their stockings, and what was worse was that the showgirls came out into the audience trying to sell their barely covered bodies for pictures with the audience. Then when you didn't purchase a photo, they snarled at you. This was not appreciated by the women of the group.
June 2015
I was staying 3 hours away from rio so I would only have 1 actual day to do any tours besides another day that I came back to Rio to do some hang gliding but no tours. Being that I only had 1 day to check everything out I picked this tour option because I can see 3 things in 1 day. I was a lone traveler and there were a few parts of the tours where the tour guides told you you had X amount of time to take pictures and to meet back in a certain area which was scary for me because I was alone and a few times during the tour I couldnt find the tour guide so I grouped myself with other people that came from my same tour to not get left behind with the bus. This situation happen to me both at the christ statue and sugar loaf. Other than that sugar loaf had amazing views with sun and by the time we got to the christ statue we had a few moments before it started to pour. It was very crowded at the Jesus statue. It was insane trying to take any sort of pictures with people constantly passing by but if you aim the camera upward itll look as if there are no people at all in your photos. There are stairs in front of the statue so you go down if you wish for pics. At night my hotel was nowhere near so I had changed from shorts to a skirt for the samba show. I had 1 hour to kill before I got picked up by the bus. By the way for each tour you will have a different tour guide and bus. Atleast thats how it was for me. With the 3 tours in one day you will also eat at the same restaurant 2x which is included in the price but you have to pay for your own drinks even if you get water. You eat at the restaurant after sugar loaf and then again after christ, before the samba show but you will be hungry again because each tour it takes a while to pick up all the people from the hotels and the traffic in the city is bad and it takes a while to go up and down for each tour. The samba show was ok nothing special. Cool costumes a few nice dances dont expect to be blown away.
Special Offer
$313.99 Save $31.00
Advertisement
Advertisement