Explore one of Rio's oldest neighborhoods, Santa Teresa, on this 4-hour guided sightseeing tour. With a small group of twelve people or less, walk down cobblestone streets among the the district's interesting architecture. Admire sprawling views of greater Rio de Janeiro, climb the Selarón Staircase and explore the Chácara do Céu Museum and Parque das Ruínas (Ruins Park).
Highlights
Small-group tour of Santa Teresa from Rio de Janeiro

Enjoy stunning views of Rio de Janiero from the top of Santa Teresa

Learn about one of Rio's oldest neighborhoods from your local guide

Visit Chacara do Ceu Museum and Ruins Park
Recent Photos of This Tour
What You Can Expect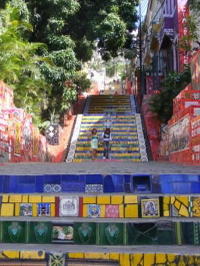 Meet your guide at the Copacabana Palace Hotel, then hop on the subway with your guide to travel to Santa Teresa the way the locals do. Stroll through Carioca Square, one of Rio's main sources of drinking water, then explore the financial district on foot with engaging commentary from your guide. Hop on a tram (the only one in Rio) or bus for the ride up to the top of the hill where Santa Teresa sits.
This neighborhood is one of Rio's oldest, lined with cobblestone streets and interesting buildings. Learn about the history and culture of the area from your guide as you wind through the narrow lanes and alleyways. Admire the 18th- and 19th-century buildings that were once home to the city's elite but now house art galleries, restaurants and bars. Set on a hill, the neighborhood offers great views — visit Parque das Ruínas (Ruins Park) for photo opportunities of downtown and Guanabara Bay.
Walk past the neighborhood convent, and then check out Selarón's Staircase (Escadaria Selarón), a set of 250 steps covered in tiles from all over the world. They were created in the 1990s by artist Jorge Selarón and have been featured in all kinds of productions, from an episode of The Amazing Race to a Snoop Dogg video.
After an engaging 4-hour tour, return to your departure point.
June 2016
Anderson was our guide, a lovely pleasant person. He was very informative about the places we visited as we were a small group. So he could give his attention to us, better than being in a much larger group We were lucky to go with him on Corpus Christie bank holiday, We got to see the Cathedral pavements decorated in biblical pictures that the community do.
April 2016
Really enjoyed it. Our guide was very helpful and knowledgeable. Didn't get tram ride though.Easy walking tour
March 2016
This tour was great, our tour guide Daniel was very nice and funny and was able to answer all our questions. We felt well taken care of and it was an interesting tour throughout.
We even prolonged this half day tour and added the Santa Marta Favela tour to the itinerary which was very easy to do. That tour is also highly recommended, we would book with this agency again any day.
February 2016
We had a great Tour thanks to our Tour Guide Anderson who really knows how to get around in rio in the most effective way. He also gave his group advice on how to get around in the city by explaining us the metro system and what sights are located at what station, also pointed out what areas to avoid.
Anderson also knew all the key facts about his city, is a very experienced tour guide which made the tour very enjoyable for us. The tour started at 9am in front of the Copacapana palace and brings the group via public transportation to lapa. the tour continued to Santa Theresa. For us the famous tile stair were the highlights of the tour. Thank you Anderson for a great discovery tour through parts of Rio de Janeiro!

September 2015
We when on a small group tour 2 couples and the guide around Santa Teresa and Rio de Janeiro's downtown by foot. The guide, Yvan from the tour company, a native from Santa Teresa. Has been more than great! Ask for him to get the most out of your trip!!!

September 2015
This was a great walking tour through the downtown, using the subway, and the interesting bohemian neighborhood of Santa Teresa. Make sure you have Brazilian Reals, and be prepared to walk a few miles in the lively streets of Rio.

August 2015
It was outstanding nd the tour guide was excellent.
June 2015
It was quite good. The guide was very knowledgeable and we went round the city. It is worth taking the trip.
June 2015
We really enjoyed this tour, the pace, and the scenery. Our guide could speak English very well and was interesting. It was just my husband and I so we could hear all that was said and stop and take our time at the different sights. I would recommend this tour if you have time. There is a lot of walking so be sure to wear good comfortable shoes, the pavement is uneven and there a lot of ups and downs. I would not wear flip flops.
June 2015
My tour was led by Daniel, who was fantastic! Only one other person was on the tour with me, so it was basically like a private tour. You can tell how much Daniel loves his home town and how excited he is to share his experience in this unique city. His English is flawless and the tour was really relaxed yet informative. I'm glad I was able to experience Santa Teresa with a true local!
Advertisement
Advertisement