Embark on a thrilling 2-hour off-road tour of the Yucatan's Riviera Maya aboard your own 4WD ATV (all-terrain vehicle). Designed especially for active and outdoor adventurers, set out through dense tropical jungle weaving along sandy pathways and learning a bit about local wildlife as you go. Cool off in the refreshing waters of a natural pool before hitting the trails once more.
Highlights
ATV tour of the Mayan Caribbean from Riviera Maya, Mexico
Drive your own ATV through tropical landscapes
Enjoy the thrill of driving through the jungle and past coconut palms
Stop for a refreshing swim in a crystal clear natural pool
Recent Photos of This Tour
What You Can Expect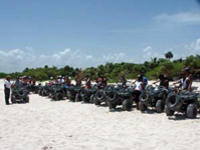 Following pickup at your Riviera Maya hotel, transfer to the jumping-off point for your 2-hour 4WD ATV adventure.
Get suited up with helmets and listen to a brief orientation before getting on your ATV. Vehicles can accommodate 1 or 2 passengers.
Following your expert adventure guide, rev your engine and set off through the Yucatanian jungle. Wind through the dense foliage and keep an eye out for native wildlife.
Stop at a natural pool for a dip; a welcome chance to cool off in the humid rainforest. Hop back aboard your ATV for more thrilling riding along sandy paths on the way back to the rental center.
After your 2-hour activity, return to your Riviera Maya hotel for drop-off.
Please note:
Select Single to ride your own ATV or Double for 2 passengers per ATV
Minimum age to ride on the ATV is 12
Minimum age to drive the ATV is 16
Mark Downer United Kingdom
December 2010
Brilliant morning on the Quads and exploring the underground caves and rivers. The tour guide was very friendly and knowledgeable who made the trip a real pleasure. My partner and I were lucky enough to be the only two on the early morning tour so it felt very VIP, Glad we weren't in the group of 22 after us!!! Would definitely recommend this trip and don't worry when you have to go off road to get to the activity camp, its all good fun. Go ahead and zoom through the jungle
Laura B USA
March 2009
Absolutely fantastic! It was my 1st time on an ATV and now I am in the market to buy one! Our guide was AWESOME! My husband and I definitely recommend it for anyone who wishes to do an ATV tour!
Laura B USA
March 2009
The tour was great. We stopped at a location that housed some of the local wildlife and learned a little about them as well as visited a cenote. It was amazing.

April 2012
It was an AWESOME trip! We got to really open up the ATMs and got very dusty in the process. Wading through the cenote and in the cave was a very unique experience and I would do it again!
Things I wished I knew prior to going on this trip:
1. take cash to purchase the cd of photos... they are great action shots that you can't get anywere else. (We only had enough cash for the van trip back to the resort.)
2. wear a bathing suit to swim/wade in the cave (we missed that on the info, but waded anyway - it was very refreshing)
3. they provide water shoes, but if you have your own, bring them
4. no snacks provided on tour, but available for purchase (bring your own)
5. water was provided and very cold! :)
6. long van ride from resorts to ranch - but well worth it!
*We we called for pick up time, was told it wasn't actually reserved and we needed to both reserve the pick up and pay an additional $10 USD for transportation from the resort to the location. (Were told could not drive ourselves.) Very, very dissapointe in this undisclosed fee.
Advertisement
Advertisement