58 Reviews
Location:

Riviera Maya, Mexico

Duration:

12 hours

(approx.)
Unlock the mysteries of the ancient Mayan culture on this fascinating full day sightseeing tour from Riviera Maya. Chichen Itza is a famous archaeological site of the mystical Maya-Toltec civilizations. Although excavations have been going on for many years, archaeologists can still only speculate about what happened here and why. Immerse yourself in awe-inspiring archaeological places you are ever likely to visit. Lunch, snacks and all entry fees are also included.
Highlights
Sightseeing tour to Chichen Itza from Riviera Maya, Mexico
Learn about the mysteries of the ancient Mayan culture
Visit the famous archaeological site and explore the ruins
Explore the Temple of the Warriors
Complimentary pickup and drop off from most Riviera Maya hotels
Recent Photos of This Tour
What You Can Expect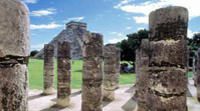 This famous archaeological sites is one of the most impressive examples of the Maya-Toltec civilizations. The site is dominated by the large central pyramid called El Castillo and the surrounding buildings include the Temple of the Warriors or 1,000 Columns, the Ball-court and the well or cenote from which Chichen Itza takes its name.
The archaeological site is surrounded by underground rivers, natural wells and limestone that the Mayans used to construct their magnificent buildings. Discover entire cities that are only just beginning to reveal the secrets of their founders' glorious past!
A guided visit to the site usually lasts about 90 minutes followed by 45 minutes of free time to explore on your own or to give the more energetic the opportunity to bargain with the locals for some of the handicraft items for sale.
August 2015
My family of 4, including 13-year-old twins, took this tour on July 28, 2015, and would highly recommend it to others. The tour operator, Cancun Passion, provided prompt pick-up at our resort and brought us to a central location to meet the coach. We were served coffee, juice, fruit and pastries, which made for a pleasant trip. We had a restroom/shopping stop for about 30 minutes prior to Chichen Itza, where we purchased some lovely crafts. Chichen Itza was amazing!! Our guide, Tony, provided excellent explanations of sites before we were given free time for pictures and lunch included in the price, aside from drinks. The history and sites are not to be missed!! We had an amazing cenote swim before heading back. This is a long day, but well worth it. The staff was professional and personable from start to finish. Tony taught us so much about Mayan history. This tour is highly recommended. Once again, I have had success in booking an excursion through viator!
July 2015
I want to first acknowledge the local tour company who viator works with or who was at least the assigned local tour group. Evelyn was so accommodating and super nice. The email sent from Viator says to contact the local tour group 48 hours in advance. This, in my opinion, was not highlighted very well. We were also traveling on the 48 hour mark. So we did not contact them in time for our Monday tour. The company rescheduled us with no problem. Seeing the ruins is highly recommended. Our tour Cancun Passion was also fantastic. The guides Noe and Fernando were fabulous. Noe cares more about the history and is very knowledgeable. If you just want to take pictures you don't really need a guide. But it was really informative.
June 2015
February 2015
Great trip- the tour of the ruins was informative; it is only 3 hours (which seems like a lot until you realize how much actually there is to see) and it would have been nice to have some additional time to walk around on your own but it was really great. The lunch was good- definitely try to the corn ice cream. Swimming in the cenote was a highlight and fun; definitely a unique experience. Definitely recommend for any first timers to the region/looking for something interesting to do.
December 2014
Highly recommend this tour! The sites are breathtaking, and the staff fantastic! Jesús, Samuel, José and Amado couldn't have taken better care of us or done more for us, and it's wonderful to get to see such a fascinating place as Chichén Itzá without having to worry about the logistics. It's a 12 hour day and make sure you bring your camera!
July 2014
Would give this tour 10 stars if possible!!! SUPER organized and easy communication from beginning to end...tour bus was nice and staff were amazing!!! Great tour guide (GREAT), lunch at a super nice restaurant and visit to the Cenote was fun!! Would recommend this tour 110% without hesitation
June 2014
Great tour! My wife and I enjoyed this day trip on our honeymoon. We really enjoyed the sites. The lunch and the swimming in the afternoon was great too!
April 2014
Saw a few ruins through a tunnel of jungle trees, turned a corner and my jaw dropped, the most amazing pyramid beautifully preserved you have seen, the definition of awesome. Take an umbrella if you go its a frying pan on the site. Didn't get as thorough a tour as I would have liked Fillipe our guide gave us quite a bit of info on the site but had a penchant for giving us his view of Mexican politics/gossip instead of fact about the site so we ran out of time to see some of the most important buildings. Also the mayan pedlars on the site had some great wares that we never saw anywhere else but we were both not given time and strongly encouraged not to buy from them, instead we were taken to an rip off market near our restaurant. That being said the site will remain an amazing memory for the rest of my life.
April 2014
amazing day, really enjoyed it and food value for money
March 2014
Once again, Viator delivered a first class tour. The tour was fantastic, as were our guides. Not only were they knowledgeable, caring, and funny, but they were genuinely concerned about everyone's well being. The stops at Chichen Itza, the wonderful restaurant and market, and the beautiful cenote were all more than enjoyable! Eduardo, Victor, and the others are to be commended for a long to be remembered special day!
Advertisement
Advertisement