Special Offer
Save up to 10% when you book these popular tours together!
Revel in the natural wonder of dolphins and the archeological splendor of Chichen Itza on this great combo tour! You'll visit the ancient Mayan city – a UNESCO World Heritage Site – on a 1.5-hour guided tour with free time and lunch buffet at Mayaland Resort. Your one-hour Dolphin Xtreme experience allows you to get up close to dolphins, stingrays and manatees. Do each tour in any order – all in one day or spread over two – with round-trip transport from Riviera Maya.
Highlights
Chichen Itza and Dolphin Xtreme combo tour from Riviera Maya
Discover the UNESCO World Heritage-listed Chichen Itza
Tour the Temple of the Warriors, the Pyramid of Kukulcán, the Ball Court, the Observatory and the Nunnery with an informative guide
Enjoy a buffet lunch, swimming and a visit to the Xtoloc Cenote at Mayaland Resort
Interact with dolphins, stingrays, manatees and sharks on your Dolphin experience
Complimentary pickup and drop-off by Mercedes Benz from most Riviera Maya hotels
What You Can Expect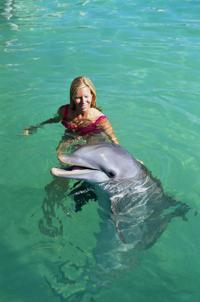 After your friendly guide picks you up from your Riviera Maya hotel, head to either Chichen Itza for a tour of the archeological site or to your Dolphin Xtreme experience – depending on which tour you opt to do first. You can skip a day or two in between, or spread the fun over two consecutive days – it's your choice!
Chichen Itza Tour
At Chichen Itza, one of the new Seven Wonders of the World, take a 2-hour guided tour to see the highlights of the UNESCO World Heritage Site. Your guide will explain the historical significance of Chichen Itza's most important structures before leaving you to enjoy the picture-worthy site at your own pace. Marvel at the Pyramid of Kukulcán, Temple of the Warriors (or 1,000 Columns) and the Great Ball Court – the largest in Mesoamerica, stretching 537 feet (164 meters) long and 224 feet (68 meters) wide.
Admire the large central pyramid called El Castillo (The Castle), the Observatory, La Iglesia and the Nunnery, as well as the smaller but beautifully preserved temples in the ancient Mayan city. You'll also have access to the sacred Xtoloc Cenote to explore. When you're ready, walk back to the Mayaland Resort for a delightful buffet-style lunch featuring Yucatecan cuisine. Here, enjoy the swimming pools, lounge chairs and botanical gardens.
Dolphin Xtrmeme
The one-hour Dolphin Xtreme experience, you'll feel the adrenaline rush as you snorkel, zip and rappel! After a 15-minute briefing by an experienced trainer, spend time in the water with a variety of marine animals - dolphins, manatee, stingrays and sharks. This wonderful experience combines these marine animal interactions, as well as ziplining over the Mayan jungle, rappelling down into the lush jungle of the Riviera Maya and snorkeling in a stunning underground river.
All necessary rappel and snorkel equipment is included, as well as a lunch with non-alcoholic beverages!
January 2014
August 2014
We had a fantastic tour guide at Chichen Itza who was very friendly and informative. The food was great, but did not include the price of drinks, even water. This was not a big deal at all but would have been nice to have been prepared for.
The Dolphin Xtreme: Swimming with the dolphins and manatees was fantastic. Each person in our group got plenty of one-on-one time with the dolphins. There are no stingrays or sharks in the area, so that was disappointing... The rappelling, zip lining and snorkeling was a ton of fun! I only wish we had more time to these things - it felt a bit rushed. That guide was great, too, and the food was very good. You cannot have cameras with the dolphins and manatees, but you can with everything else. The photographers were great, though, so you don't NEED a camera.
Special Offer
$266.99 Save $26.49
Advertisement
Advertisement