Special Offer
Save up to 17% when booking two of our most popular tours together in this combo package!
Can't decide between exploring local culture or engaging in outdoor activities? Do both on this combination day-tour from the Riviera Maya. First, set out to visit one of the Yucatan's most renowned archaeological sites: Chichen Itza, an UNESCO World Heritage Site. Take a guided tour of this ancient and impressive Mayan complex and learn its history before embarking on your next adventure—ziplining through the Yucatan jungle. Soar among tropical tree canopies and afterward, snorkel with sea turtles and colorful fish in the Caribbean sea.
Highlights
Chichen Itza and zipline-snorkel combo tour from the Riviera Maya
Take a guided tour of Chichen Itza, a UNESCO World Heritage Site
See the Pyramid of Kukulcán, the Great Ball Court, Temple of the Warriors and the Observatory with a knowledgeable guide
Relax at Mayaland Resort's swimming pool, botanical gardens and Xtoloc Cenote
Enjoy Mexican cuisine with a buffet lunch and a beachside lunch
Complimentary pickup and drop-off from most Riviera Maya hotels
What You Can Expect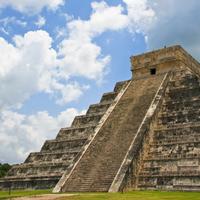 After pickup from your Riviera Maya hotel, your guide will take your group on a tour of Chichen Itza or to the zipline and snorkel site for your outdoor adventure – depending on which tour you opt to do first. Your tours can be taken in any order; it's up to you whether you skip a day or two in between, or spread the excitement over two consecutive days!
Chichen Itza Tour
When you arrive at the UNESCO World Heritage-listed Chichen Itza, also considered one of the new Seven Wonders of the World, your guide will take you on a 2-hour tour of the magnificent archaeological site. Learn about the cultural significance of Chichen Itza to the ancient Mayan civilization as you stop at its most essential temples, pyramids and ball court.
Admire the Temple of the Warriors (or 1,000 Columns), the Pyramid of Kukulcán and Mesoamerica's largest Ball Court, as well as the Observatory, La Iglesia, the Nunnery and the large central pyramid of El Castillo (The Castle). You'll also have access to explore the Xtoloc Cenote. After your tour, your guide will leave you to explore the vast city on your own – be sure to check out the smaller but beautifully preserved temples as well.
When you're hungry for lunch, walk back to the Mayaland Resort for a scrumptious buffet featuring Yucatecan dishes (not including beverages). Afterward, enjoy the swimming pools, lounge chairs and botanical gardens.
Zipline and Snorkeling Tour
Your guide will take you to the Yucatan jungle for your zipline and snorkeling adventure! After a safety briefing and gear fitting with harness and helmet, soar through the treetops in the jungle canopy. You'll fly 70 feet (21 meters) above the forest floor on a thrilling zipline ride! Then reach beyond your limits as you dare to rappel 70 feet (21 meters) down and explore an underground river in the middle of the Mayan jungle.
Afterward, change into your swimsuit, don your snorkel mask and dive into the clear turquoise waters of the Caribbean. Accompanied at all times by your professional guide, you'll learn the best snorkeling techniques and information about the flora and fauna that inhabit the unique ecosystem. Delight in Mexico´s underwater biodiversity and be surrounded by abundant marine life – like sea turtles and schools of tropical fish – as you swim over the colorful coral.
Then, relax on the best sandy beach around as you sample authentic Mexican cuisine for lunch with non-alcoholic beverage included.

April 2016
Overall this was an awesome experience! Our guide for Chichen Itza, Mauricio, was AMAZING. He was very knowledgable on the Mayan history and culture and made it fun and interesting. We would definitely recommend him as a tour guide. The snorkeling and ziplining adventure was a fun filled day as well. The group was relatively small so we liked that. Swimming with the turtles was spectacular, although the conditions weren't the best so it was wavy and the water wasn't as clear as it could be. We still got some great shots though. The only negative part of the experience was the entrance fee to Chichen Itza. We did not expect it to be as high as it was 20 USD per person so that caught us off guard and made us a bit unhappy. We wish the details of the trip would have told us how much that would cost in advanced. We recommend you bring Pesos instead of other currency because their conversion rates are VERY high. Overall great experience!

June 2014
This trip was not at all as sold. Please book this tour if you're prepared to be very disappointed. We were only told once on location we could only complete half the trip in one day and would need to re-book another day to complete the second half. A day we didn't have. The part of the trip we did get to go on was good but did not require an entire day or our trip and felt like a waste of our short time in Mexico.
Special Offer
$212.99 Save $37.49
Advertisement
Advertisement