Venture to the mysterious ruins of Tulum on a full day trip from Riviera Maya and enjoy the view as you explore this abandoned walled city towering above the deep turquoise Caribbean sea. Afterwards, visit Xel-Ha, a beautiful natural aquarium, home to a large variety of colorful tropical fish. Here, you can learn to snorkel or simply sit in one of the beach chairs and soak up the sun. Transportation, entrance fees and all snacks are included.
Highlights
Sightseeing tour to Tulum and Xel-Ha from Riviera Maya, Mexico
Learn about the history of Tulum and enjoy breathtaking views
Snorkel at Xel-Ha and see a large variety of tropical fish
Complimentary pickup and drop off from most Riviera Maya hotels
What You Can Expect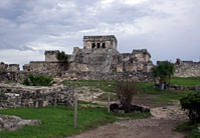 Tulum, the Walled City, is mounted high on the edge of a cliff. The abandoned city towers above the deep turquoise of the Caribbean and a beautiful white sandy beach. The city within the walls was only inhabited by the nobles, high priests and esteemed citizens such as astronomers, whereas the lower classes lived in simple wood and thatch huts beyond. The buildings in the city were originally covered with brilliant paintings and carvings stark white, deep red or vibrant blue, but only faint remnants of these now remain.

A guided visit of the site takes about 45 minutes. You'll then have some time at leisure to take photos of the picturesque views.

Then continue to Xel-Ha (pronounced shell-ha). Here, visitors can learn to snorkel and enjoy observing the fish at an arms length or simply sit in one of the beach chairs and soak up the sun! Xel-Ha is 15 minutes north of Tulum, ideally located to combine the day with a visit to the ruins. There are several restaurants in the park giving the option of arranging a group lunch in one of them or guests can be at leisure.
March 2014
Organized, efficient; tour guide was extremely personable and informative. Would recommended Viator.
September 2012
November 2010
The beach at Tulum is WOW and learning about the ruins is very interesting and looks fabulous, however it does get very hot there with little shade. Xel-Ha is a must do for anybody who likes snorkeling and words can't explain what a wonderful time you will have here no matter what age. Could easily spend the whole day there
September 2014
A good day out but the whole process of arranging the tour once in Mexico was very tiresome. It's a shame viator didn't provide the correct information and I also had to pay for local phone calls to arrange a voucher exchange. A good tour but honestly wouldn't recommend booking through Viator (sadly) as the process is much easier if booked locally. Nearly lost out in the excursion due to this problem. Needs to be sorted Viator. Very disappointing.
June 2013
My cousin andnI enjoyed the experience very much. I would recommend the trip but tell everyone to get a locker as soon as you get to the Xel-Ha park it helps with organization.
September 2010
Tulum is well worth seeing, the beach there is so beautiful. Xel-ha was also fun. must say booking with Viator was so easy and did not have to wait around for coaches they was always on time.
March 2009
Too short at Tulum, but it was great!
June 2013
Good trip. However, the bus driver took a U-turn on the highway which halted high-speed traffic and made their tires screech. Would have liked a private van instead so that stops would not have to be made at 4-5 different hotels. The guide at Tulum was very informative and it was good to learn about the history of Tulum. Xel-Ha was fun and well worth the value. Very clean and organized.
May 2014
The time spent in Tulum was short and only little information was provided. on the tour bus we only received information about Xel-Ha but, unfortunatley, not about Tulum. in addition, we did not get to know about a few helpful details in Xel-Ha, for example deposits and prices of extra-tours etc.
Of course, Tulum is worth visiting, Xel-Ha is also a very nice and attractive place. But you will definitely not need a tour to experience these sites.
Advertisement
Advertisement