Slip into the water to snorkel past bright coral and vibrant fishes with a 4- or 5-hour shore excursion. Explore one of Roatan's most idyllic spots, and enjoy sweeping views of white sand beaches and tropical forests. Enjoy the sun on deck then cool off in the Caribbean, spot the stoplight parrotfish and yellowtail snapper that thrive in the island's pristine reefs and enjoy snacks and drinks on board as you spend a leisurely day at this scenic port of call.
Highlights
4-hour Roatan shore excursion

Visit one snorkel location and discover beautiful tropical marine life in the crystal-clear Caribbean water
Explore the second largest barrier reef in the world

Enjoy free time to relax on the white-sand West Bay Beach
Snorkel equipment included

Covered by our worry-free policy: guaranteed on-time return to your ship
What You Can Expect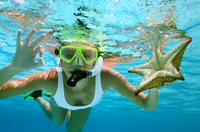 Sail around the waters of Roatan and enjoy excellent snorkeling and sunbathing! Dive into the warm waters of the Caribbean and get an up-close look at Roatan's diverse marine life on this exciting four or five-hour snorkeling shore excursion! Hop on a boat with your expert guide and head to your first stop. Depending on the weather, you'll stop at either Sandy Bay, located in the Marine Park area; West Bay,a popular snorkel spot known for its shallow waters; or on the eastern side of Roatan, where you'll admire the impressive barrier reef - the second largest reef in the world! Swim around and discover colorful schools of fish and baby seahorses.

No matter which stops you make along the way, this snorkel experience is one you won't soon forget!

Port Royal Snorkel Option:
If you choose this option, you will cruise through the south shoreline admiring the barrier reef. You will arrive at Port Royal where your guide will point out historical landmarks dating back to the Spanish conquest during the 1650s. After an extended snorkel of around 3.5 hours, you will enjoy a light BBQ lunch and drinks before heading back to the port.

Worry-free Shore Excursion:
We will ensure your timely return to the Roatan port for this activity. In the rare event your ship has departed, we will arrange for transportation to the next port-of-call. If your ship is delayed and you are unable to attend this activity, your money will be refunded. See our terms and conditions for full
June 2016
Our tour guide was wonderful and informative of the island. The person who took us snorkeling was very helpful and everyone had a great time.
April 2016
James of the Tour was great. He tried to make the best of a not so optimum situation to provide us with a wonderful experience we were delayed in getting off the cruise, the sea condition was a bit choppy, ect. Thanks to Captain Ron for his efforts also. Our family had a wonderful time, snorkeling the wreck, diving for star fish, lunching on a local beach. We will surely book with them again if we get back to Roatan.
April 2016
The trip was very nice. Gustavo took us on a boat to two great snorkeling areas on the west end of the island however it was not west bay beach as promised when we booked with Viator. We were suppose to snorkel at the beach at west bay and did not get to. This was disappointing. James picked us up from the Coxen hole port and waited for us. Our Norwegian ship tenders were behind schedule. Service was top notch overall.
April 2013
There wern't a ton of fish but the water was beautiful and the coral was great. Our guide was a 13 year old boy and he was a great swimmer and a real good guide. The best part was enjoying the beach and meal on the beach when we got back from the snorkeling. What a great day and Roatan is a very pretty place.
Marjorie M USA
March 2013
The snorkeling tour took us to two places - one called the blue channel and one called the aquarium. Unfortunately, it was a gray-ish and chilly-ish day. The aquarium was nice but we got a bit bitten by sea lice and the water was cold. We were hesistent to have to go back in the water for the blue channel, but even though we were cold, it was amazing and definitely worth it. The guide from the port to the snorkel boat was great, full of information.
December 2012
Our personal driver LINCOLN was fantastic - ask for him - He is worth it! Our boat and snorkel operator was good also - very attentive. A bit of confusion tho...as we (group of 5) understood the tour to have 2 stops to snorkel....they only had one arranged....so Lincoln took us on tour of island and to a nice beach for the remainder to the time we had available...overall we were satisfied. Terry R and family
February 2016
The Coral Princess never reached Roatan I was so disappointed not to make the excursion. I am awaiting my refund. Thank you.
April 2016
James picked us up from Coxen hole and waited over an hour for us due to a delay at port. He was very personable and hooked us up with a private boat Driven by Gustavo. He and his mate took us to two great snorkeling spots on the reef. The best snorkeling ever. The tour should have included snorkeling off the boat as well as snorkeling at West Bay Beach but instead he took us to the West end of the island which is nearby however there was no snorkeling at the beach as advertised on Viator. Overall a good experience but not what we paid for.

April 2016
Bait and Switch!!!
We experienced the same issue as Lewis L. No elegant catamaran when we arrived at the West Bay location, rather a small skiff/single hull boat!!! Whats more, the tour offered was now 1 hr 20 mins with one dive spot vs. the website indicating 4 hours and two dive spots. We ultimately refused the tour, went back to the port, and tried to salvage the rest of our day.
Advertisement
Advertisement