Enjoy the scenic landscape and picturesque towns along Germany's Romantic Road on a four-day independent coach tour from Munich to Frankfurt. You'll visit the famous Neuschwanstein Castle, explore the former banking empire of Augsburg and experience the medieval spirit of Rothenburg ob der Tauber. Three nights in a three-star hotel with breakfast are included. There is something for everyone to discover on this trip along Germany's beautiful Romantic Road.
Highlights
Independent four-day tour by coach from Munich to Frankfurt

The easy way to travel to Frankfurt, with guided tours and plenty of free time
Visit Linderhof Palace and Neuschwanstein Castle, built by the reclusive King Ludwig II
Enjoy free time to explore the historic town of Augsburg
See the top attractions of Rothenburg ob der Tauber, including the medieval old town
Enjoy the historical scenery of the Romantic Road, passing charming places like Dinkelsbuhl and Nördlingen
Three nights' accommodation in 3-star hotels with breakfast included
Why Our Insiders Chose This Tour
I think this trip has a great balance between guided tours and free time. The history and scenery are equally captivating -- you get the best of Germany in just four days!
What You Can Expect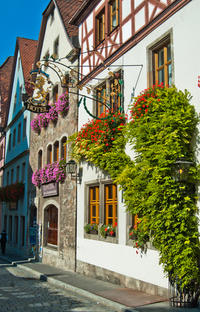 Depart Munich in a comfortable coach, and start your four-day independent tour with a drive to the spectacular Linderhof Palace and Neuschwanstein Castle. You're free to explore the castles on your own, admiring the two famous homes of King Ludwig II, an eccentric monarch nicknamed the Fairy Tale King.

Spend your second day in the university town of Augsburg, where you'll enjoy a city tour, as well as free time to explore on your own. Continue your tour along the Romantic Road enjoying relaxing drives through picturesque towns and scenic landscapes and passing the medieval villages of Dinkelsbühl and Nördlingen.

Next day, spend time in Rothenburg ob der Tauber, and join a guided walk through the city, where you'll learn about Rothenburg's importance in the Middle Ages and see its top attractions, including the medieval old town and town wall. Your four-day tour ends with a drive through the Spessart Mountains, making a stop in Würzburg before arriving in Frankfurt.

Please see the Itinerary section below for details on each day of the tour.
Itinerary

Day 1 - Munich to Hohenschwangau
Departing Munich, you'll head south to explore Linderhof Palace and to enjoy its scenic alpine surroundings, before continuing to the spectacular Neuschwanstein Castle. Spend the rest of the day at the castle, exploring King Ludwig's beautiful apartments and staterooms independently. Soak up the fairytale-like atmosphere of this magnificent hilltop castle, before your first day ends in Hohenschwangau.

Overnight accommodation: Hotel Müller (or similar). You will have free time for lunch and dinner.

Day 2 - Hohenschwangau to Augsburg (Breakfast included)
After breakfast, board the coach for the drive to Augsburg, a well-known university town. On arrival, enjoy a city tour (included) of Augsburg that departs from City Hall (Rathaus). You'll see top Augsburg attractions, including the Augsburg Cathedral and the Fuggerei, named after a 15th- and 16th-century trading family, the Fuggers, who once made Augsburg their banking empire.

Overnight accommodation: InterCity Hotel (or similar). You will have free time for lunch and dinner.

Day 3 - Augsburg to Rothenburg (Breakfast included)
After breakfast, continue your trip along the Romantic Road driving past Dinkelsbühl and Nördlingen -- picturesque towns full of cobbled-stone streets and medieval buildings -- before arriving in Rothenburg ob der Tauber in the early afternoon. You'll be met by a taxi to be transferred to your hotel, and the rest of the day is yours to explore Rothenburg on your own.

Overnight accommodation: Hotel Spitzweg (or similar). You will have free time for lunch and dinner.

Day 4 - Rothenburg to Frankfurt (Breakfast included)
After breakfast at your hotel, join a Rothenburg city walk (included) with a local guide to see top Rothenburg attractions, including the medieval old town, the town wall that has encircled the city since the 14th century and the Church of St Jacob, which treasures an altar by the famous sculptor Tilmann Riemenschneider.

Board the coach to Würzburg, a vibrant city on the banks of the River Main and enjoy a drive through the picturesque Spessart Mountains, before your tour ends in Frankfurt.
August 2014
A wonderful overview of the beauty of Bavaria. The historic towns and tours were fascinating. We had to make a change in itinerary to end in Munich instead of Frankfurt - it was easy to do by phone, so the support was great. The bus drivers on the Romantic Road buses were generally helpful but it varied by day.
The combination of reserved transportation and hotels, plus lots of free time to wander the cities, was just right for us. We really enjoyed those days more than the first tour day of two castles and a tourist town! It was too rushed with little time for exploration, questions, etc. The slower pace of the next three days was much more pleasant.
The start was confusing. We didn't realize we were to take the bus tour from Munich to Neuschwanstein and the drivers/tour guides weren't sure what to do with us either. Once we got going we realized how it worked. But more information at the beginning would have been very helpful.
Our overall impression was very positive, again, once we figured out how it worked. Thanks for a wonderful introduction to the history of the region. We want to come back again soon.
June 2013
First trip to Germany. This tour made it so easy to see the Romantic Road area. The vouchers for bus travel, taxi service and hotel rooms worked flawlessly. For a first trip, this was a great way to see the highlights we wanted to see in the time available, without the hassle of renting a car or wondering at which hotel to stay. It does require you to keep up with the details, since there is no tour guide - you are simply given a packet with the complete itinerary and details. The information in the packet was detailed and in order with the itinerary. The hotels, taxi and bus service all knew what the vouchers were and had no problems accepting them. You do need to be on your toes. We discovered that Germans are very punctual, so keep with the schedule and you won't have any problems. A few things were a little confusing, such as where to meet for the walking tour in Augsburg. Some construction in the area made the meeting place not so obvious, and the instructions were a little misleading. Overall, I would recommend this trip to anyone wanting an hassle-free tour of the Romantic Road.
Advertisement
Advertisement