Visit the greatest hits of Italy's Campania region on this tour from Rome in two days. You'll stop in the capital city of Naples, take in the archaeological and volcanic ruins of UNESCO-listed Pompeii, explore the seaside town of Sorrento on the Amalfi Coast and travel by boat to the island of Capri (seasonal). Both guided portions and free time provide an ideal introduction to this region of Southern Italy. Overnight accommodation in Sorrento is included.

Please note: The excursion to Capri does not take place during the winter (Nov 23, 2015, to Mar 31, 2016); instead, you will have extra free time in Sorrento.
Highlights
Spend time in Campania on an overnight trip from Rome
Visit Naples, Pompeii, Sorrento and Capri on this Italy 2-day tour
Explore the UNESCO-listed excavations at Pompeii with an expert guide
Take a tour of the island of Capri, and see the Blue Grotto on a boat ride

Enjoy overnight 4-star hotel accommodation in Sorrento
Recent Photos of This Tour
2-Day Italy Trip: Naples, Pompeii, Sorrento and Capri
What You Can Expect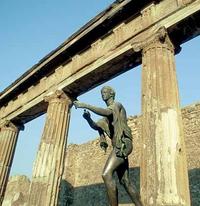 Your 2-day tour from Rome to the Campania region of Southern Italy starts with a drive by coach to Naples, followed by a visit to the ancient city of Pompeii, a World Heritage site known for its well-preserved archaeological and volcanic ruins. You'll end the day on the spectacular Amalfi Coast in the town of Sorrento, where overnight accommodation is included (select your level of hotel when booking).

The next morning, head out on a day trip to the island of Capri, home of the Blue Grotto, before returning to Rome by coach (unless your tour takes place during the winter, when the tour to Capri does not operate; instead, you'll spend the day at your leisure in Sorrento).
Itinerary
Day 1: Rome – Naples – Pompeii – Sorrento (L, D)
Leave your central Rome hotel in the morning, and travel by coach toward sunny Naples – your first destination! Arrive in Naples by late morning, and take a panoramic view of the lively city and its beautiful bay.
Travel inland to Pompeii, and after lunch in town, visit its UNESCO-listed archeological site with your guide. Hear how Pompeii lay buried under volcanic ash for centuries following Mount Vesuvius' 79 BC eruption, and marvel at the incredible Roman ruins that abound.
Return to your coach and travel to the Amalfi Coast, where you'll check in to your Sorrento hotel in time for dinner.
Overnight: Standard accommodation at Hotel Michelangelo or similar 4-star superior accommodation or Hotel Tramontano 4-star L or similar in Sorrento
Day 2: Sorrento – Capri – Rome (B, L)
Enjoy breakfast, and then travel from Sorrento port to the island of Capri by hydrofoil boat. Hop aboard a rowing boat at Capri's Marina Grande harbor, and relax as your guide rows you around the island to see the magical Blue Grotto (Grotta Azzurra). This cave is said to have sunk since prehistoric days, blocking out most of its entrances. Light entering from an underwater cavity combines with the trickle of light from its only entranceway, giving the water its vivid blue effect; prepare to be dazzled!
Return to Marina Grande and travel by minibus to the shabby chic village of Anacapri, perched high above its glamorous Capri town neighbor. Explore at leisure, admiring its romantic wisteria-draped villas with sun-bleached stucco, and gaze down over the beautiful Bay of Naples.
Head back down the hill and visit one of Capri town's traditional restaurants, enjoying a lunch as delicious as the Mediterranean views. Walk it off on a stroll, passing through Capri's Piazetta (Piazza Umberto) – Capri's place to see and be seen! Board another hydrofoil boat in the late afternoon to travel back to mainland Italy, and then hop aboard your air-conditioned coach for the journey back to Rome. Finish your 2-day tour with a central Rome drop-off.
Please note:
The Blue Grotto trip is subject to good weather conditions. In the event of storms or heavy rain, your tour visits Faraglioni (a rocky inlet) instead. From
November 23, 2015, to March 31, 2016,
this tour does not include the visit to Capri on Day 2. The excursion is replaced with a day of free time in Sorrento.
Hotel pickup is available; click on the 'View additional info' link to see the Rome hotels that are included in this service.
June 2016
Trip was fantastic! Guides were knowledgeable and extremely friendly. Hotel in Sorrento was wonderful. ..view from our balcony/ terrace was spectacular. Capri was breathtaking. ..Blue Grotto was once in a lifetime experience. Groups were not overwhelmingly large. Would hihly recommend. Good value
June 2016
It was the best tour, Sasha an amazing guide, loved all of the excursion

June 2016
June 2016
June 2016
Excellent value! There is too much to praise! The guide for Pompeii was so very knowledgeable, he brought it all to life. The view from the Sorrento hotel was breath-taking, and the hotel was very, very nice. Capri is amazing and the Blue Grotto was a once in a lifetime experience. So many wonderful things in a great two day adventure. So happy we took this tour. Thank you all.
May 2016
bit expensive, but worth every single penny.
a very well organized tour with no hassle at all. all guides were very polite, helpful and knowledgeable.
i can rate the service/attractions/transport 95 and food provided 85.
Andrew United States of ...
April 2016
It is another A trip. Got picked up from hotel, joined the rest of group to head down to Napoli beautiful coast, Pompeii so big and so much to see, Sorrento what a beautiful hotel we stayed and Capri breathtaking view and dropped off near the hotel. What a DEAL! It is worth every penny that we paid for this 2-day trip. I would highly recommend anyone to take this trip.
April 2016
November 2015
This tour was great for us as we had such limited time! Would have loved to stay longer and seen Amalfi though. The organisation we felt was superb, they had many different types of tours going on the same buses at different times and days which they worked seamlessly and tirelessly. Though it was hard for us on such a short tour to have 5 different tour guides over 2 days. Also the amount of languages they had to speak meant that you weren't getting as much information or tuned out completely. Its not a Naples tour just a stop but Sorrento was much more beautiful in my opinion anyway. Our accommodation we didn't go for the upgrade and it was just stunning! During our whole two month holiday we didn't eat as much food as we did in these two days! It was just course after course of paid for meals!
October 2015
We had such a great time on this two day tour, even though it was pouring while we were guided through the ancient ruins of Pompeii. Amazing value for the price. This tour was extremely well coordinated, with various guides for each leg, and they were all mindful of making sure they had everyone in our group before leaving to the next location. Also provided some free time in each location to explore. Overall a great way to see all these places in a matter of two days without having to plan it yourself. We thoroughly enjoyed ourselves and would definitely recommend it!
The day starts early, but our guide on the ride to Naples, Francesca, was humorous and shared interesting tidbits about the region. Lunch was included at a restaurant in Pompeii with some traditional pasta of course, and meat. Our guide for Pompeii, Paolo, was hilarious and very charismatic. You spend about 2.5 hours in the ruins with the guide.
For the evening, you are dropped off at your hotel in Sorrento and have free time. The tour group is large and is broken into smaller groups staying at each hotel, but all are 4 star hotels.Our hotel in Sorrento was a dream, truly a beautiful hotel in a great location. Perched slightly up the hill with wonderful views of the Bay of Naples and Mt. Vesuvius - we woke up early the next morning and watched the sunrise in this beautiful location. We had an amazing 4 course dinner at the hotel included, which was one of my favorite meals in Italy.
The next morning we enjoyed the best complimentary breakfast spread at the hotel before being picked up for the boat to Capri, which take about 45 minutes. We were so happy the weather was perfect on this day. The boat ride to Capri, the isle of Capri, Anacapri, and the small boat ride to the Blue Grotto were all incredibly beautiful. The only disappointment was that we could not actually go in the Blue Grotto, due to sea conditions. We had lunch in Anacapri, and some free time in both Capri and Anacapri.
Advertisement
Advertisement