Marvel at the beautiful Italian coast on this 3-day tour from Rome to Sorrento and other highlights of the Campania region. You'll visit the historical city of Naples, take in the volcanic ruins of World Heritage–listed Pompeii, enjoy the seaside delights of the Amalfi Coast and travel by boat to the island of Capri. A mix of guided portions and free time provides a great introduction to this must-see part of Southern Italy. Two nights of accommodation are included.

Please note: The excursion to Capri does not take place during the winter (November to March); instead, you will have free time in Sorrento.
Highlights
3-day southern Italy tour from Rome to Sorrento and back again!
Discover enchanting sites in Italy's Campania region: Naples, Pompeii, Capri and Sorrento
Admire the Bay of Naples from your coach, and visit the UNESCO-listed ruins of Pompeii
Cruise through the Bay of Naples from Sorrento to Capri, and visit the island's magical Blue Grotto
Spend time at leisure in Sorrento on the Amalfi Coast before returning to Rome
Two nights of 4-star accommodation in Sorrento included
Recent Photos of This Tour
3-Day Italy Trip: Naples, Pompeii, Sorrento and Capri
What You Can Expect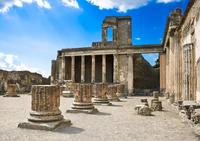 Your 3-day tour from Rome to the Campania region of Southern Italy starts with the drive to Naples, followed by a visit to the ancient city of Pompeii, a UNESCO World Heritage site known for its well-preserved archaeological ruins from the volcanic eruption of Mt Vesuvius. You'll end the day on the spectacular Amalfi Coast in the town of Sorrento, where two nights of accommodation are included at a 4-star or 4-star superior hotel (select your level of hotel when booking).

The next morning, head out on a day trip to the island of Capri, home of the Blue Grotto, unless your tour takes place during the winter, when the tour to Capri does not operate; instead, you'll spend the day at your leisure in Sorrento. See the Itinerary for details about each day of the tour.
Itinerary
Day 1: Rome – Sorrento (L, D)Leave central Rome in the morning, and journey south to sunny Naples. Travel through the city in the comfort of your coach to enjoy a panoramic overview of the downtown area. Gaze out over the Bay of Naples, and have your camera ready for two brief stops at Mergellina and Molo Beverllo to admire sights of the gulf and Mt Vesuvius.
Travel inland to Pompeii, and after lunch in town, visit its UNESCO-listed archaeological site with your guide. Hear how Pompeii lay buried under volcanic ash for centuries following Mt Vesuvius' 79 BC eruption, and marvel at the incredible Roman ruins that abound.
Return to your coach and travel to the Amalfi Coast, where you'll check in to your Sorrento hotel in time for dinner.
Overnight: 4-star or superior 4-star hotel in Sorrento
Day 2: Capri (B, L, D)Enjoy breakfast, and then travel from Sorrento port to the island of Capri by hydrofoil boat. Hop aboard a rowing boat at Capri's Marina Grande harbor, and relax as your guide rows you around the island to see the magical Blue Grotto (Grotta Azzurra). This intriguing cave is said to have sunk dramatically since prehistoric times, blocking out most of its entrances.
Return to Marina Grande and travel by minibus to the village of Anacapri, perched high above the glamorous Capri Town. Explore at leisure, admiring its romantic wisteria-draped villas with sun-bleached stucco, and gaze down over the Bay of Naples.
Head back down the hill and visit one of Capri Town's traditional trattorias for lunch. Walk it off on a stroll, passing through Capri's swanky Piazetta (Piazza Umberto) — Capri's place to see and be seen. Board another hydrofoil boat in the late afternoon and return to Sorrento in time for dinner.

Please note: From Nov 23, 2015, to Mar 31, 2016, this tour does not visit Capri on Day 2. The excursion is replaced with a day of free time in Sorrento.

Overnight: 4-star or superior 4-star hotel in Sorrento
Day 3: Sorrento – Rome (B)After breakfast, spend the morning in Sorrento at your leisure. Perhaps take a stroll along Corso Italia and climb the steps to see atmospheric Piazza Tasso, tucked away in the heart of Sorrento Old Town. Soak up views of the sun-soaked cliffs, where Sorrento's houses almost seem to be stacked on top of each other, and then shop for any last-minute souvenirs of the gorgeous Amalfi Coast.
Meet your guide at the prearranged time, and then return to Rome by coach. Your tour finishes at your central Rome hotel.
June 2016
I wanted a quick getaway from Rome and this tour fit the bill. It was very well organized, and the hotel in Sorrento was lovely, no need to upgrade. The scenery was gorgeous of course, and all the guides but one which I'll discuss in a moment were helpful and cheerful.
I was disappointed in the guide to Pompeii. She was hard to hear and understand and didn't seem to care at all. I asked her several questions and the answers were brusque at best. It was a shame, I wanted to learn about Pompeii and she was ..... A hindrance to put it politely. Still, the whole tour itself carrani was a good value and well done. I'd book something like this again.
June 2016
Excellent tour. Hotel and room were great. Staff at Grand Hotel Vesuvio was very helpful. Food at the hotel was excellent. View from hotel balcony of the blue water and Mt. Vesuvio was the best. The hotel certainly was better than expected. Only down side was it was a little further away from city center, but we did not mind. Naples part of the tour is a waste of time.
May 2016
Already did but left off the ratting
May 2016
Hotel Great, Food Great, Capri was good Sorrento great
May 2016
This was a fantastic trip. Simone, the guide of Capri, took good care of us and we even got into the Blue Grotto. We had to arrange our own private van tour of the Amalfi Coast which we loved. This was reasonable when arranged by the Sorrento guide.
May 2016
This trip was so great, hotel they put us was so close to the center of town and the food - dinner and breakfast was good. Very friendly people. We took the city bus and visited the Amalfi coast. I recommend this tour.

May 2016
A little chaotic with so many transfers into different buses for a single trip.
The only standout is the hotel and meals in Sorrento
Capri trip is good also

January 2016
This bus trip was the best! Our primary guide Sasha really made our trip fun and we learned a lot along the way. My partner and I were really impressed with his knowledge and ability to make us all feel like one big family.
November 2015
We were picked up at our hotel in a van and taken to the bus at the meeting point. Bus ride to Naples etc was excellant driver and guide very good. Naples was just a twenty minute stop at the harbour which by all accounts about Naples was just right ! Not a nice place according to guides and Romans.
Pompeii was excellant - the ruins are well worth the trip and with the guide Marco were even better. Easily could spend another full day there - another trip perhaps.
Our hotel in Sorrento was fantastic Imperial Tramontano. Well beyond our expectations. Room and meals were top drawer. Very classy place. Day trip to Capri again excellent - with the guide every detail and highlight was looked after for us. Great day.
Return to Rome was right on time with our pick up and drop off at our hotel in Rome.
Thanks for three outstanding days.
November 2015
Great tour, with good transfers and well organized. We choose the pricey option because it was our treat for our 30th Wedding Anniversary trip to Italy. We got the Tramontano hotel in Sorrento with water views, just beautiful and central. The food was fantastic. We were lucky and able to see the Blue Grotto, rode to the top of Anacapri don't stay there too long and had a great time in Pompeii. If you don't have much time or a car this is the way to go. Rented a car that took us south, so much fun and so beautiful. Hope to go back!
Advertisement
Advertisement