See some of the top destinations on the Italian coast on this 5-day tour from Rome to the Campania region. You'll visit the historical city of Naples, take in the archaeological and volcanic ruins of UNESCO-listed Pompeii, enjoy the seaside town of Sorrento on the Amalfi Coast and travel by boat to the island of Capri. A mix of guided portions and free time provide an ideal introduction to this must-see part of Southern Italy. Four nights of accommodation are included.
Highlights
4-night Campania and Amalfi Coast tour from Rome
See top Naples attractions like Galleria Umberto I on a tour of the city
Discover ancient ruins at the UNESCO World Heritage site of Pompeii
Enjoy two nights in Sorrento and two nights on the island of Capri
Explore Capri on a tour, and visit the Blue Grotto, if you wish
Why Our Insiders Chose This Tour
If you want to see the best of Southern Italy, the Sorrentine Coast and island of Capri are wonderful places to do it. Get to know this stunning region on this 5-day trip.
Recent Photos of This Tour
5-Day Italy Trip: Pompeii, Capri, Naples and Sorrento
What You Can Expect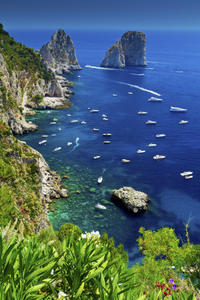 Your 5-day tour from Rome includes accommodation at your choice of 3-star, 4-star or 4-star superior hotels for two nights in Sorrento and two nights in Capri; make your accommodation selection when booking. Hotels are centrally located so you'll be well placed to explore on your own during free time.

As you leave Rome on Day 1, your experience starts in Naples, followed by a visit to the World Heritage–listed ruins of Pompeii before ending the day in the village of Sorrento on the Amalfi Coast. The second half of your tour takes you to the Italian island of Capri where you can admire attractions like the Blue Grotto (Grotta Azzura).

Note: Rates do not include city taxes, which you will pay directly to the hotels upon check-in or check-out, according to local procedure. City tax changes according to hotel category. Hotels are subject to availability at the time of booking. In the rare event that the mentioned hotel is not available, you will be accommodated at another centrally located hotel of the same star rating.

Hotel pickup is available; please click on the 'View additional info' link to see the Rome hotels that are included in this service.
Itinerary
Day 1: Rome – Naples – Pompeii – Sorrento (L, D)
Leave central Rome in the morning, and travel by coach toward sunny Naples – your first destination! Arrive in Naples by late morning, and set off to explore on a leisurely paced walking tour. Centered around its historical center, your tour takes in top Naples attractions like Piazza del Plebiscito – home to the Royal Palace of Naples (Palazzo Reale) – and Galleria Umbero I, with its glass-roofed arcade.

Travel inland to Pompeii, and after lunch in town, visit its UNESCO-listed archaeological site with your guide. Hear how Pompeii lay buried under volcanic ash for centuries following Mount Vesuvius' 79 BC eruption, and marvel at the incredible Roman ruins that abound.

Return to your coach and travel to the Amalfi Coast, where you'll check in to your Sorrento hotel in time for dinner.

Overnight: Standard accommodation at Hotel Villa Maria 3-star or superior accommodation at Hotel Michelangelo 4-star or deluxe accommodation at Hotel Ambasciatori or one Hotel of the Manniello Chain 4-star L or Hotel Tramontano 4-star L in Sorrento

Day 2: Sorrento (B, D)
After breakfast, your day in Sorrento is yours to spend doing as you wish. Perhaps take a stroll along Corso Italia and climb the steps to see Piazza Tasso, tucked away in the heart of Sorrento Old Town. Soak up views of the sun-soaked cliffs, where Sorrento's houses almost seem to be stacked on top of each other, and then browse the shops for souvenirs of the gorgeous Amalfi Coast. Return to your hotel in the evening for dinner.

Overnight: Standard accommodation at Hotel Villa Maria 3- star or Superior accommodation at Hotel Michelangelo 4-star or Deluxe accommodation at Hotel Ambasciatori or one Hotel of the Manniello Chain 4-star L or Hotel Tramontano 4-star L in Sorrento

Day 3: Sorrento – Capri (B, D)
Check out of your Sorrento hotel after breakfast, head to the port and relax on your ferry or hydrofoil crossing to the island of Capri. Enjoy a short tour of the island by coach, exploring Capri town to see highlights like the Piazzetta (Piazza Umberto), the islands liveliest central square.

After getting acquainted with the island, you have the option of going to see the magical Blue Grotto (Grotta Azzura). Simply head to Marina Grande harbor and relax as your guide rows you around the island to the cave. The intriguing site is said to have sunk dramatically since prehistoric times, blocking out most of its entrances. Light entering from an underwater cavity combines with the trickle of light from its only entranceway, giving the water its vivid blue effect. Enjoy a nice lunch on the island.

Check in to your hotel in the late afternoon and spend the rest of your day at leisure.

Please note: your Blue Grotto trip is subject to good weather conditions. If the trip is cancelled, it may be possible to rearrange it for Day 4, instead.Same for lunch included could be taken on day 3 or 4.

Overnight: Standard accommodation at Hotel La Bougainville 3-star or La Carmencita Hotel 3-star or Superior accommodation at Hotel Capri 4-star or accommodation at Hotel Casa Morgano 4 stars on Capri

Day 4: Capri (B)
Enjoy breakfast and then enjoy a full day of free time to explore Capri at your own pace. Perhaps take a swim around the glorious Bay of Naples, lounge on the beaches, or visit the colorful village of Anacapri, perched high on a hill above its glamorous Capri Town neighbor.

Overnight: Standard accommodation at Hotel La Bougainville 3-star or La Carmencita Hotel 3-star or Superior accommodation at Hotel Capri 4-star or accommodation at Hotel Casa Morgano 4 stars on Capri

Day 5: Capri – Rome (B)
Spend a leisurely morning enjoying breakfast and doing some last-minute sightseeing around the island. In the afternoon, check out of your hotel and leave the island. Cross the sea by ferry or hydrofoil to Naples, and then travel back to Rome by air-conditioned coach. Your tour finishes with a drop-off in central Rome in the evening.
July 2015
Really enjoyed the tour and trip. Such beautiful cities and loved how we were pretty much on our own. The last day back was a little rough with the amount of time to come back, was not prepared but really enjoyed the tour guides.
Fausto B US Minor Outlying ...
July 2015
This tour was excellent, we enjoyed Pompeii, maybe it little too long, Sorrento was a very beautiful place and so it was Capri. we recomend this trip.the only negative was the Capril Hotel's bed was extremely hard to sleep on, other than that we had a great view from the hotel.
June 2016
We truly enjoyed our tour or Pompeii, Sorrento and Capri. The extra free day in Sorrento and Capri allowed for enough downtime to explore the area on our own and at our own pace. I would give this tour 5 stars except the meals included on the first day and at the hotel in Sorrento were terrible, really barely edible. Additionally, we were assigned to a different hotel than the ones listed for the 4 star in Sorrento that were not within walking distance of the downtown area. This was a bit disappointing however the hotel did provide a free shuttle.
October 2014
June 2014
The 5 day trip is perfect. With two nights each in Sorrento and Capri and free days, it's possible to see the real Campania you will not see in 3 days or less. Amazing scenery and food. And the free days of the 5 day tour were key.
Choosing the top hotel option was also key to a fantastic experience. The Ambasciatori in Sorrento is beautiful and includes beautiful 4-course dinners in the price. It sits on the cliff and is perfect. In Capri, Cassa Morgano is very good. Although not deserving of 5 stars it claims to have. And the view from the hotel is better than anything you will see on any day trip. Capri is one place that lives up to the marketing photos, but only if you stay overnight(s) long enough to see it.
Most important to the trip was the free days. Taking a day to Amalfi from Sorrento was an excellent choice. It's amazing. And in Capri, having a day to walk along the coast and find idyllic bays was the best.
The locations deserve 5 stars but unfortunately the local tour company's disorganization let it down. Information was sometimes confused and conflicting between written information and verbal information provided by guides. On several occasions guides got upset at people for the guides' own mistakes. You need to think on your feet to make sure you're in the right place at the right time.

November 2015
Pompeii guide was fantastic! Capri guide was great! Tour however did not hang together leaving the client to basically figure out where to go and what to do... no tour group feeling was created due to fact that different duration tours were combined...
May 2015
I thought the guide on the bus to Napoli and Pompeii was a little weak new?. He didn't keep us informed of the fact that there were several tours at the same time and which bus was to continue to Sorrento and which was to return to Rome. The restrooms at the stop on the way down was not up to international standards. Our Pompeii guide was very skilled and informative. We liked the Villa Maria hotel in Sorrento and the Bougainville in Anacapri. The return to Napoli was a total snafu with us waiting at dock No. 7 until 5 minutes before the boat was leaving and Francesca didn't bring any tickets. Very unprofesional.
September 2015
The tour is 2 days of guided tours with 3 days by yuorself. The many bus transfers are chaotic and travellers had to transfer their luggage themselves from different buses and from the ferry. I booked the deluxe hotels and they were not good value for money. Ther Royal hotel in Sorrento gave me a room that was 10 feet x 10 feet with the view of another building and the Best WEstern gave me a room with the view of a wall and no working AC for a whole night and half a day. Will never book another extended tour on Viator again. Very dissappointed.
Advertisement
Advertisement