193 Reviews
Location:

Rome, Italy

Duration:

6 hours

(approx.)
Don't miss this extraordinary opportunity to experience Rome as not many do! On a small-group Roman countryside bike tour of the ancient Appian Way and Catacombs, cycle in a group of 12 along a 2,300-year-old cobblestone Roman road, past an ancient sepulcher and an Imperial palace, as well as ancient Roman aqueducts. Finally, ride through Caffarella Park, a preserved strip of land in the Roman countryside that impressed 19th-century travelers like Byron, Goethe and Stendhal.

The challenging route covers a distance of roughly 19 miles (30 kilometers) including some seven or eight hills and lots of off-road terrain; for this reason, the tour is aimed at experienced cyclists with a better-than-average level of fitness.
Highlights
Roman countryside bike tour of the ancient Appian Way

Guided visit to the Catacombs (6-hour tour only)

See thermal baths, ancient tombs and Roman ruins
Cheese and wine aperitif in Caffarella Park (6-hour tour only)

Local, professional guide
27-gear trekking bike with helmet
Small groups of 12 people for a more personalized experience
Recent Photos of This Tour
Ancient Appian Way, Catacombs and Roman Countryside Bike Tour
What You Can Expect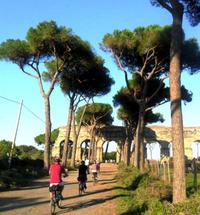 An exceptional tour of absolute beauty, the Ancient Appian Way, Catacombs and Roman Countryside Bike Tour is a fantastic way to explore the ancient sights and landscapes that surround Rome. It's a journey into a unique setting, in which a miraculously intact environment, free from modernization, forms a backdrop to the continuous passage of historical, cultural and artistic events.
Choose from a 4.5-hour, 5-hour or 6-hour tour, and after putting on your helmet, set off behind your guide at a steady pace. All of the options follow an intense cycling route, covering lots of off-road and hilly terrain. Take the 4.5-hour tour to see the sights of the Appian Way from your bike -- with few stops -- or alternatively, take the 5-hour tour (October only) or the 6-hour tour. The longer options include lengthier stops; both include a visit to a Roman sheep farm to relax over wine and cheese, and the 6-hour tour includes a guided tour of the Catacombs, too.
All options include additional sights like:
Trajan's Thermal baths
Caracalla's Thermal baths
S. Sebastian Door
Aurelian Walls
Ancient Appian Way
S. Callisto Catacombs
Circus of Maxentius
Tomb of Caecilia Metella
Tombs and Tumulus Ruins
Ninfeum of Villa Quintili
Aqueduct Park (Claudius and Felix)
Caffarella Park
Ninfeum of Egeria
July 2015
This tour was fantastic. We felt safe despite riding near Roman traffic! Matteo our guide was caring and knowledgeable. The history we were able to experience was better than we could ever have imagined. The upgrade to electric assist bikes was great.
July 2015
Our guide Bruno was outstanding! He was knowledgeable, interesting, patient, and funny. The trip was well planned and we saw wonderful sites and learned interesting history. I highly recommend this bike tour!
July 2015
A great experience and wonderful way to see some of the sites of Rome. This is a very professional operation. I was a little nervous about navigating Roman traffic on bikes with my 9-year-old. We were in the best of hands in every way - our charming and knowledgable guide, Bruno, kept us safe and entertained. Ask for him as your guide and you will be glad you did.
July 2015
Awesome tour. We found areas we never knew existed. Great tour guides and all around experience.
July 2015
I'd give this a seven out of five if I could. Federico was a super cool, knowledgeable, and friendly guide. I can't think of any other adventure in Rome where my way would be blocked by a flock of sheep.
June 2015
Excellent, well organised, informative and good quality bikes. This was the highlight of our trip to Rome, tiring afternoon but saw so much and the stop for cheese and wine was lovely. Thoroughly recommend this.
June 2015
absolutely fantastic! best way to explore the outskirt of the ancient city. the tour was very easy with eBikes and still easy with a normal mountain bike if you cycle regularly. to see the appian way and the aqueducts on the bike was magical. the stop at the farm on the way back was perfectly positioned and timed. We had the best cheese ever and enjoyed chatting and getting to know the other cyclists - a definite highlight of the tour. If you have an afternoon in Rome without any plans this is the thing to do. the starting point is very close to the Colosseum.
June 2015
This tour was awesome!!! It was the highlight of our trip for many of us. Our guide, Jesse was amazing, and we did put him through a lot. It was wonderful to be out in the countryside riding and seeing how the locals spend their Sunday afternoon. We saw sites most tourist don't get to see. Jesse was very informative telling us about the history of the Appian Way along with the other sites we saw. All the regular stops, along with the unexpected ones gave us a chance to take a breath and soak in the surroundings around us. This is a great way to see many interesting sites, but be warned , this is a long and sometimes difficult ride. Prepare yourself, not for novice riders!! If you are, use the e-bikes. Thank you Jesse for taking such good care of us. I know we gave you a few first experiences. We had such a great time and we all talk highly of our bike ride in Rome. I hope to do it again some day!!
June 2015
Highlight of my trip to Italy! Our guide was great, very knowledgeable and energized. I will recommend this as a must do for anyone visiting Rome. It was my second time visiting Rome and it was a game changer - I fell in love with the city!
June 2015
This was much better than the city tour. It was a really fun way to see parts of Rome and the surrounding area that I would not have seen otherwise. Also, aside from the catacombs tour, you really get away from the tourists and see a side of Rome the locals see.
Advertisement
Advertisement