To see more of Rome's ancient sights than what you find in the historical center, get out of the city on this electric bike tour to the Appian Way. You'll check out the ruins of the Aurelian Walls, the thermal Baths of Trajan and the San Callisto catacombs, which date back to the 2nd century. Learn about the burial customs of Ancient Rome and enjoy the countryside scenery without putting in too much effort, thanks to the bike's electric motor. This small-group tour is limited to 12 people.
Highlights
6-hour electric bike tour along the Appian Way in Rome
Cycle deep into the Italian countryside
Discover Roman ruins such as the Aurelian Walls, the Circus of Maxentius and the Tomb of Caecilia Metella
Visit the 2nd-century San Callisto catacombs and learn of Roman burial traditions
Small-group tour limited to 12 people ensures personal attention from the guide
Why Our Insiders Chose This Tour
The Appian Way covers lots of off-road and hilly terrain, but your electric bike makes pedaling easy. Explore ancient Roman ruins outside the city and travel effortlessly through rural Italy.
Recent Photos of This Tour
Ancient Appian Way, Catacombs and Roman Countryside Electric Bike Tour
What You Can Expect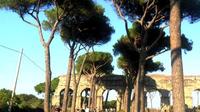 Your bike tour starts at a central Rome location, where you'll meet your guide and travel out of the city center to the Appian Way. Dating back to 312 BC, the Appian Way was constructed to connect Rome to Southern Italy and became one of the most important thoroughfares in the Roman Republic.

When you arrive at the start of the road, jump on your electric bike, which is outfitted with a small motor that kicks in when you pedal, allowing you to cover a lot of ground with minimal effort while you enjoy the fresh air of the Roman countryside. (If you prefer a little exercise, however, standard bikes are also available.)

Following your guide, ride past ancient sights like the thermal Baths of Trajan, the Aurelian Walls, the Circus of Maxentius, the Tomb of Caecilia Metella and the Park of the Caffarella. Admire the rural Italian scenery, and hear stories from your guide about these centuries-old ruins. When you reach the San Callisto catacombs, go inside the subterranean tunnels, dating back to the 2nd century, and learn about the burial traditions of the ancient Romans.

Your tour ends with return to central Rome. Total biking distance on the Appian Way is approximately 19 miles (30 km). Select a morning or afternoon departure time when booking.
May 2016
This was a great tour, it started at 2pm and finished about 8pm, six hours flew by and electric bikes were a great idea for just a few of the inclines, active cyclists would have no problems with using non-electric bikes too. The tour guide Federico was very helpful, informative, courteous and professional at all times and the stop off at the catacombs and farm-house were special experiences. Recommend this highly, for a great way to see Rome you won't be disappointed, throw the leg over the crossbar and set off for a great experience.
May 2016
The bike tour was one of the highlights of our trip!! We would highly recommend it!!
April 2016
Rick was a great guide, who had vast knowledge not only of the Appian Way, but of ancient Rome as well, and he was more than delighted to share his knowledge with us. The wine and cheese was a wonderful surprise, and we thoroughly enjoyed ourselves along the trip. One note of advice would be to ensure that everyone is physically fit and able to ride a bicycle with relative ease. We had a lady on our tour who was slightly slower than the rest, and I felt that the tour could have been slowed down a little to accommodate to her. However, overall, definitely a must-try experience for the adventurous!
March 2016
Awesome experience for all ages. The tour guide was terrific, the views awesome and memorable riding along a 2000 year old highway.
January 2016
Had a wonderful day with Ambra. Bikes were excellent quality, the tour interesting and informative.
December 2015
Fantastic day exploring the sites of Rome on an Ebike with Ricardo as our guide. Would definitely do this tour again next time in Rome. Six hours sounds like a lot but with the Ebike it was very easy. You'll see things that most likely you would not find on your own.
November 2015
Fantastic way to go. Excellent and conscientious guide. No issue on short sectins of city riding.
November 2015
Best tour in Rome. Electric bikes are so easy to ride and exploring the countryside was beautiful! Frederico was our guide and he was very informative. Highly recommend.

November 2015
This bike tour was wonderful, majestic. This is the Rome I imagined. If you do nothing else while here, make certain you book this tour. Thank you for an amazing day!
November 2015
Being this was our 2nd trip to Italy and Rome, we wanted to do something other than visit churches and ruins. This was a perfect day to spend out of the hustle and bustle of the city. The Appian Way was a nice surprise, right in the heart of Rome. Our guide, Mateo, was friendly and knowledgable, spoke excellent English. We had a smaller group of 7 riders but he made sure everyone was doing well throughout the trip. The stop at the farm to have fresh Pecorino and wine was wonderful! The farm sits right in a public park. The tour of the catacombs was interesting, something I wouldn't have thought to go see and the aquaducts were incredible. It was our first time on eBikes and they were fun! If you like being outdoors and doing something active other than walking then this tour is for you. HIGHLY recommend this tour!
Advertisement
Advertisement