180 Reviews
Location:

Rome, Italy

Duration:

6 hours

(approx.)
Don't miss this extraordinary opportunity to experience Rome as not many do! On a small-group Roman countryside bike tour of the ancient Appian Way and Catacombs, cycle in a group of 12 along a 2,300-year-old cobblestone Roman road, past an ancient sepulcher and an Imperial palace, as well as ancient Roman aqueducts. Finally, ride through Caffarella Park, a preserved strip of land in the Roman countryside that impressed 19th-century travelers like Byron, Goethe and Stendhal.

The challenging route covers a distance of roughly 19 miles (30 kilometers) including some seven or eight hills and lots of off-road terrain; for this reason, the tour is aimed at experienced cyclists with a better-than-average level of fitness.
Highlights
Roman countryside bike tour of the ancient Appian Way

Guided visit to the Catacombs (6-hour tour only)

See thermal baths, ancient tombs and Roman ruins
Cheese and wine aperitif in Caffarella Park (6-hour tour only)

Local, professional guide
27-gear trekking bike with helmet
Small groups of 12 people for a more personalized experience
Recent Photos of This Tour
Ancient Appian Way, Catacombs and Roman Countryside Bike Tour
What You Can Expect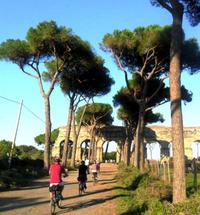 An exceptional tour of absolute beauty, the Ancient Appian Way, Catacombs and Roman Countryside Bike Tour is a fantastic way to explore the ancient sights and landscapes that surround Rome. It's a journey into a unique setting, in which a miraculously intact environment, free from modernization, forms a backdrop to the continuous passage of historical, cultural and artistic events.
Choose from a 4.5-hour, 5-hour or 6-hour tour, and after putting on your helmet, set off behind your guide at a steady pace. All of the options follow an intense cycling route, covering lots of off-road and hilly terrain. Take the 4.5-hour tour to see the sights of the Appian Way from your bike -- with few stops -- or alternatively, take the 5-hour tour (October only) or the 6-hour tour. The longer options include lengthier stops; both include a visit to a Roman sheep farm to relax over wine and cheese, and the 6-hour tour includes a guided tour of the Catacombs, too.
All options include additional sights like:
Trajan's Thermal baths
Caracalla's Thermal baths
S. Sebastian Door
Aurelian Walls
Ancient Appian Way
S. Callisto Catacombs
Circus of Maxentius
Tomb of Caecilia Metella
Tombs and Tumulus Ruins
Ninfeum of Villa Quintili
Aqueduct Park (Claudius and Felix)
Caffarella Park
Ninfeum of Egeria
May 2015
I encountered a bike accident early on the tour. It was no fault of anyone. It just happened. The guide, Matteo was wonderful. He was careful and protective of us as we rode at a slow pace through Rome to get to the Park. It was a freak thing that I got thrown of the bike. I needed to go to the hospital. Matteo made me feel safe. The group waited till the ambulance came. Matteo secured my camera. I needed attention to a cut on my left brow and a bruise on the palm of my hand. Everyone was very nice and patient. I was traveling alone. When I was released a little later I was feeling shakey but returned to the bike tour office and the staff was so nice. They gave me juice and water and chatted with me till I left and they called me a taxi. Fleurin, at the office came to my hotel in the evening after hours to return my camera! I was departing Rome the next morning and unable to go back for my camera. They were all so wonderful! I feel badly that I missed the bike tour. The bike tour company and Viator agreed to return my money since I did not get to enjoy the tour. I would love to return to Rome and complete the tour sometime in the future. Thank you!
May 2015
this was awesome but not for the novice bike rider the computer bike was outstanding!!! we saw beautiful sites and while I was afraid of the traffic, allessandra was amazing at keeping it all very safe. I loved it. she was so attentive-I fell of my own accord off the bike and she was promptly there with a first aid kit/washing the area and putting bandaid on.. so kind. the catacombs were gorgeous and the appertif of cheese bread and drink was much needed and loved by all. I would do this again in a minute-I must say top notch equipment from the bike to helmet to the computer-wow. definitely recommend this for a nice change of pace
Advertisement
Advertisement