Don't miss this extraordinary opportunity to experience Rome as not many do! On a Roman countryside bike tour of the ancient Appian Way, you'll cycle on a 2,300-year-old cobblestone Roman road past an ancient sepulchre and an imperial palace. With your Dutch-speaking guide, follow ancient Roman aqueducts. And you'll ride through Caffarella Park, a preserved strip of land in the Roman countryside that so impressed 19th-century travelers like Byron, Goethe and Stendhal.

This small-group Rome bike tour is limited to twelve people, ensuring you receive personalized attention from your guide.
Highlights
Roman countryside bike tour of the ancient Appian Way

Cheese and wine aperitif in Caffarella Park
Local, professional guide
27-gear trekking bike with helmet
Small groups of 12 people for a more personalized experience
Recent Photos of This Tour
Ancient Appian Way and Roman Countryside Bike Tour with Dutch-Speaking Guide
What You Can Expect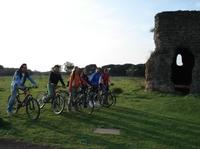 An exceptional tour of absolute beauty, the Ancient Appian Way and Roman Countryside Bike Tour is a fantastic way to explore the ancient sights and landscapes that surround Rome. It's a journey into a unique setting, in which a miraculously intact environment, free from modernization, forms a backdrop to the continuous passage of historical, cultural and artistic events.
You'll follow your local guide along the Appian Way and through the countryside, passing many old tombs, walls, baths and ruins.
Ancient Appian Way and Roman Countryside Bike Tour includes additional sights like:
Trajan's Thermal baths
Caracalla's Thermal baths
S. Sebastian Door
Aurelian Walls
Ancient Appian Way
Circus of Maxentius
Tomb of Caecilia Metella
Tombs and Tumulus Ruins
Ninfeum of Villa Quintili
Aqueduct Park (Claudius and Felix)
Caffarella Park
Ninfeum of Egeria
June 2015
Fantastic! One climb, the rest is downhill. For dutch a piece of cake used to bicycles, for others I cannot tell. No dangerous roads or crossings. We had to children in the group: no problem. The guide was very good.
Carolyn Australia
May 2012
We loved this bike ride, we had a lovely guide Matteao who explained so much to us about Rome and Italy, he was so patient with our many questions. The catacombs were interesting and the scenery was wonderful. We loved the stop at the country villa that made cheese. For someone who hasn't ridden a bike much, the 30km was a fairly easy ride. A pleasant change from the hussle and bustle of Rome. Would recommend this tour.
October 2011
This was my favorite. Partially it was our guide, partially being in and out of the city, and partially the stop for cheese.. and wine! Not being in the city you could hear our guide very well and he made sure he was heard by everyone! Excellent job Manuel!(spelling). Thank you! WE WOULD DO THIS TOUR AGAIN!
August 2011
Excellent tour! Great bike ride through a beautiful area with a stop for wine and cheese. A lovely way to spend an afternoon!
February 2012
This tour was a highlight of our recent trip to Rome for our family of four. Our guide was excellent, he looked after us well and at no time did we feel unsafe on the roads/paths. He was very knowledgeable and passionate about his city. The bikes were in excellent condition. We thoroughly recommend this tour.
August 2011
Great tour! Guide did not offer much information but the area was fantastic.
Advertisement
Advertisement