Head out of Rome to Ostia, an incredible area of ancient ruins where the Eternal City meets the sea, on this half-day morning tour. Just 30 minutes from the center of Rome, Ostia offers well-preserved ruins and tranquility away from the Italian capital. The ruins are convenient, compact and shady, and provide a tantalizing glimpse into daily life in ancient Rome.
Highlights
Half-day morning tour to Ostia from Rome
Explore the well-maintained ruins of Rome's former port city
Offers an uncrowded experience of ancient Rome in miniature
Exhibits at the Ostia museum
Expert local guide
Pickup from centrally located Rome hotels
Recent Photos of This Tour
Ancient Ostia Half-Day Trip from Rome
What You Can Expect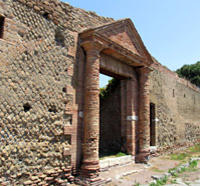 Head out of Rome toward the sea on this educational and entertaining half-day morning tour of Ostia, the ancient Roman ruins that lay just outside of the city. Ostia was once a flourishing port and business center until it was eventually abandoned after the barbarian invasions. Stroll around these well-preserved ruins with your guide learning about what daily life was like here 1,400 years ago.
Begin at the Via della Tombe heading toward one of the three gates to Ostia Antica (ancient Ostia), Porta Romana. Stroll down Decumanus Maximus, the central thoroughfare that goes across Ostia. From there arrive at Terme di Nettuno, where you'll see intricate mosaics representing Neptune and Amphitrite. The oldest archeological remains that have been discovered are from the third or fourth century B.C.. Learn about the history of the place from your knowledgeable guide and seek out some of the oldest ruins there.
See the ruins of theaters and public baths, forums and former residences. Near the Forum square you will also find the House of Diana and the Thermopolium, an ancient Roman bar with a marble counter and a fresco depicting the fruit and foodstuffs that were sold there.
At the end of Via dei Dipinti, a museum displays some of the ancient sculptures unearthed at Ostia.
After a while, head back to the Eternal City having seen a historic swath of ruins that are hard to come by in Rome.
June 2016
Nice trip! Guide fantastic and Ancient Ostia a must when in Rome..
eboard Australia
May 2016
Fantastic - what a brilliant site and guide had so much knowledge.
January 2016
Wonderful, interesting tour. Excellent guide who knew the history of the area well. Great time of day --- early in the morning on a Sunday, before the hordes of other tourists arrived. Added to my knowledge of Italy and Rome. Would have liked more time there, will need to return. Enjoyed ride to the site. Return a little longer than anticipated as folks dropped off at their hotels rather than the morning central meeting place.
December 2015
Excellent guide who explained in detail all the history of this wonderful site!
November 2015
We loved this tour. Our guide provided both fact and humor. It was all very interesting and just the right amount of time.
November 2015
Being frequent visitors to Rome, we decided this time to visit the ancient port city of Ostia using this tour. Similar to what you see at Pompeii, but of course with a less dramatic history. Our guide, Giorgio, was an excellent and witty guide, who not only pointed out several aspects of the ruins military, commercial and residential, but wove into his presentation the operational and daily life of the Roman citizens who lived and worked there. The ampitheatre was a highlight. A most enjoyable experience.
November 2015
Better ruins than Pompeii and only a tenth of the number of tourists. Some of the best mosaic's I have seen.
Michael L Australia
October 2015
Excellent tour to a most interesting site. The guide was particularly knowledgeable on all aspects of the site.

October 2015
These are some of the best ruins in Italy. I enjoyed it far more than Pompeii. The tour guide was anot archeologist and his knowledge was beyond what anyone could ask for.

September 2015
Our tour guide Sara Napilantano (sp) was terrific. Her detailed knowledge of the Vatican and museum is incredible. Thank you Sara!
Advertisement
Advertisement