Visit the ruins of Ostia Antica on this tour from Rome. Sometimes known as 'the better Pompeii' for the excellent preservation status of its buildings, forums and artwork, Ostia Antica is an archaeological site that was once the port city of Ancient Rome. You'll travel to and from the site by train, and then take a 2.5-hour walking tour of the ruins with a guide. Be wowed by the intact condition of ancient structures such as the amphitheater, Baths of Neptune, taverns and more.
Highlights
Half-day Ostia Antica tour from Rome

2.5-hour walking tour of Ostia's immaculate ruins
Much better preserved ruins than Rome or Pompeii
See Ostia's Amphitheatre, Forum of the Corporations, Collegiate Temple and public baths
Professionally guided tour
Train tickets included
Recent Photos of This Tour
Ancient Ostia Small Group Day Trip from Rome
What You Can Expect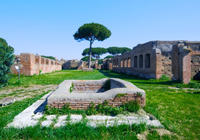 Your tour starts at a meeting location in Rome, where you'll meet your guide, who provides your round-trip train ticket. Then hop aboard the train for the ride southwest of Rome to Ostia Antica, which lies near the coast.

When you arrive, take a 2.5-hour leisurely walking tour through the ancient ruins, noting their highly preserved state for which this archaeological site is so renowned. Dating as far back as the 4th century BC, the ruins include structures like an amphitheater, the Forum of the Corporations, the Collegiate Temple, taverns and public baths. Once home to more than 100,000 people, Ostia was the port city of Ancient Rome.

Walk along the main road, Decumanus Maximus, while your guide tells you stories about life in town. Admire the intact Roman statues that line the walkways; pass by the Baths of Neptune, crowned by a mosaic that depicts the Roman god of the sea behind a 4-hourse chariot; and take a seat in the amphitheater, which dates back to 12 BC and was built to hold 3,500 spectators. Shops and apartments make up some of the smaller buildings.

When your time at the site is up, you'll return to Rome by train.
May 2016
Excellent guide, very knowledgeable. Fantastic site, spent the whole day there. As good as, if not better than, Pompeii!
May 2016
This was a very interesting place. Lots of hard walking, but really loved it!
May 2016
This was though City Wonders. The guide, Rebecca, was wonderful. She knew and was interested in the subject. As an American, she was easy to understand and best of all, she made it a point to learn our names and something about each of us. Best guide ever!
April 2016
This was an exceptional tour. Great guide, Rebecca. She was very knowledgable and had a great way of telling the stories. She was passionate about Ostia and we benefitted from that passion. Would go on other tours with her again. The small group was nice also. Well done. Thankyou
April 2016
The tour was very smooth. All transfers worked out fine. The tour guide Emilio was very knowledgable and gave a great tour. He was an excellent guide and I learned so much from him. The tour was well planned out and I am glad my agent recommended viator. I recommend Emilio highly.
April 2016
This is well worth the trip. The guide was superb, very knowledgable and passionate about her work. We learnt heaps about this site and would do this tour again. It was early in the season so there were very few others there. I liked the small group experience.
November 2015
Red-haired Rebecca was superb!!
November 2015
This was probably one of the best days we spent in Rome! Our guide, Rebecca 'Antica', was very knowledgeable and made the experience that much more enjoyable. The tour was well organized and went off with out a hitch. I would HIGHLY recommend this tour, especially if Rebecca is your guide.
October 2015
Rebecca, our guide was FANTASTIC! She was a true pro and herded our group with care and energy from start to finish. This tour is one of the best I have been on in years and well worth the time to experience the best ruins of Roman history.

October 2015
Fantastic trip by train out to the ancient port of Rome. We made our own way back, easy enough and ended up spending the whole day at the site. It is huge! The guide was excellent and showed us the best of the site, but we wanted to wander around on our own at the end. I would say that if you are into History, this is a don't miss trip.
Advertisement
Advertisement