228 Reviews
Location:

Rome, Italy

Duration:

4 to 4.5 hours
Escape to Ostia Antica and see why experts are calling it "The Better Pompeii". It is just a step away from Rome and you'll travel in a personalized small group with maximum 25 people! The perfect half day trip from Rome for those seeking to learn more about ancient Roman ruins but do not have time to travel to Pompeii.
Highlights
Half-day Ostia Antica tour from Rome

2.5-hour walking tour of Ostia's immaculate ruins
Much better preserved ruins than Rome or Pompeii
See Ostia's Amphitheatre, Forum of the Corporations, Collegiate Temple and public baths
Professionally guided tour
Train tickets included
Recent Photos of This Tour
Ancient Ostia Small Group Day Trip from Rome
What You Can Expect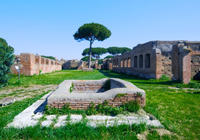 The beautifully preserved ruins of Ancient Ostia were founded in the 4th century BC and were once inhabited by over 100,000 people. Ancient Ostia is commonly referred to as "The Better Pompeii" due to the astonishing, highly-preserved condition of its buildings. Structures include taverns, baths, apartments, groceries and theatres - and their intact state so strikingly exceeds that of the Roman Forum, Imperial Forum and Pompeii, that it seems a misnomer to call them 'ruins'.

Walk the main street, the Decumanus Maximus, while your tour guide brings the stones around you to life. The Roman statues that line the walkways are in such perfect condition you'll feel as though you are walking amongst the ancient Romans themselves! You'll even be enticed to take a dip in the Baths of Neptune, which are crowned by a impressively intact mosaic of the sea god being drawn by a four horse chariot. And if you are a theatre fan, you'll enjoy Ancient Ostia's amphitheatre ' whose structure is still so stable that you will be able to take your place in the stands as 3,500 Roman spectators once did back in 12BC when it was first constructed.

Your fluent English speaking tour guide takes care of all train tickets and making sure you everyone gets off at the right stop. All entrance tickets are included and all of the major sites will be covered in a 2.5 hour leisurely walk through the ruins - including but not limited to Ostia's Amphitheatre, Forum of the Corporations, the Collegiate Temple, the public tavern and public baths.

Note, walking tour is 2.5 hours. The complete duration is 4 hours with train trip to and from Ancient Ostia.
August 2015
Rebecca was by far the best tour guide, and Ostia is AMAZING!!! We also took the train to the beach for the second half of the day...this was our favorite for Rome!!!
August 2015
Great tour. this place gives a good window as to life during the Roman Empire as it has not been destroyed like most Roman artifacts.
July 2015
An excellent tour. Our guide Rebecca was outstanding. She was very well informed about Ostia and seemed genuinely interested in sharing her knowledge with us. The audio headsets worked very well and enabled everyone to hear what she was saying.
July 2015
I highly recommend this tour. Almost as good as Pompeii the only difference is that Pompeii had such a tragic story to tell and that is the only difference! The tour guide was absolutely wonderful. Very knowledgeable and gave us lots of interesting information. Fascinating and amazing to see mosaic tiles designating the type of trade. Also saw an original bar used in a tavern. You shouldn't miss this tour while in Rome!
July 2015
Excellent four hour tour of ostia antica. Our guide was professional, knowledgeable and polite. An excellent place to visit with amazing history and ruins, without the hordes of tourists normally associated with Rome's tourist sites.
June 2015
I thoroughly recommend this trip, it is not far from Rome and gives you a great insight as to how the Roman ancient civilisation went about their everyday business. Our guide Rebecca was so informative and passionate and made sure that this was an experience we would not forget. Not even a train strike stopped Rebecca and the company from organising an air conditioned coach back to our drop off point. Well done all.
June 2015
Great guides. Definitely worth doing.
June 2015
June 2015
Our guide Rebecca was enthusiastic and incredibly knowledgeable. She was able to answer questions from the historians and keep the youngsters fully engaged. It is an amazing site, with a small museum, a book shop, good restaurant and lots to see. A great addition to a holiday in Rome.
June 2015
Of all the sites we visited in Rome this was one of the best ones with Rebeccas enthusiasm and knowledge of ancient Rome. If you want to visit Ostia I would highly recommend this tour otherwise you would think ahh another ruin, but with Rebeccas knowledge she really brings it to life.
Advertisement
Advertisement