Admire Caravaggio paintings in Rome and learn about the baroque painter's tumultuous life in Italy on this art-themed walking tour with a knowledgeable guide. You'll see two of his famous works at the Basilica of Santa Maria del Popolo and another at the Basilica of Sant'Agostino, plus pass by other Rome sights like the Spanish Steps. Finish up at a wine bar to enjoy wine and an Italian snack while you learn about and discuss the history of Caravaggio in Rome.
Highlights
2-hour Rome walking tour, focusing on the Italian Baroque artist Caravaggio

See famous Caravaggio paintings, such as the Crucifixion of St Peter

See top Rome attractions as you walk, including Piazza del Popolo, the Spanish Steps and Via Margutta

Learn about Caravaggio and discuss Renaissance art with your knowledgeable guide

Enjoy fine wines and local delicacies (included) at a local wine bar

Recent Photos of This Tour
What You Can Expect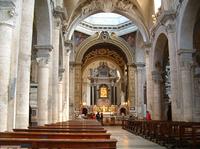 Meet your guide near Piazza del Popolo to begin your walking tour focused around baroque painter Caravaggio. He spent much of his life in Rome in the late 1500s, and the city holds many of his works.

One of Rome's liveliest squares, Piazza del Popolo is home to the Basilica of Santa Maria del Popolo. Head inside this Augustine church, known for its Renaissance architecture and baroque artwork, to see two Caravaggio masterpieces inside the Cerasi Chapel—Crucifixion of St Peter and Conversion on the Way to Damascus. Then follow your guide through one of central Rome's most elegant areas, walking along narrow streets like Via Condotti and Via Margutta, chic lanes that are home to boutiques and galleries. Stop by the Spanish Steps for a photo op, and walk through Piazza San Lorenzo before arriving at the Basilica of Sant'Agostino.

Head inside this hidden gem, a lesser-known church in a city filled with famous religious sites. You'll admire work by Raphael in addition to Caravaggio's Madonna del Loreto, housed in the Cavaletti Chapel. Learn from your guide about the reaction at the time to this painting, which depicts a barefoot Virgin Mary appearing to two pilgrims.

Finally, visit a local wine bar to end your tour with an hour of wine, snacks and art talk. While you sip two glasses of wine, a white and a red, and munch on cheese, olives, bread and meats, you can discuss the works of Caravaggio and other baroque artists who contributed to Rome's long history as a center of culture.
February 2016
This was a fabulous tour. We had expected a perfunctory explanation of the work and the artist, but our guide, Jeanette, was a very knowledgable and interesting guide. The background information on Caravaggio's life was very useful in putting his work in context. If you truly want to come to know his work, and to get a very strong experience for this section of Rome, between Piazza del Popolo and Piazza Navona, this is a great way to do it.
July 2015
Our very own private little tour as our group of four where the only attendees! Are tour guide was amazing, extremely educated and fun! We were learning so much while causally stolling the streets and popping into different churches here and there. Complete with incredible wine and really wonderful food made this adventure well rounded. Highly reccomended! Would not suggest bringing children on this tour.
June 2015
There were 7 of us from USA age range 22 -56. Jeanette was an awesome guide that made the history come alive. We all loved the tour. I would recommend this tour to anyone who is interested in history, art and food. The restaurant we went to afterwards, Casa Coppelle, was the nicest restaurant we have been to in Rome. Thank you, Jeanette!!
June 2015
This was a great tour and certainly worth the money! Jeanette, our guide, was well informed and entertaining and made the stories behind the art come alive. She wove history, sociology, psychology, and art together to give context to these amazing works. Our tour included three churches and six paintings by Caravaggio, as well as stops to look at some Bernini sculptures. Some days the tour includes two churches and the Spanish Steps instead. The two hours of viewing the art, combined with the wine tasting after, was just right. There is a bit of a walk involved, so wear comfortable shoes and clothing and keep in mind that you will need to cover shoulders in the churches. Highly recommended!
June 2015
Jeanette was very good at inspiring non arty people and we loved the whole experience. Her knowledge and enthusiasm was infectious. We will never look at a painting in the same way again. The drinks and nibbles were a real treat at a fabulous restaurant.
May 2015
Absolutely fantastic. Go!
May 2015
Thoroughly enjoyable. Our guide Jeanette was extremely knowledgable and personable who kept the tour participants engaged and involved from start to finish and of course , the Caravaggios were amazing. We highly recommend this tour to art lovers (wine and food lovers too
May 2015
The trip had only two participants. The guide really knew her Caravaggio, accepted differing opinions, and was very pleasant. The wine tasting was at a pleasant restaurant with two good wine and plenty of food for a lite dinner.
December 2014
This tour was a great choice and thoroughly enjoyed!
Our American born tour guide, but long time resident of Rome, was an absolute delight to spend time with. Her passion and knowledge about Caravaggio as an Artist and why he painted what he painted was contagious. We spent time in two little churches looking at several of his works. She opened our eyes and minds to the idiosyncracies and yet brilliant story that each of these initially bizarre looking paintings told. Not to be phased by the larger than normal number on the tour nor the late afternoon Spring downpour that caught us half way between churches, Barbara soldiered on with fascinating tales of courtesans that frequented the area in bye- gone days as we huddled under umbrellas.The third stop was a really nice cafe where we sampled some excellent Italian wines starting with a Prosecco whilst getting to know each other and discussing aspects of our tour. Brilliant, dont miss it!
bobisfun Canada
December 2014
great tour the guide was very good and subjet matter was very interesting would highly recommend this tour
Advertisement
Advertisement