331 Reviews
Location:

Rome, Italy

Duration:

3 hours

(approx.)
Travel along Rome's ancient Appian Way and explore its ancient aqueducts, Catacombs and countryside on this 3-hour tour. Escape the city's hustle and bustle to discover the surrounding countryside with your guide. Visit the Catacombs of San Callisto or San Sebastiano — widely considered to be among Rome's finest remaining burial sites — and explore their labyrinthine underground tunnels. Admire feats of engineering from a past civilization in the antique arches of Rome's mighty aqueducts and gain valuable insight into one of the world's most fascinating ancient civilizations.
Highlights
3-hour morning tour along the Appian Way to Rome's ancient Catacombs
Explore the Italian countryside outside Rome
Visit the Catacombs of San Callisto or San Sebastiano
Admire the mighty arches of Rome's ancient aqueducts
Your tour combines coach or minivan travel and guided walks
Why Our Insiders Chose This Tour
This active tour is a nice break from the museums and ruins of Rome. Get away from the crowds and visit the picturesque Roman countryside, discover the ancient Catacombs and see a Roman aqueduct up close.
Recent Photos of This Tour
Catacombs and Roman Countryside Half-Day Walking Tour
What You Can Expect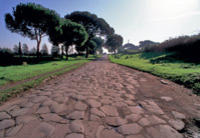 Combining coach or minivan travel with on-foot exploration, your morning guided tour departs from central Rome and takes you beyond the city walls and out along the rustic Appian Way — one of the earliest and most strategically significant roads of Rome's ancient republic.
Stop first for a walk with your guide through the countryside near the southern edge of ancient Rome. Admire the attractive Italian scenery outside the city and perhaps take time to capture the landscape through the lens of your camera.
Continue on to Rome's ancient Catacombs of San Callisto or San Sebastiano. The Catacombs of San Callisto were built in the 2nd century and named after the deacon Saint Callixtus, while San Sebastiano is a small Christian cemetery and one of Rome's most accessible catacombs. Explore the underground tunnels with your guide, hear of their history and gain insight into the burial techniques prevalent those centuries ago.
Leaving the Catacombs behind and travel onward to admire Rome's remaining aqueducts. The Romans were masters of engineering and the aqueducts still standing today are testament to their skills. Listen as your guide explains how and why the aqueducts were built here and marvel at the amazing feat of engineering they represent.
After three hours exploring the Catacombs and countryside along Rome's ancient Appian Way, return to your original departure point to conclude your tour.
September 2015
Enjoyed relief of air conditioned bus and smaller crowds. Guide was talented at blending ancient historical significance with comparisons to modern day situations. Bonus of seeing ruins of an acquaduct and walking on Appian Way were great.
September 2015
This is a different type tour. Very informative and interesting. In addition to seeing the catacombs no bodies you get to walk the Apian Way - very cool. The Aqueducts were also amazing. Highly recommended.
August 2015
The tour guide was pleasant and knowledgeable about the history of early Christian practices, the engineering of the Appian Way and Aquaduct system. Truly a pleasant experience and recommended. Mercifully, the tour bus was air conditioned, and the driver was excellent.
August 2015
Very nice tour, small bus, few people, nice guide... everything went smoothly and calmly.
August 2015
Jeanette was our tour guide! Fantastic is all I can say. She raved about on Trip Advisor and boy were they right. From start to finish she was funny, fully of really interesting facts and knew everybody's name. I went on my own with 2 LA film producers and a lovely family of 4 from Washington. It was a great trip and the crypts were incredible really incredible.
I would advise anyone to go on it. There was very little walking but lots to see and take photos of. I would give it 10/10 if I could.
August 2015
Another great halfday tour. Our tour guide was phenominal. She was very knowledgable and memorized all the names of the people in our approx 20 people group. She even found a way to incorporate everyone's jobs and lives and related to centuries ago. Extremely good information.
August 2015
A really enjoyable tour interesting to see inside the Catacombs and the original Appian way we had a great tour guide who gave us plenty of information about Roman life and death. All in all a good trip.
July 2015
What really made this tour awesome was our tour guide, Janet. She was remarkable she made sure to remember all our names and included us in the history story that she was telling us. She was not only extremely knowledgable about all aspects of the tour but had a great sense of humour. We had some dominant personalities on our tour and she handled them with such class. One of the best guides we have ever come across. Thank you Janet.
July 2015
Splendid tour guide, an young American expat who studied Italian history and now lives in Rome. Entertaining and fun throughout. Not much walking as such but nice to get out of the hot city and see some different things.
July 2015
The guide was great-- there were 12 of us in the group and she got to know all of our names. Her commentaries about the catacombs were very insightful.
Advertisement
Advertisement