Get more bang for your buck by booking this guided 3-hour tour of Rome's greatest hits – from fountain-studded Piazza Navona to the intimate Campo de' Fiore to the winding lanes of the Centro Storico. By foot and private coach, the 3-hour tour is a great way to see the best of the Eternal City. Or upgrade to a full-day tour (with or without lunch) to see even more: the sites of Imperial Rome and even the Church of St. Peter in Chains with its magnificent Michelangelo sculptures. Then finish the day with a skip-the-line tour of the Colosseum.
Highlights
3-hour or full-day Rome city tour with an expert local guide
See attractions in the centro storico area on your Rome morning tour
Throw a coin in the Trevi Fountain and walk to Palazzo di Montecitorio
Visit Rome Pantheon and see the tomb of Renaissance artist Raphael
Stroll through Piazza Navona and admire its Baroque fountains
Upgrade to a full-day tour to explore Ancient Rome and enjoy a skip-the-line Colosseum tour
Recent Photos of This Tour
What You Can Expect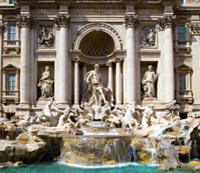 Get picked up at your hotel or meet your knowledgeable local guide near Rome's main railway station Termini. Then head straight to the historical center, Centro Storico, passing through the spacious Piazza della Repubblica.
Wander the narrow cobblestoned lanes of the Centro Storico, passing outdoor cafes, Barque fountains, ancient churches and Renaissance-era palaces. Stop for a while at the 17th-century Trevi Fountain and perhaps even toss a coin in to ensure that you'll come back (two coins means you'll fall in love with an Italian and three coins will ensure you'll marry one). After your coin tossing and perhaps a photo, stroll over to the Column of Marcus Aurelius and then to the Bernini-designed palace, Palazzo di Montecitorio, which today is the house of parliament.
Get ready to be wowed by the Pantheon, one of the best preserved buildings from ancient Rome. Meaning 'temple of all gods,' the Pantheon is a site to behold: it holds the tombs of Renaissance artist Raphael and King Umberto I, among others. Take a short walk over to stunning Piazza Navona, one of the greatest public spaces in the city to look at the fountains designed by Baroque master Bernini.
Hop back on the coach and head to the where the tour began or request being dropped off at one of four different locations.
Full-Day Tour:
Upgrade to the full-day tour to see even more of the Italian capital! After the morning tour, spend some time indulging in a delicious lunch (at own expense) and then meet your guide to go by foot and coach to see the sites of the Roman Empire, including the Circus Maximus, the Roman Forum and Capitoline Hill, among others. And the best part: a skip-the-line tour of the Colosseum.
Full-Day Tour with Lunch:
Upgrade to a full-day tour plus lunch at a restaurant near Termini Station or the Vatican.
Hotel pickup is available; please click on 'View Additional Info' below to see the Rome hotels that are included in this service.

June 2016
It was excellent. Saw many of the highlights of Rome, including a quick visit to Vatican city. The 3 hour tour was perfect for my 78 year old mother.
June 2016
Enjoyed this tour very much a good overview of major highlights guide well informed.
May 2016
Great easy tour to book the orient yourself to the city.
March 2016
Very enjoyable. Guide was excellent!.

Ollie United States of ...
November 2015
Although I cannot remember the name of our morning tour guide. She did an excellent job of informing us about the history of the different buildings in the center of Rome. I appreciated that she warned us about the gypsies and other things to be cautious about regarding when traveling in Rome. Our afternoon tour guide, Max, was an excellent and funny tour guide. I greatly enjoyed listening to him explain the different tour sites we visited. This tour was a great tour and if I ever get an opportunity to visit Rome again, I will definitely book another tour.
November 2015
The morning tour was very nice and we had a lunch, as part of our tour, that was MUCH nicer than we were expecting. The afternoon tour was my favorite part. The Forum most certainly activated my imagination and I could have stayed much longer just seeing it as it once was. The Colosseum was our last stop and our guide seemed extremely knowledgeable. Surprise! He was a retired Archeology professor who had even supervised college students involved in archeological digs at The Colosseum. What a wonderful opportunity to ask questions and learn more than we could have expected to. Thanks Viator!
October 2015
Great guide - Max - and great tour. Would recommend highly for those that want one day tour of Rome.
July 2015
Green line tours were great, the tour guide was very knowledgable and personable, the tour bus we used to transport was in very good shape and clean. Over all excellent experience.
July 2015
Gwen is absolutely outstanding. We have taken many tours over many years in several cities in Europe, and this is probably the single best one. Gwen knows the Trastevere and the Jewish Quarter of Rome incredibly well, and she is smart and articulate. The tour is well planned, with some walking and some sitting. It was a great pleasure. Highest rating.
June 2015
Great tour guide, used audio headset to keep us informed. Easy to understand, good coverage of must see sights
Advertisement
Advertisement