583 Reviews
Location:

Rome, Italy

Duration:

90 minutes

(approx.)
Explore the heart of Italy's ancient capital and hear tales of myth and legend on this 1.5-hour ghost and mystery walking tour of Rome. When the sun sets, a darker and more mysterious side of the city comes to life. Make your way along winding alleyways and through ancient squares in Rome's age-old center, and listen as your guide regales you with enthralling historical and supernatural mysteries. Discover highlights such as the Ponte Sisto, Palazzo Farnese and the Castel Sant'Angelo illuminated at night.
Highlights
1.5-hour ghost and mystery walking tour of Rome
Explore Italy's ancient capital under the cover of darkness
Discover top attractions such as Castel Sant'Angelo, Palazzo Farnese and Ponte Sisto illuminated at night
Wander down winding alleyways with an expert guide and hear terrifying tales of myth and legend
Learn of the Corte Savella Prison, where late-Renaissance noblewoman Beatrice Cenci was unfairly put to death in the 16th century
Take an alternative nocturnal view of Rome's major sites on this entertaining evening tour
Recent Photos of This Tour
Ghost and Mystery Walking Tour of Rome
What You Can Expect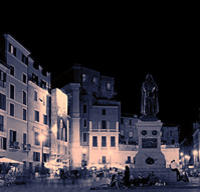 Meet your guide beneath the imposing Baroque façade of Sant'Andrea della Valle church as night begins to fall. Then, set off to begin your ghost and mystery walking tour. With thousands of years of ancient history round every corner, Rome is the perfect place to explore the borders between fact and legend.
Head along the Corso Vittorio to the beautiful yet mysterious Campo de' Fiori. This ancient town square has been a vibrant center of commerce and culture since the 13th century, but illuminated under the cover of dusk, it takes on an altogether more sinister feel. Listen as your guide talks of the ghostly goings-on to which the Campo de' Fiori has played host over the centuries.
Wander through the impressive Piazza Farnese, home to city highlights such as the 16th-century Palazzo Farnese — considered by many to be among the most important High Renaissance palaces in Rome. Cross the Tiber River towards the church of Santa Maria dell'Orazione e Morte and admire the elegant Ponte Sisto, beautifully lit against the darkness of night.
Discover the site of the ancient Corte Savella Prison, where late-Renaissance noblewoman Beatrice Cenci was unfairly put to death for her father's murder in the 16th century. It is said that in early September each year — on the anniversary of her torture and death — her ghost can still be heard vainly appealing for justice to finally be served.
Explore the Via dei Banchi Vecchi and the Via del Banco di Santo Spirito with your guide, and arrive before the imposing Castel Sant'Angelo — commissioned by the Roman Emperor Hadrian as a private mausoleum from 123 AD. Once a fortress, Papal residence and prison, the Castel Sant'Angelo is shrouded in mystery and legend.
After 1.5 hours exploring the winding alleyways through Rome's ancient heart, your tour will conclude at Castel Sant'Angelo.
November 2015
We had so much fun on this tour. We walked around for over two hours and saw parts of the city we hadn't seen yet. A lot of great history and information. I know so much more about Rome than I ever thought I would.
November 2015
The tour was very interesting and our guide was excellent. Lots of interesting stories and you get to know a lot of the city by walking around and seeing some of the sites. It was a good introduction to Rome on our first night.
September 2015
Barbara was superb and enjoyed being a tour guide. Nice walking around Rome of an evening, and to finish at the castle of the angels icing on the cake.
Sdeso Canada
September 2015
Our tour guide's name was John and he did a great job with this tour. It is at night, and provided some interesting and less known history of Rome. Great tour for anyone interested in getting some less than common history of a city!

Marianna C United Kingdom
September 2015
Visited the castle at midnight in Aug... It was still really warm, the darkness added to the mystery on the tour and the vews of the city were amazing at night! Great!!
September 2015
Great time. Guide was excellent. We had a group of 3 adults and 3 children. He managed to keep everyone involved and interested. I would highly recommend this tour for a fun evening in Rome.

September 2015
Two months on from our walking tour of Rome at night and we are still remembering tidbits of information as the experience was great. Rome is a beautiful and see city at night and this tour well worth doing especially with older kids. It is also a great way to find your feet in this amazing city.
August 2015
Louise Kennedy was our tour guide and she was great. Enthusiastic and knowledgeable she made the tour a pleasure. It was lovely to walk around Rome at night , and she had great stories to keep us entertained. We had 3 teens 12 to 17 with us and they enjoyed it as well.
August 2015
Rome is defiantly to be seen by night and the tour guide was great, defiantly recommend
August 2015
Wonderfull expierence. Barbara took great care of us! I think starting at 21.15 is the best! It's dark and the atmosphere is a bit creepy.
Advertisement
Advertisement